The China Pavilion at Expo Milano 2015
it has been modified:
2015-05-16
di
Based on the theme 'the land of hope', the pavilion of China Expo 2015 It was conceived as a continuous field that begins at the entrance of the plot and continues inside the pavilion.
Drawn by Tsinghua University in collaboration with link-arc The pavilion responds to the general theme of the event "Feeding the Planet, Energy for Life" with a series of installations that represent the cuisine of the various parts of China.
Its distinctive shape comes from the merger of the city skyline on the north side with the shape of the landscape on its southern front. In this way, the project connects harmony between two traditionally opposing elements. The roof of the pavilion uses a wooden frame that refers to the barrier system raised in traditional Chinese, adapting it to modern construction technologies.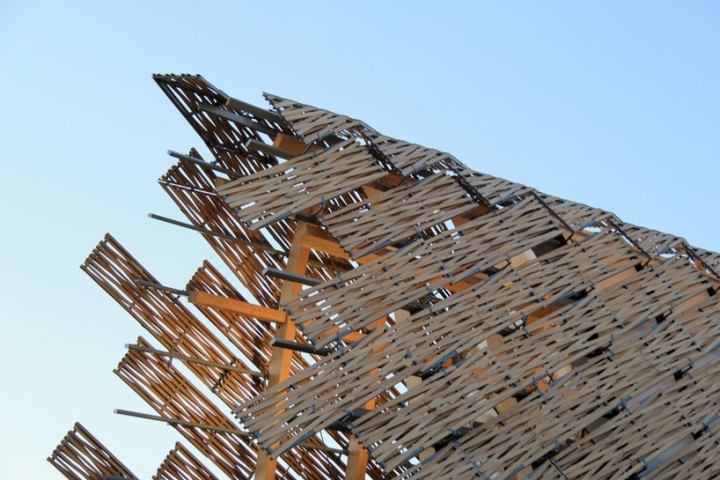 Covered with shingle panels, the roof plan employs bamboo components that reduce the overall weight and create a comfortable, shaded area.
The exhibition and cultural programs are experienced as a journey through the pavilion, which begins with an outer waiting room and leading to the themed area with interactive installations 40 Chinese provinces. From here, visitors are guided on a public scale sloping slightly towards an observation platform above a glittering LED matrix that forms the centerpiece of the exhibition.
A large room that serves as a multimedia theater is located on the upper level, contained the highest point of the corrugated roof. The sequence ends with an open balcony, hovering above the bamboo roof thereby offering an expansive view of the surrounding expo grounds.