Dubai Villa BK: art and nature blend in a unique embrace with architecture and interior design it has been modified: 2023-09-13 di
Villa BK is an extraordinary private residence located on Pearl Jumeirah Island, Dubai, designed by MMA Projects, an internationally renowned architecture and interior design firm. This villa represents a perfect union between modern architecture, luxury and natural beauty, offering elegant spaces, high quality materials and a harmonious fusion between art and design.
In the heart of Dubai, there is a place where art and nature embrace each other in a unique embrace with architecture and interior design: Villa BK, an extraordinary private residence located on Pearl Jumeirah Island. This architectural masterpiece is the fruit of the creative vision of MMA Projects, an internationally renowned architecture and interior design firm that has left its mark on a wide range of sectors, including luxury residential.
Located in the vicinity of the renowned Nikki Beach Resort, Villa BK is a residence that stands out for its privileged location offering breathtaking views of the sea. With its 4.000 square meters of space, the villa is a luxury oasis that opens towards the sea on one side, guaranteeing total privacy and intimacy to its lucky inhabitants.
The conceptual design of Villa BK recalls distinctive elements of modern architecture. The spaces inside are arranged fluidly, allowing natural light and the beauty of the surrounding nature to blend harmoniously with the internal environment. The residence, named after the owner's initials, was custom designed to meet the needs of its inhabitants, thus creating a unique and sophisticated environment with a strong design identity that highlights both art and nature.
The structure of Villa BK is divided into two main parts: the main villa and a landscaped area dedicated to sports and relaxation, complete with padel courts. The main villa is spread over four levels, including a basement with private parking, a wellness area with yoga, fitness and spa spaces, as well as a cinema room. The ground floor hosts formal spaces dedicated to work, a guest bedroom and large living spaces, including a show kitchen with an impressive 10-metre stone counter.
What makes Villa BK even more extraordinary is the use of high quality materials and elegant finishes. The external facade is clad with the precious white Turkish stone called "limra", uniquely crafted to create a fascinating visual contrast between the lower and upper parts of the building. Inside, materials such as gray Fior di Bosco marble and Verde Guatemala blend harmoniously with the warmth of the Canaletto walnut wood used for the boiserie. A sinuous staircase in gray Fior di Bosco marble adds a touch of functional art to the space.
Lighting plays a vital role in accentuating the beauty of Villa BK. The villa is filled with natural light thanks to large windows, complemented by spectacular chandeliers, including a majestic mother-of-pearl chandelier in the main living area and crystal chandeliers in the other living areas. The show kitchen area is illuminated by a chandelier made with leather belts and crystal LED lamps. Furthermore, a cutting-edge home automation system allows you to manage every aspect of the villa efficiently.
The architectural structure of Villa BK is a tribute to the beauty of nature and wind, giving the facades curved and light shapes that incorporate slits, creating unique light effects thanks to exposure to the sun.
In conclusion, Villa BK is an authentic masterpiece that represents the perfect fusion between architecture and interior design, where art and nature come together in an unparalleled luxury residence. MMA Projects has created a habitable work of art where every detail reflects the elegance and beauty of contemporary design. This villa is much more than a simple home; it is an extraordinary experience where the beauty of nature combines with the art of architecture and design to create a one-of-a-kind place in Dubai.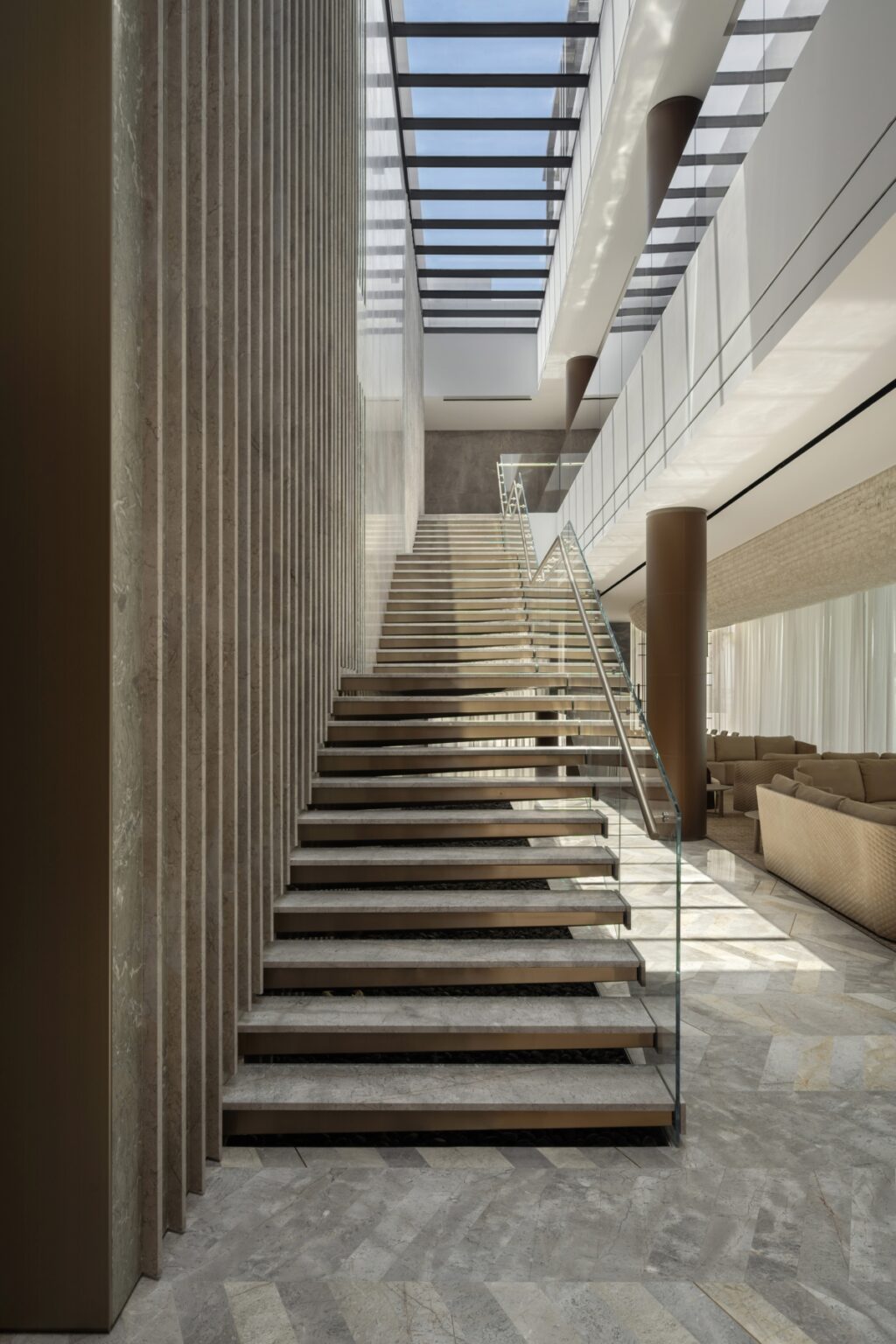 project info
Project Name: Villa BK – private residence
Location: Pearl Jumeirah Island, Dubai
Intervention: Architecture and Interior Design
Client: confidential
Work completion date: 2023
Project Team: Alessandro Vaghi, Riccardo Papa, Barbara Michielutti, Alice Borroni
Area: 4000 m²