The carpet according to SIRECOM. New symphonies for contemporary living it has been modified: 2022-07-20 di
Giving a unique identity to the most diverse environments is an exciting experience thanks to the custom-made services offered by the company that has been operating in the name of craftsmanship and personalization since 1976.
To feel at ease in a living space - between the walls of the house or in a hotel room, or in the workplace - it is important to feel welcomed by a reliable atmosphere. According to SIRECOM, the carpet can become the key element to define the soul of an environment: it is enough to take care of its design and to treasure the ancient handicraft techniques from the East to create a tailor-made product starting from precious natural materials. All through an open and in-depth dialogue with the client, whether it is an architectural firm or a private individual. In fact, every furnishing need requires meticulous research to match every detail of the carpet to the frame in which it will be inserted.
Particularly in the contemporary living room, the SIRECOM rug can take on a strategic role, not purely decorative but of defining the areas of use. Draw boundaries, separate and unite spaces at the same time. It re-proportions the interiors, connects the furnishing accessories. A set of sofas, tables and furniture, the carpet today does not want to go unnoticed. The bespoke service offered by the company supports the customer in conceiving this functional object as the right background in harmony with the other furnishing elements, and above all with the personality that you want to give to the whole. From this point of view, each note must sound its best according to the score and, precisely for this reason, a study of materials, shapes, sizes, colors and techniques is needed to obtain coherent and identifying cu-stom-made solutions.
The 100 knot artisan knotting technique is chosen to guarantee high quality, resistance and longevity while ensuring the most absolute freedom of customization. The living room that houses the SIRECOM rug will thus benefit from a precious style ally. In fact, threads and knots are coordinated with the utmost precision and can give life to design collections such as PROSPETTIVE, signed by Dainelli Studio. The rhythm of hand-knotted New Zealand wool and silk brightly dresses up a game of graphic representations where the fragmentation of the segments opens up new horizons. Horizons to be customized based on the idea chosen by the designer or directly by the private individual in search of a unique identity for their home.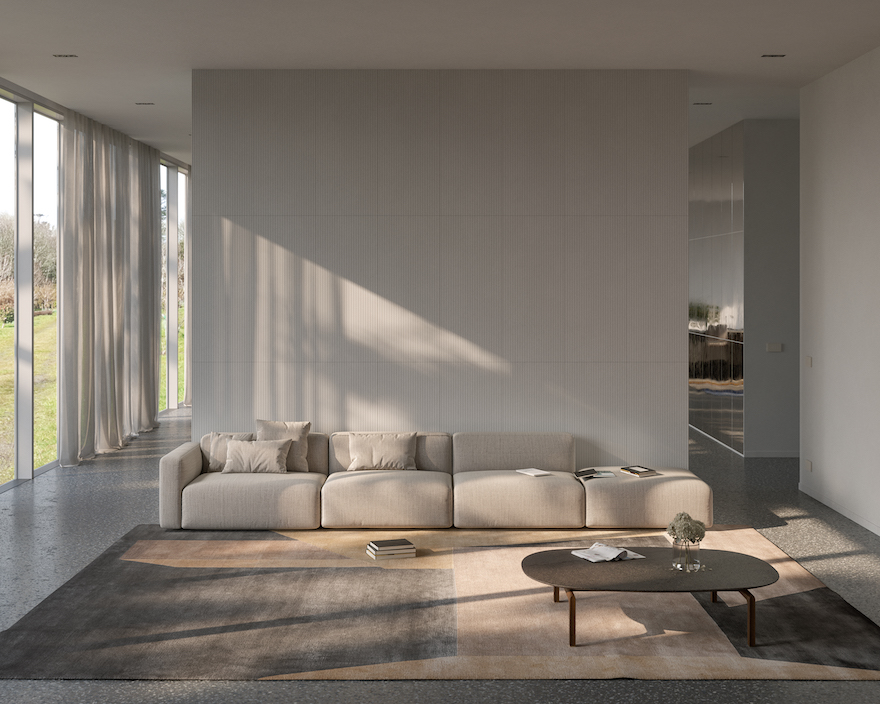 www.sirecomtappetiitalia.com