Meta Square by Dornbracht: the new minimalist look that conquers elegance, for fusion and cosmopolitan kitchens it has been modified: 2023-03-18 di
Pure modern minimalism: the new Meta Square kitchen mixer from Dornbracht is the result of a radical reworking of the Meta.02 tap. The shapes have been reduced considerably, further enhancing the elegance and versatility of its classic design. New finishes and unprecedented variants complete the project.
Dornbracht's Meta Square is the perfect kitchen mixer for those looking for a minimalist and elegant design. Its shape reduced to a minimum, without inserting a rosette, gives the entire tap a slender and decidedly minimalist line. The right-angled curvature of the spout underlines the design purity of the entire Meta line, while the greater height and the absence of a groove in the lower part of the lever create a delicate and contemporary look.
The restyling was curated by Michael Sieger of Sieger Design, who worked on the smallest details to create an elegant and functional product. Meta Square is available in different finishes, including the precious Champagne (22kt gold), the brushed Champagne (22kt gold) and the Dark Chrome finish for a more discreet look. Furthermore, the Meta Square range also includes the retractable and Bar Tap version.
Meta Square adapts perfectly to different contemporary kitchens, thanks to its versatile personality. For example, it is perfect for the "Cosmopolitan Fusion" design concept, which perfectly blends contrasting elements, such as pink and dark green. Meta Square goes perfectly with colored glass and ceramic accessories, as well as soft pink textile elements.
The Matt Black version integrates perfectly with the Dornbracht sinks in the same color and with the sophisticated terrace-effect natural stone surfaces. Instead, the Brushed Champagne finish (22kt Gold) accentuates the sophisticated character of the kitchen, with its natural and warm elegance.
In summary, Dornbracht's Meta Square is a kitchen mixer tap with an elegant minimalist design, which fits perfectly into different contemporary kitchens. With its different finishes and variants, Meta Square integrates perfectly into any environment, demonstrating great versatility and personality.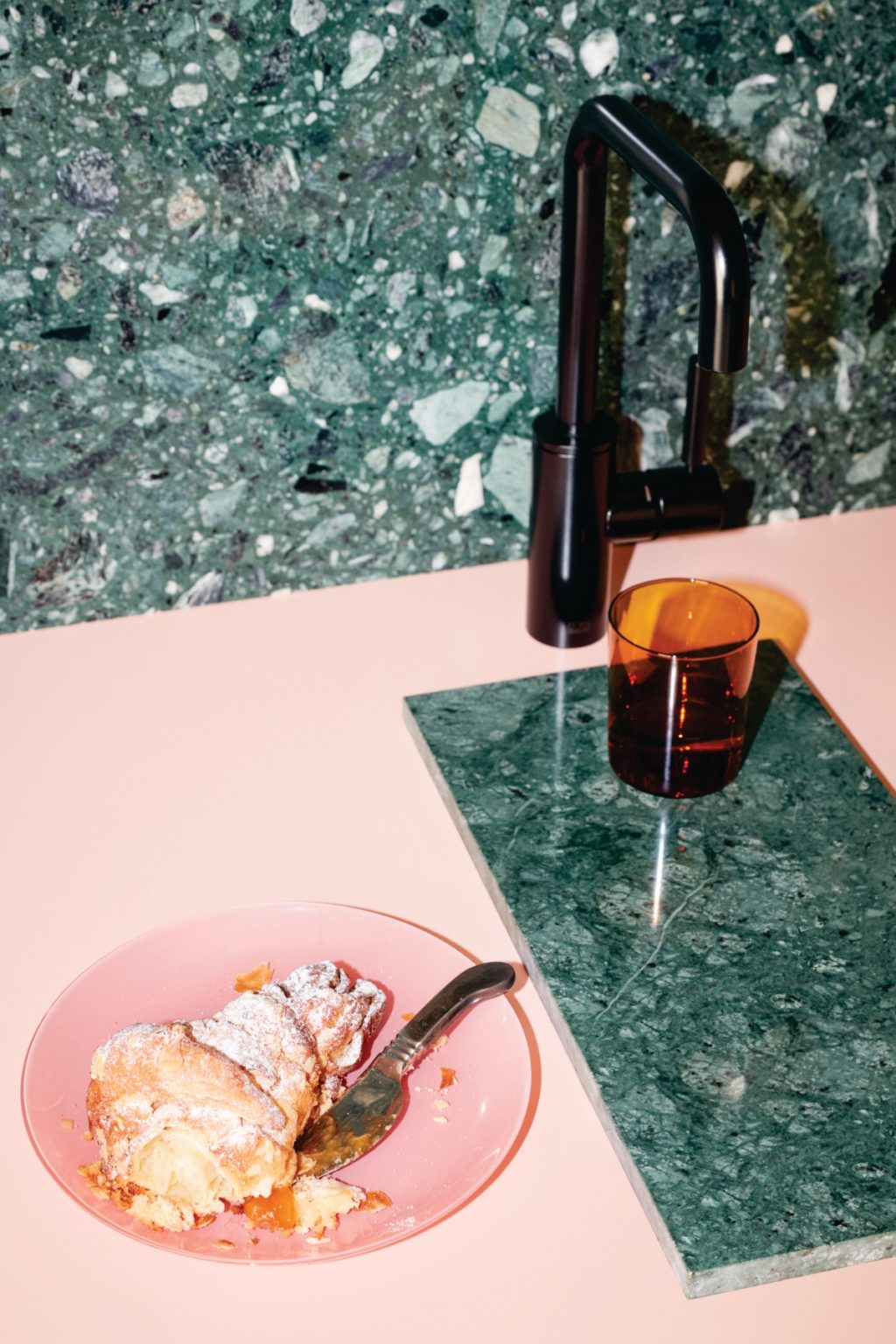 Info and credits
Product design: Sieger Design
Copyright: Dornbracht
Photo credits: Johannes Bauer (product photo), Jonas von der Hurde (architecture photo)