BERTO SALOTTI / online the new collection of SOFA DOUBLE FUNCTIONALITY ' it has been modified: 2013-09-23 di
Berto salons launches a new collection. The design team Berto decided to "get rid" of the idea of ​​a sofa bed as we have always had: a squat sofa, a bit 'sad, service object unable to fascinate. Berto salons presents a collection of sofas by the charm and elegance that can compete with the most beautiful sofas on the market. Then opening - lightly feather - in a bed that has nothing to envy to what you have in the room, it is just a pleasant and unexpected added value.
Innovative all components. High comfort so as to exceed that of most of the sofas in circulation. Today, thanks to the experience of the workshop Berto combined with ongoing research in mechanics and technology, we are able to offer optimal solutions from the point of view of design that comfort, ensuring highest quality at rest even when using daily.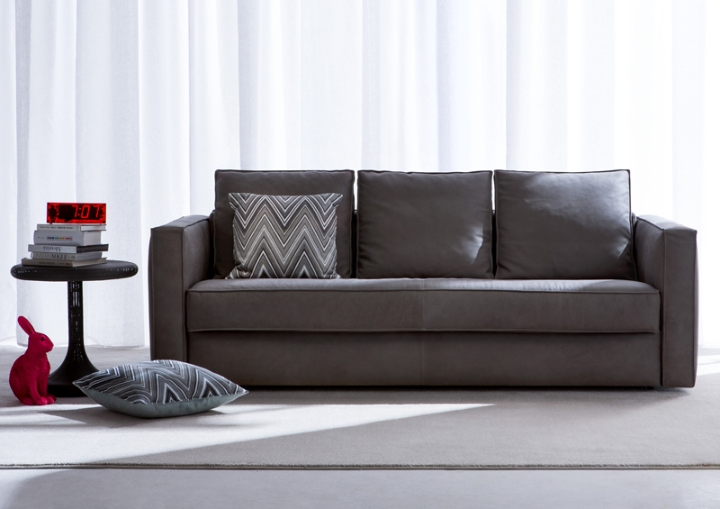 Berto presents 4 new sofas double feature comfortable, stylish and practical, also excellent for use as a bed everyday. Each model is a perfect example of blending creativity and craftsmanship. Berto always stands for the manufacturing care of every single detail: modern lines and seams precious, harmonious volumes and a choice of over 3500 different types of leather upholstery, fabric or leather.
All sofa beds are available with slatted beech and elastic straps that can accommodate a wide range of quality mattresses: sprung orthopedic, with independent spring or in memory or polylatex height 15 cm.
Robinson the sofa is a double feature that is confusing: hidden in the guise of a modern and comfortable sofa, with precious details and back cushions upholstered in goose feathers, hides a comfortable bed also suitable for daily use.
If for reasons of space and comfort is often forced to give up fresh, fun and modernity, Berto proposes a unique piece: Mat. Seat depth and fine details make sparkling any environment, without giving up the comfort of a sofa and the functionality of a real bed.
More contemporary models Gulliver and Nemo, Perfect protagonists of the day or night: stitching plucked, precious details, deep seat and backrest goose down easily become a real sofa in a real bed, thanks to the front opening and the hinges that hold the cook on the back .