What we will see at the Salone del Mobile 2022, the previews of the products that will be exhibited at the Milan Design Week it has been modified: 2022-05-09 di
Il Salone del Mobile 2022 returns to Milan from 7 to 12 June in full version, in the meantime here is a selection of previews of the products that we will find exhibited at the Milan Design Week.
After the stop due to the pandemic, and the special edition 2021, Supersalone, the Salone del mobile is back in its original format, an unmissable event for design enthusiasts and operators in the sector, which this year will bring together more than 2.000 exhibitors of which over 600 young designers under 35. An explosion of creativity and new products that will involve not only the Rho exhibition center, but also the entire city of Milan with the appointments of the Fuorisalone.
Here you will find a selection of product previews that will enliven the scene of this year's Milanese design week, products that bear the signature of both large design companies, or famous designers, as well as emerging and innovative realities.
The collection will be updated with new previews until the dates of the Salone, as companies announce the new products, so come back and visit this article.
Previews of furniture products:
Sturm, AYNIL sideboard
"Aynil is the acronym of All you need is love, a name linked to the historical and difficult period we are facing, in which more than ever there is a need for love".
Aynil is a reinterpretation, with a bold design, of the wooden sideboard, here proposed lacquered in bright red with transparent feet made of polystyrene that give the cabinet a suspended effect. To make it unique and precious are the twelve hearts made of shockproof plastic, which make this versatile element, intended for a variety of environments, a real declaration of love.
Sturm Milano is a 100% Made in Italy brand that designs and produces design pieces for the domestic and contract sectors, following all stages of processing: from the creative idea, to the creation of 3D prototypes up to the finished product.
Design: Andrea Bertinotti
Where: Salone del Mobile - Fiera Milano Rho | Fuorisalone c / o DesignLab: decoration without limits Via Tortona 37 Milan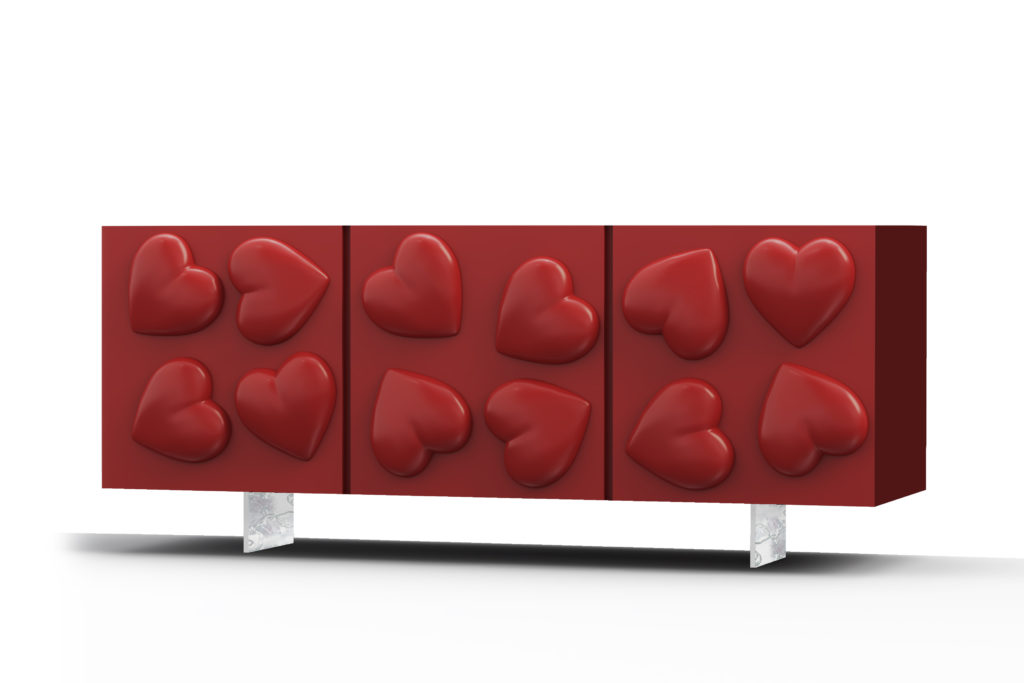 Matrix International, "JUST" sideboard, Experience collection
Danilo Fedeli's project plays with volumes, between additions and subtractions, accentuating them with material combinations of natural wood and lacquered colors. The milled doors, made of solid wood, are framed by lacquered sides that delimit the volume with a perimeter backsplash effect and the technological trick of assembly with a magnet system. The containment elements rest on a color-painted metal structure.
Matrix International presents itself at the Salone del Mobile.Milano 2022, after years of absence, with the collection experience, designed by Danilo Fedeli, the result of a search not only for style but for solutions that respect the environment. Modular sofas, armchair, sideboard, table, chairs and coffee tables form an ensemble for the living and dining areas where the idea of ​​coordinated furnishings on a pure aesthetic basis is replaced by a radical design path of analysis of the idea of ​​contemporary beauty with the 'goal of evolving it towards the real needs of our daily life: values ​​such as the durability implicit in the highest quality determine upstream to review the production cycle and downstream to think of a virtuous life of the product that can be disassembled and recycled.
Design: Danilo Fedeli
Where: Pad. 14 - Stand B29 - Salone del Mobile - Fiera Milano Rho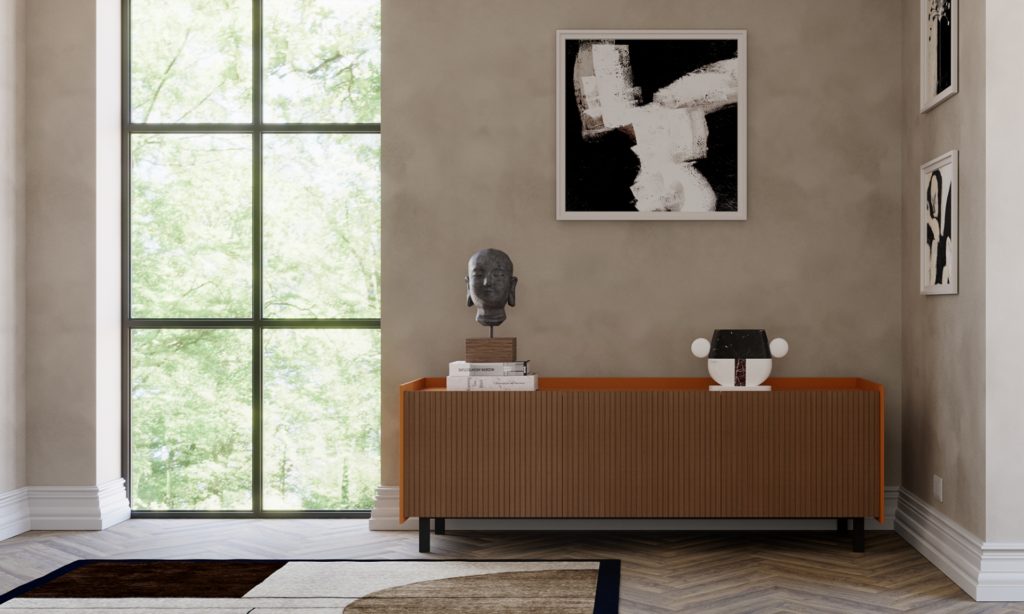 ETRO Home Interiors, MEKONG sofa
Mekong is a sofa with a singular style, where the exotic references and contemporary allure, which have always characterized the ETRO Home Interiors line, are combined with the design of50s vintage inspiration and refined classic references. A mix of quotes that confirms the eclecticism of the brand.
Spacious, welcoming and comfortable, Mekong is an invitation to relaxation and conviviality. The sage green velvet upholstery dresses the sofa with a sophisticated luxury that recalls the Parisian pastry shops and cafes of the late 800th century. A delicate reference to classicism, made more current by the presence of original decorative elements, such as the spheres that make up the feet. The curved lines of the sofa recall the fluidity and dynamism of flowing water - a reference already present in the name - and combine with the precious essence of dark Carbalho wood used for the base of the sofa.
Mekong is a curved sofa with multilayer structure and high-density polyurethane foam in different densities. Cover in velvet Genova col. Sage with piping in velvet Genova col. Rice. Base in plywood veneered in matt Dark Wengé Dyed Carbalho. Spherical feet in brushed dark bronze lacquered solid beech.
Design: ETRO Home design team
Where: Hall 4, Stand B12 - Salone del Mobile - Fiera Milano Rho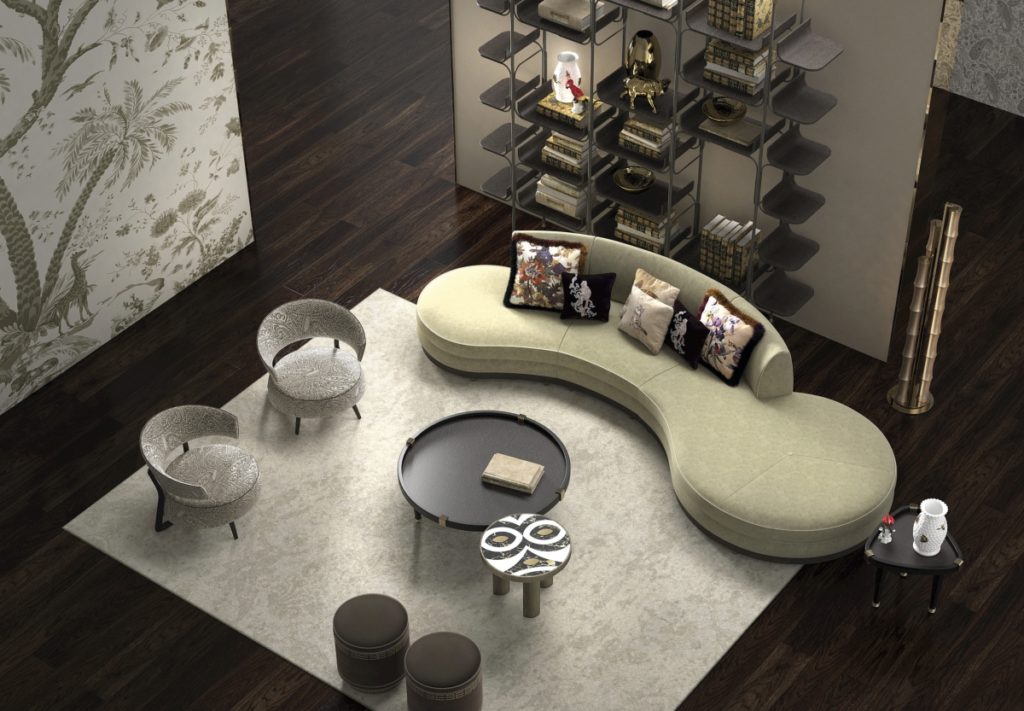 Roberto Cavalli Home Interiors, Assal sofa
Assal is a sofa with soft and sensual shapes that invite relaxation and conviviality. Its clean design and subtle elegance are enhanced by the soft leather upholstery with raw stitching in a delicate shade of beige, while the cushions with animal prints by designer Fausto Puglisi, declined this year in neutral shades for a refined tone effect. on tone, they complete the ensemble, enhancing the full and voluptuous volumes. The sinuous lines of the sofa, recalling organic and natural forms, confirm the evocative force of the name Assal, an African lake in Djibouti, which transports us to the wild lands that have always been a source of inspiration for the Cavalli world. A reference, the one with Africa, which today becomes more delicate and light, helping to transform the living room into a welcoming and suggestive domestic landscape.
Where: Hall 4, Stand B11 - Salone del Mobile - Fiera Milano Rho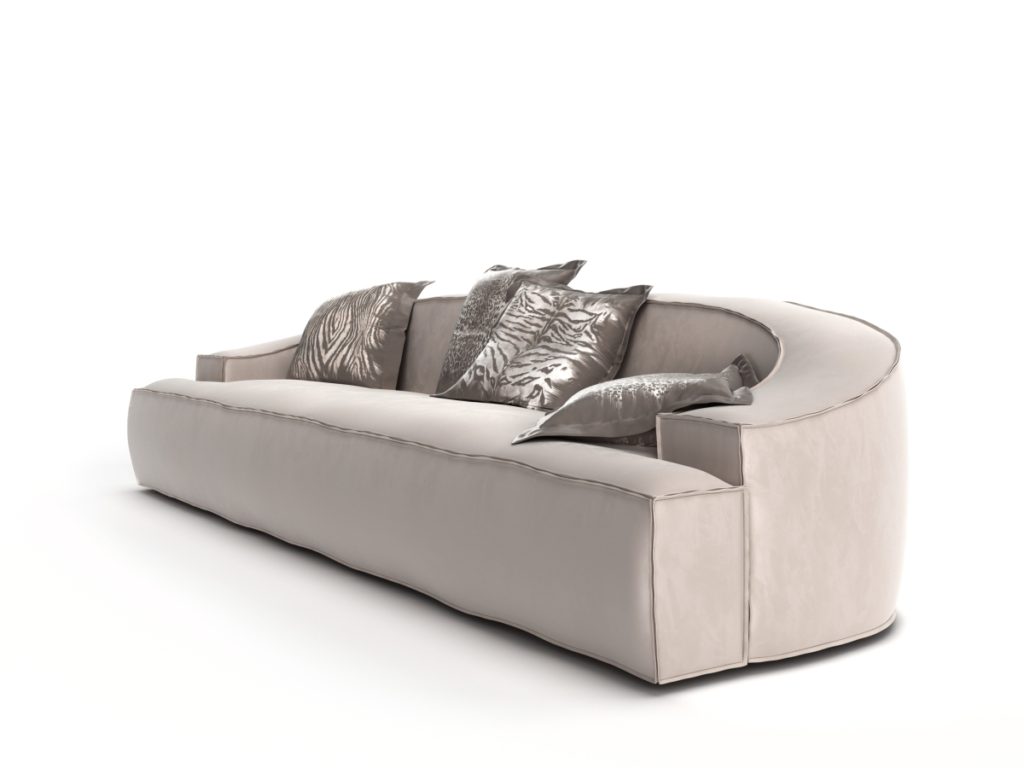 JCP Universe, Coloniae
Coloniae is a series of artifacts that tell the relationship between man and plant. The objects in this series are conceived as dwellings of a colony, and as such are born with a predefined shape. However, each structure is designed to interact with the plant it hosts, letting it overlap it, redefining its appearance. Over time, the plant will begin to interact with the object through roots and leaves, eventually colonizing it. In this way, Coloniae rethinks the vase (and other complementary artifacts) as content rather than containing, and plants as agents in the definition of a hybrid organism co-participated in human action.
Materials: structures made up of aluminum plates in three different anodized finishes (aluminum, copper and brass). Central container element in aluminum with anodized finish.
Vases dimensions (L x W x H): Ø 48cm x 65cm, Ø 72cm x 30cm
Coffee table dimensions (L x W x H): Ø 60cm x 60cm
Design: Gionata Gatto
Where: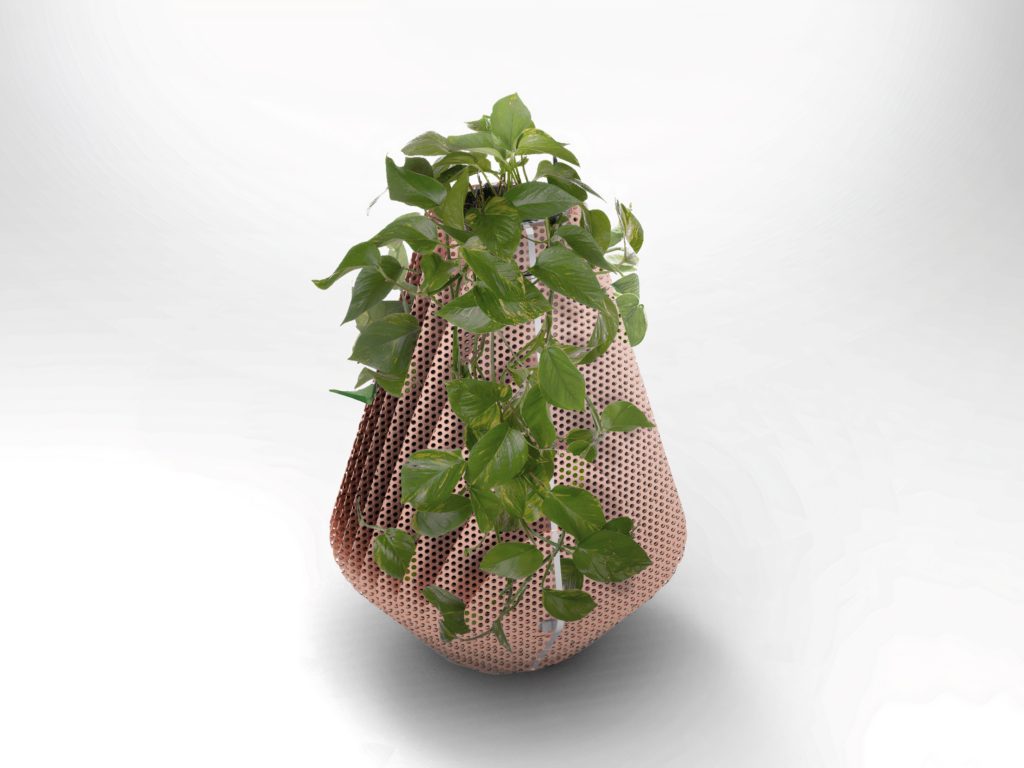 Complement previews
Atelier Tapis Rouge with Fabio Novembre
On the occasion of 60th edition of the Salone del Mobile scheduled in Milan from 7 12 to June next, ATELIER TAPIS ROUGE, a brand specializing in the design, production and marketing of fine carpets, will present an exclusive capsule collection conceived and produced in collaboration with Fabio Novembre. With this proposal, Atelier Tapis Rouge intends to continue in its path of raising the carpet by interior design capable of giving new meanings and value to the spaces of each customer.
Atelier Tapis Rouge is an international brand, headquartered in Milan, specializing in high-quality carpet craftsmanship, which can at the same time benefit from the centuries-old experience gained by the owner's family in the creation and marketing of this product. The company today delivers its carpets to over 120 countries, intended for private homes, residences, yachts and salons.
Design: Fabio Novembre
Where: Salone del Mobile - Fiera Milano Rho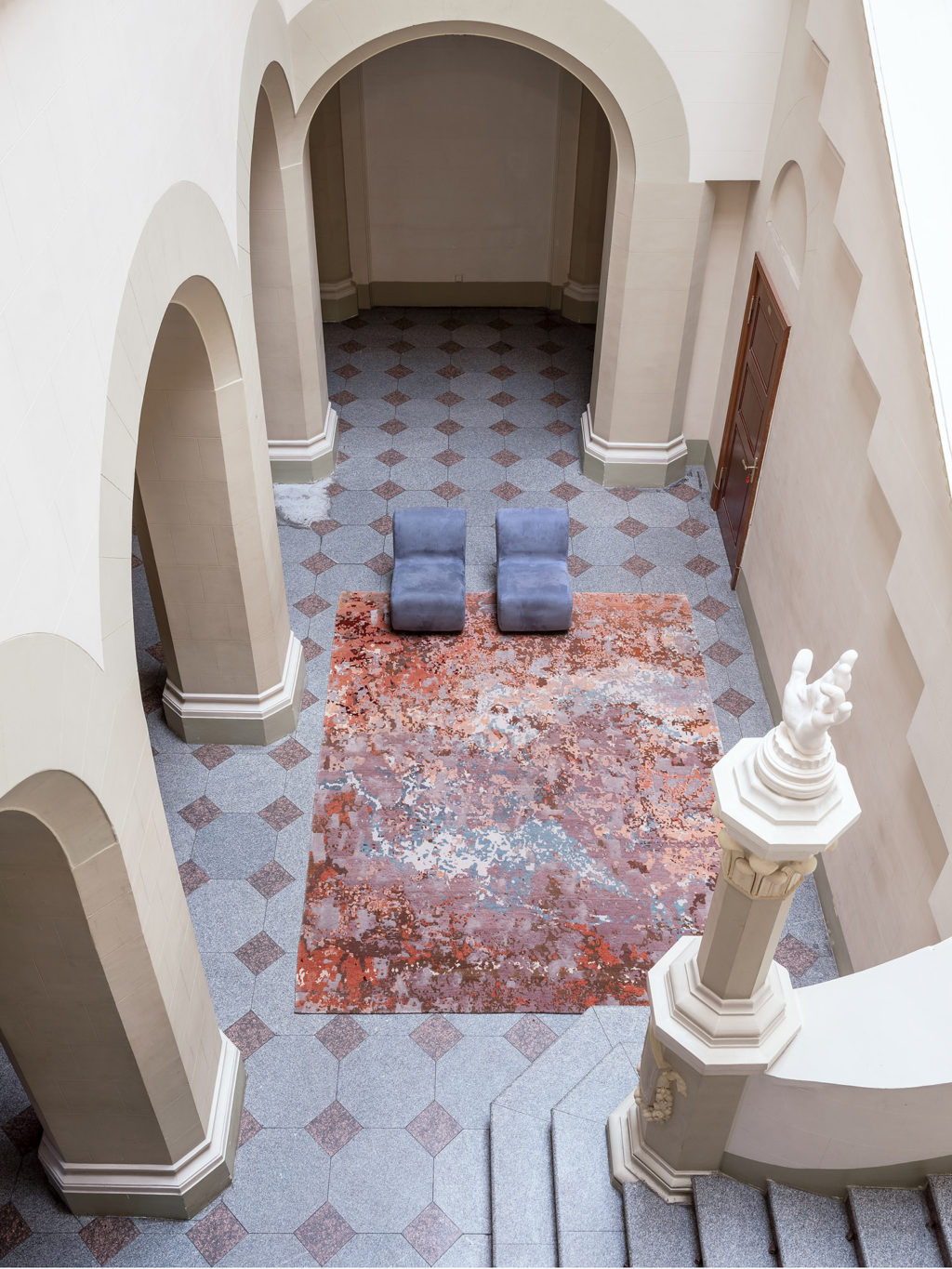 Riflessi, Diamond mirrors
Among the Riflessi novelties, the new Diamond mirrors, for which Riflessi has chosen to use for the first time in furniture innovative stainless steel sheets. From an aesthetic point of view, this type of steel has an original and high-impact effect since it reflects light in a peculiar way, and, thanks to the treatment with nanoceramics, it is also extremely resistant. antibacterial e anti fingerprint, as well as eco-sustainable (since it is part of the recycling chain). The material is processed with a special "folding" technique to create a diamond effect that amplifies the refraction of light and is proposed not only on mirrors, but also on the legs of some tables.
Where: Fuorisalone - Riflessi store, piazza Velasca 6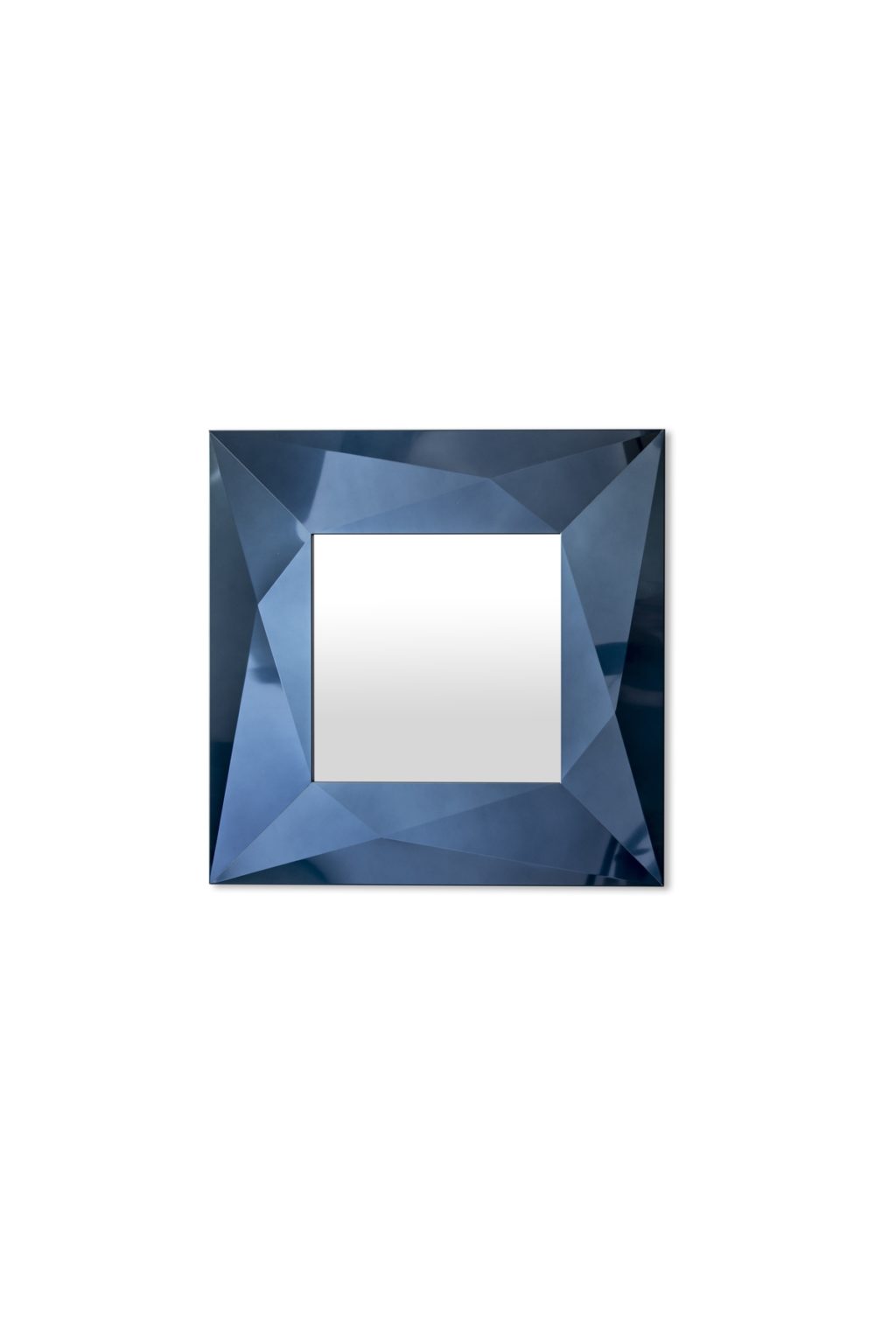 Eurocucina product previews
Lago, Kitchen 36e8 Glass
designed by Daniele Lago, it is one of the products that LAGO will present at the 60th edition of the Salone del Mobile in Milan from 7 to 12 June. A proposal that revisits the 36e8 Kitchen, starting from the desire to explore the paradigm of lightness inside customers' homes. A path that renews the face of the LAGO kitchen, deconstructing it and leaving room for transparency and the deep visual reflections of glass.
Top, doors and imperceptible handles merge into a single suspended monolith which, thanks to a subtraction of material, accommodates resistant Glass containers, available in extra-clear, smoked gray and smoked bronze finishes.
This is how the soul of a kitchen with a versatile and relational design is expressed, capable of generating emotions and empathy in the environment at the center of your home.
Design: Daniele Lago
Where: Salone del Mobile - Fiera Milano Rho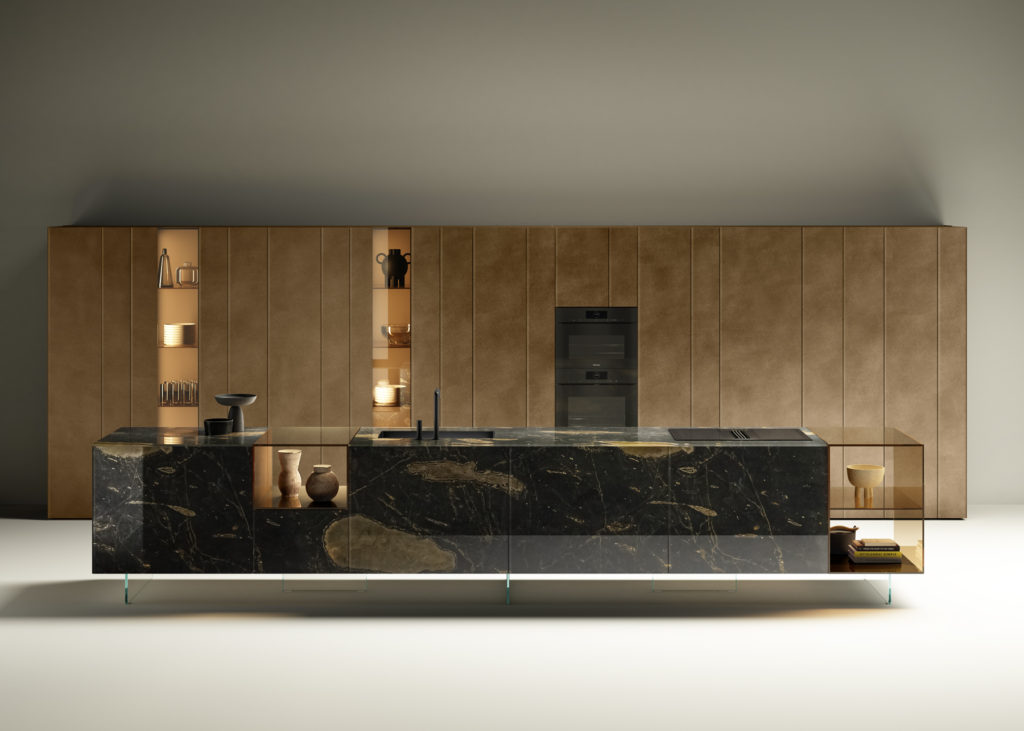 ARAN, Oasis on the wall
The kitchen is one of the most important spaces in the house and, as such, it must be lived. Stefano Boeri reminds us of this who, for the next edition of the Salone del Mobile, proposes a new way of living this domestic dimension by exploiting one of the main properties of the environment itself: its 'verticality'.
And so Oasi becomes a wall but it maintains its uniqueness in the presence of the natural element. Taking up the principle of circularity around which the free-standing square-shaped cell of the island version revolved and including the fundamental phases of conservation and preparation, consumption and recycling, Oasi in the wall configuration presents itself as the innovative and functional solution for kitchen furnishings.
Also suitable for small living areas, the new Oasi provides a wall unit with simple lines, highlighted by the smooth doors made with oxidized or fossil wood. Its structure facilitates daily activities through a division of the internal space organized by well-divided storage compartments and large shelves for the pantry and for household appliances.
A fundamental role in the context of sustainability, of which the entire Oasi project is the spokesperson, is the possibility of cultivating trees or plants, ornamental or aromatic, also thanks to indirect sunlight. The latter filtering through the branches and leaves helps to create an internal microclimate and, reflecting on the horizontal surfaces, is able to broaden the perception of space and highlight all the details of the hob.
Design: Stefano Boeri architects
Where: Eurocucina - Salone del Mobile - Fiera Milano Rho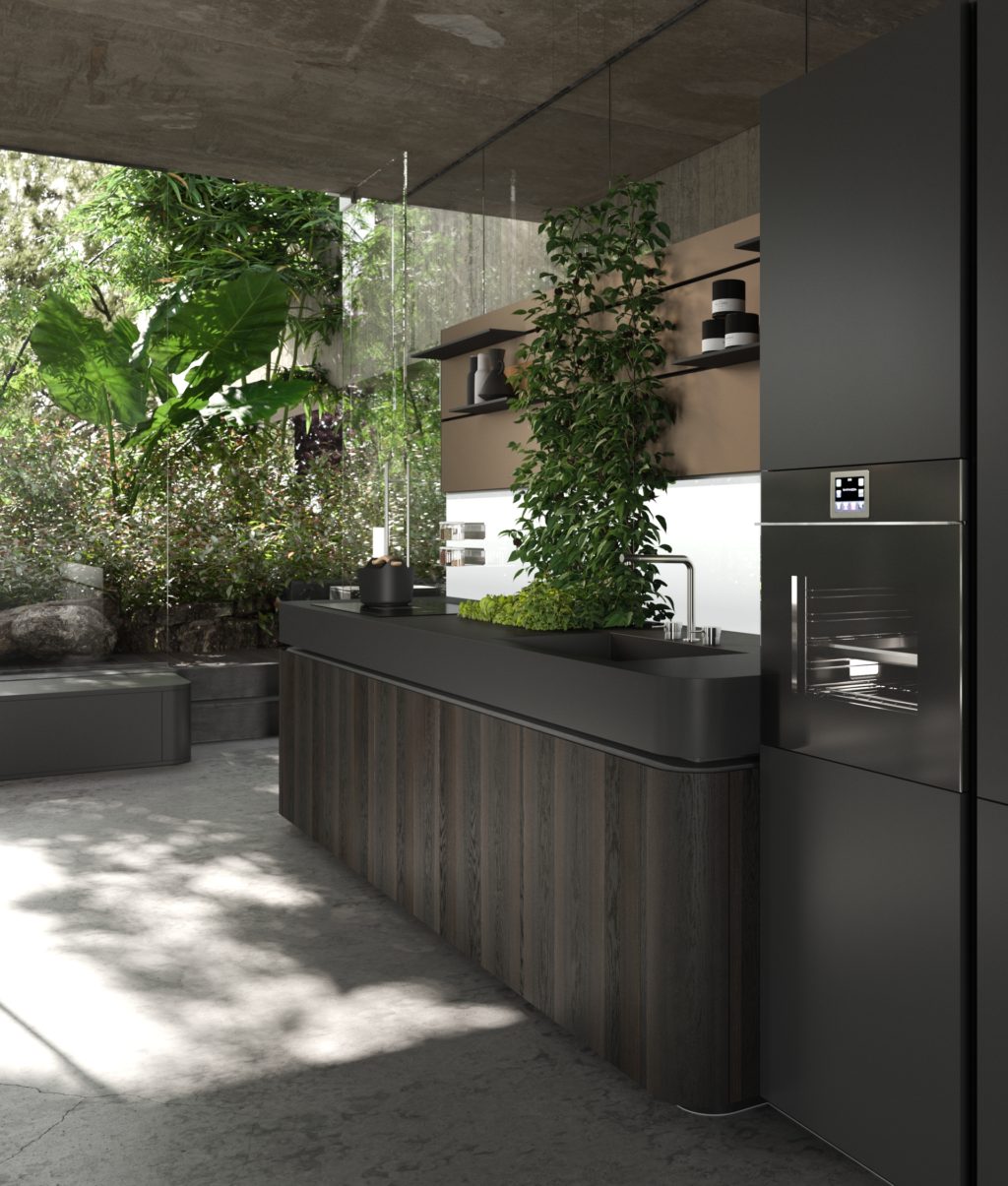 ARAN, Volare
Appearances do not deceive. Volare changes shape but does not lose the elegance and versatility that have distinguished it over the years. In the new restyling of Ulisse Narcisi, Volare has carved out a central role for itself: by appropriating the surrounding environment, it becomes its fulcrum and meeting point.
Il independent island block, positioned in the center of the kitchen, reveals all its possibilities of use: the most operational part houses the cooking area with a single bowl sink equipped with a spout tap and induction cookers. The set of storage compartments integrated in the top is an original solution to have all the tools at hand, in an organized way. The snack in caracalla nut, positioned between these two functional elements, makes the home environment even more dynamic: the fact of having to move to reach the work surfaces invites collaboration and participation not only of the physical space but also of the activities themselves that take place at its internal. Volare is a dimension of being together built around the catalyzing presence of the table which, through an invisible junction line, is able to unite all the elements of the aera kitchen.
The integrated system of containment elements allows to make the most of all spaces: the bases of the island have been designed to house doors and shelves essential to optimally organize the arrangement of appliances and kitchen utensils. To complete the composition, a linear wall configuration ready to accommodate other accessories. The alternation of solids and voids given by the sliding glass and aluminum doors combined with the matt white lacquered columns, gives a mix of ergonomics and functionality easily adaptable to variable sizes. The choice of primordial materials such as iron, wood and stone in this restyling highlights the strengths of the new solution while maintaining a balance in the entire composition that reflects the style and aesthetics of contemporary life.
Flying becomes synonymous with "sharing": sharing a passion, that for cooking, which turns into a gesture of inclusion towards the other and capable of underlining the cultural value of culinary art. Volare marries the idea of ​​the kitchen as a meeting place, presenting itself as a new possibility of reflection on today's concept of conviviality.
Design: Ulisse Narcisi
Where: Eurocucina - Salone del Mobile - Fiera Milano Rho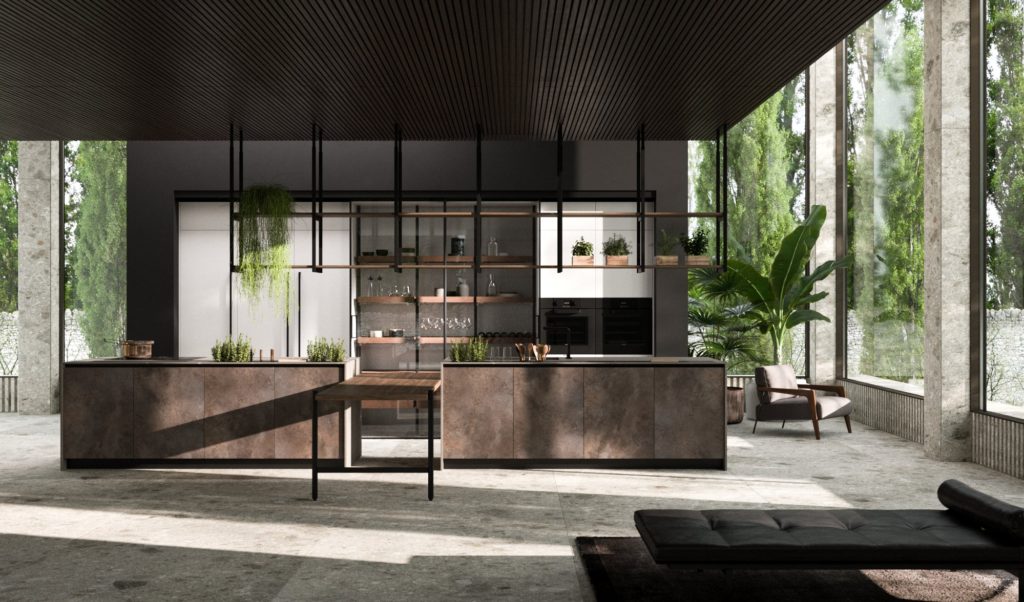 Abimis, ATRIA
Born from the collaboration with Studio Delineo and Massimo Rosati, ÀTRIA is the first Abimis kitchen expressly made to live outside, a dynamic and contemporary solution with a stainless steel heart, modular and 100% customizable.
Presented in 2021, ÀTRIA now becomes an even more complete and versatile project, a configuration as compact as it is 'open' to meet the most diverse needs of those who want to cook outdoors and to interpret the many 'vocations' of en plein air contexts. Urban balconies, panoramic terraces, country gardens, secret courtyards, dehors overlooking the sea or the Alpine landscape, with ÀTRIA it is possible to customize any outdoor scenario with a 'system' capable of ensuring top-level performance.
Design: Studio Delineo and Massimo Rosati
Where: Eurocucina - Salone del Mobile - Fiera Milano Rho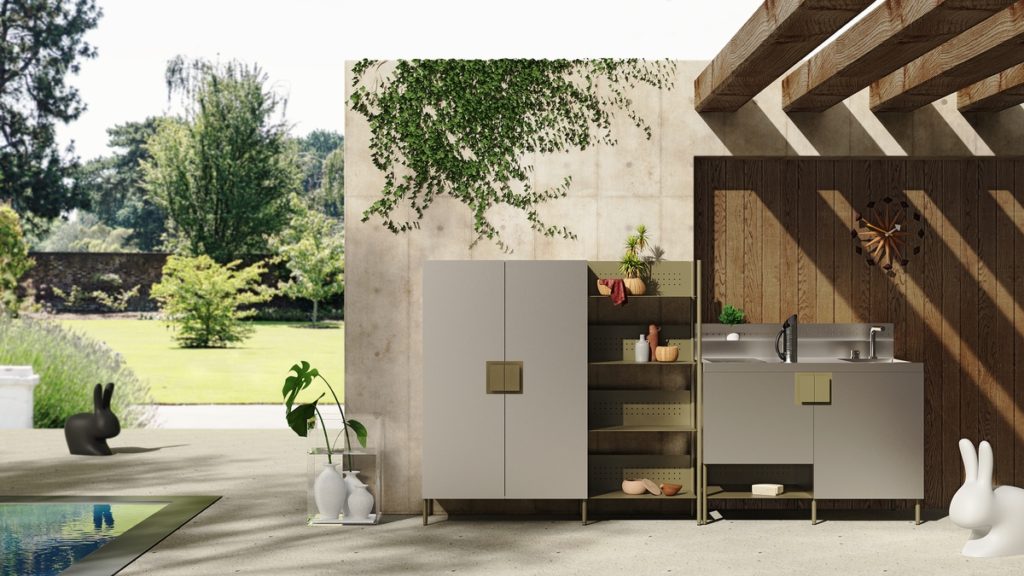 Abimis, Ego mirrored
Entirely produced in AISI 304 stainless steel, the most resistant, safe and suitable for contact with food, Ego is the Abimis tailored kitchen that combines the highest performance of professional catering with the most elegant and clean shapes of domestic kitchens.
The steel of the kitchen becomes surprisingly bright and 'luminous' when declined in detail
mirror polished finish. There mirrored finish manages to create plays of light, reflections and suggestions that transform Ego into a truly scenographic element, capable not only of integrating with the most diverse stylistic philosophies that characterize the surrounding environment, but of modifying the perception of the space itself, giving a greater feeling of openness.
Where: Eurocucina - Salone del Mobile - Fiera Milano Rho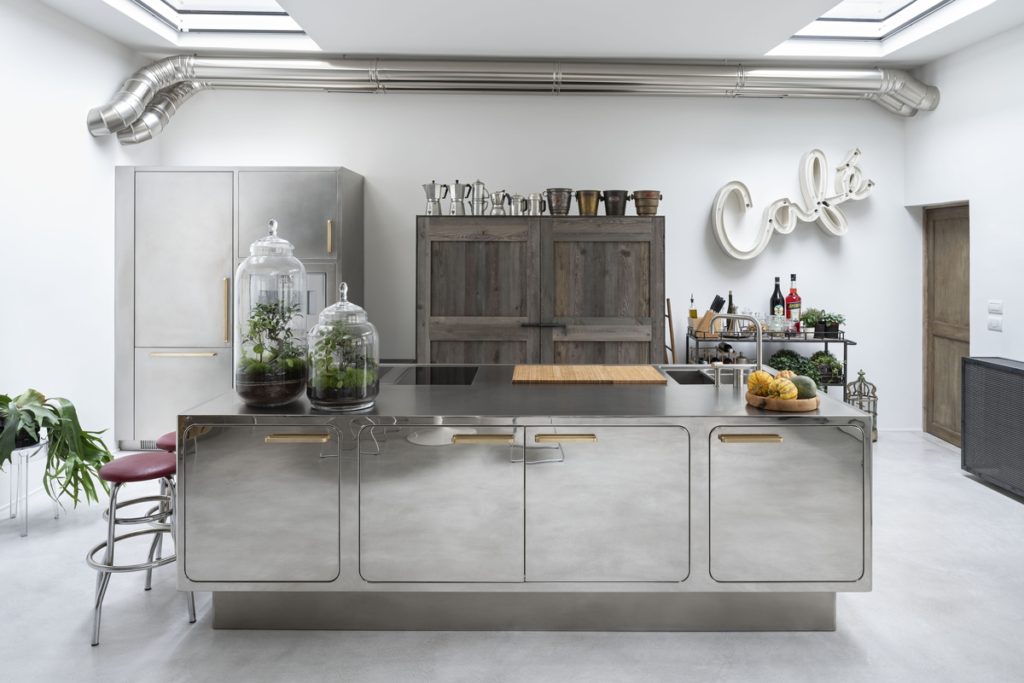 Previews of bathroom furniture products
Ideal Standard, Calla and Joy Neo
Calla and Joy Neo are two new proposals that Ideal Standard presents on the occasion of the 2022 edition
of the International Bathroom Exhibition.
The new collections represent one fusion of designs from different eras: they are inspired by classical canons
combining them with contemporary elements and creating a new eclecticism in bathroom design. Designed by Ludovica + Roberto Palomba, the products of the Calla and Joy Neo lines have been specifically developed with a view to flexibility, so that they can easily integrate into a variety of different interior styles.
Inspired by the Victorian era and the first ceramic productions, the Calla collection presents forms
clean and simple geometric lines, with clear horizontal and vertical lines, for a timeless product that
embodies discreet luxury. Calla includes a wide range of proposals, including elegant washbasins and
columns, refined vases and bidets, as well as an extraordinary free-standing neoclassical bathtub.
Joy Neo represents an evolution of classicism: it combines the characteristics of the Joy collection, more contemporary and cylindrical, with elements of a classic and squared design and cross or linear handles. The result is a highly versatile and sophisticated range of mixers, which can be perfectly combined with
Neoclassical collections such as Calla, but also with more minimalist lines, such as the Extra collection of Ideal Standard washbasins.
Joy Neo offers a wide variety of proposals, including single-lever, double-handle, wall-mounted and 3-hole basin mixers, as well as various products for the environment.
shower and bathtubs. Available in two finishes, Magnetic Gray and Chrome, the collection adapts to any space.
Design: Ludovica + Roberto Palomba
Where: International Bathroom Exhibition - Salone del Mobile - Fiera Milano Rho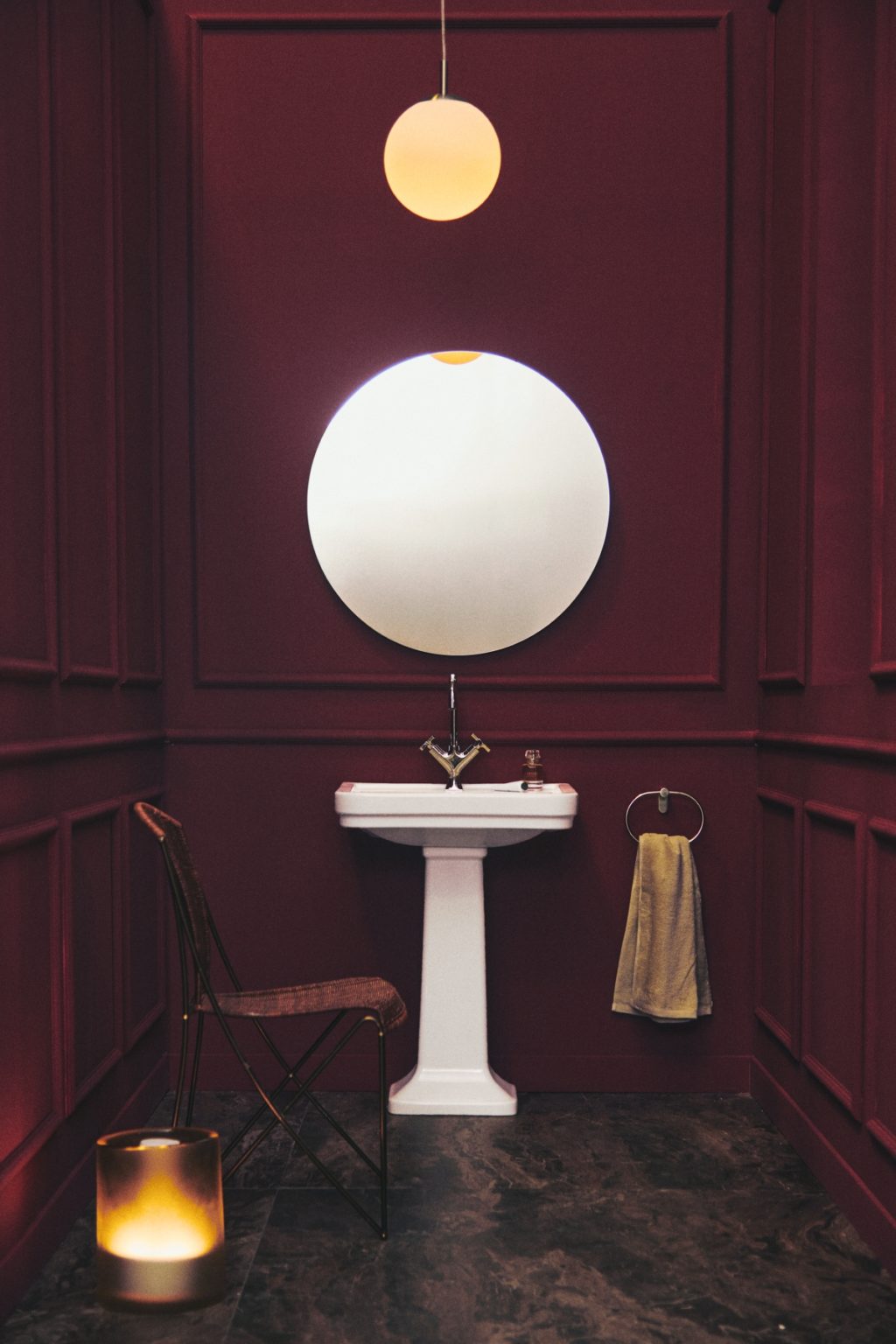 Rubinetterie F.lli Frattini, the name? Still to be revealed!
Essential geometries and light reflections. Matter is at the service of function in the new collection of stainless steel taps designed by Marco Piva for F.lli Frattini.
Marco Piva chooses stainless steel for the new collection of taps designed for Rubinetterie F.lli Frattini: an innovative object, one of a kind, a synthesis of function and form.
Linear and essential, the new tap is made of stainless steel with a brushed stainless steel finish and is resistant to any type of external aggression. It is suitable for any wellness area: from a luxurious private bathroom to an exclusive five-star spa.
The new faucet appears tall, robust and elegant, whose cylindrical and slender body rises from a thin and light square base. Its handle, without cuts on the back, is an alternating prism of full-height triangles, to express a refined and rigorous geometry. Thanks to special state-of-the-art welding, the ultra-thin dispenser is equipped with an adjustable jet.
It's a high-tech product finished by hand: the perfect combination, typical of the best tradition of Made in Italy, which is divided into a wide range of products designed to reduce water consumption by contributing to the protection of water resources.
Design: Marco Piva
Where: PAD 24 Stand B05, Aisle B - International Bathroom Exhibition - Salone del Mobile - Fiera Milano Rho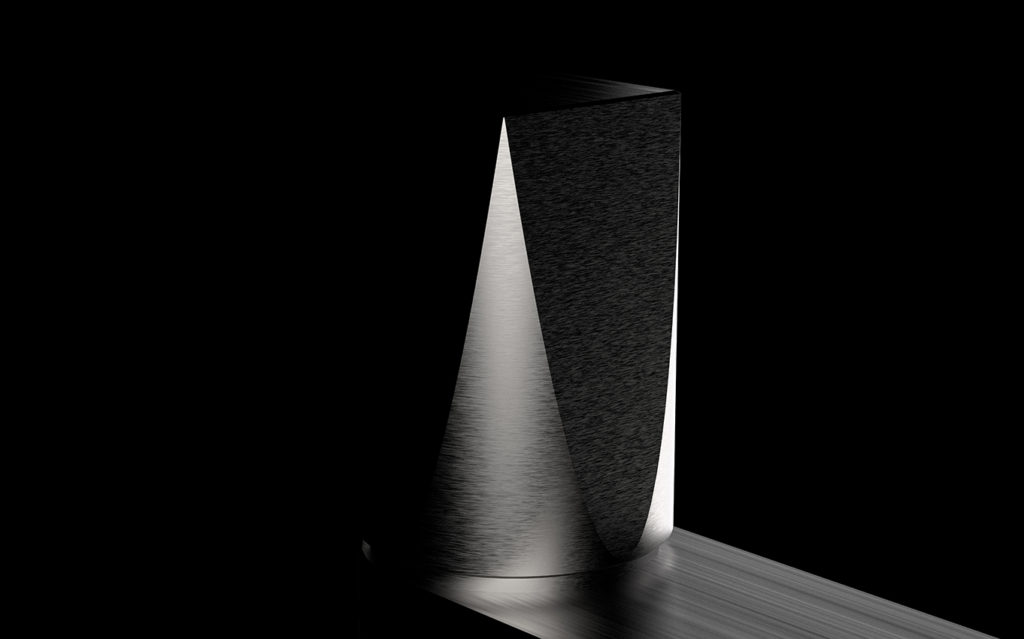 Tubes, I Ching
Designed for Tubes by Elisa Ossino, the new I Ching product is a towel warmer module created starting from a radical work formal simplification.
By minimizing the dimensions and thicknesses thanks to a very complex research from a technical point of view, with I Ching the heating object is transformed into a kind of artwork, a very strong mark on the wall that gives connotation to the space, making you forget the functional aspect for which it is intended.
Each module conveys elegance and purity thanks to the absence of any type of visible joint. One or more parallel or sequential lines are inserted into the wall offering the possibility of creating different graphic and formal compositions that refer to the hexagrams of the book I Ching.
Designed to be installed in multiples, I Ching can give life to multiple compositional solutions, enhanced by the adoption of refined metallic finishes.
The finishes combine to define its presence in the environment in a distinctive and personal way. Polished stainless steel, satin stainless steel, matt brushed black nickel, matt brushed tin, matt brushed copper, matt black (RAL 9005), matt white (RAL 9016), or painted in the 140 colors of the Tubes palette.
Four le sizes available: length 53, 63, 78 or 135 cm, for a width of 4 cm and a very thin section.
I Ching is in 304L stainless steel ed it is available in an electric version (24 volts). It can be equipped with an ON / OFF switch that allows manual switching on and off and a digital wireless thermostat (compliant with the ECOdesign standard) with which it is possible to adjust the temperature of the product and activate a weekly programming. His low voltage operation, 24 volts, finally makes it safe even if installed in particularly humid situations, such as next to a shower or tub.
Design: Elisa Ossino
Where: PAD 24 Stand F10 F12 - International Bathroom Exhibition - Salone del Mobile - Fiera Milano Rho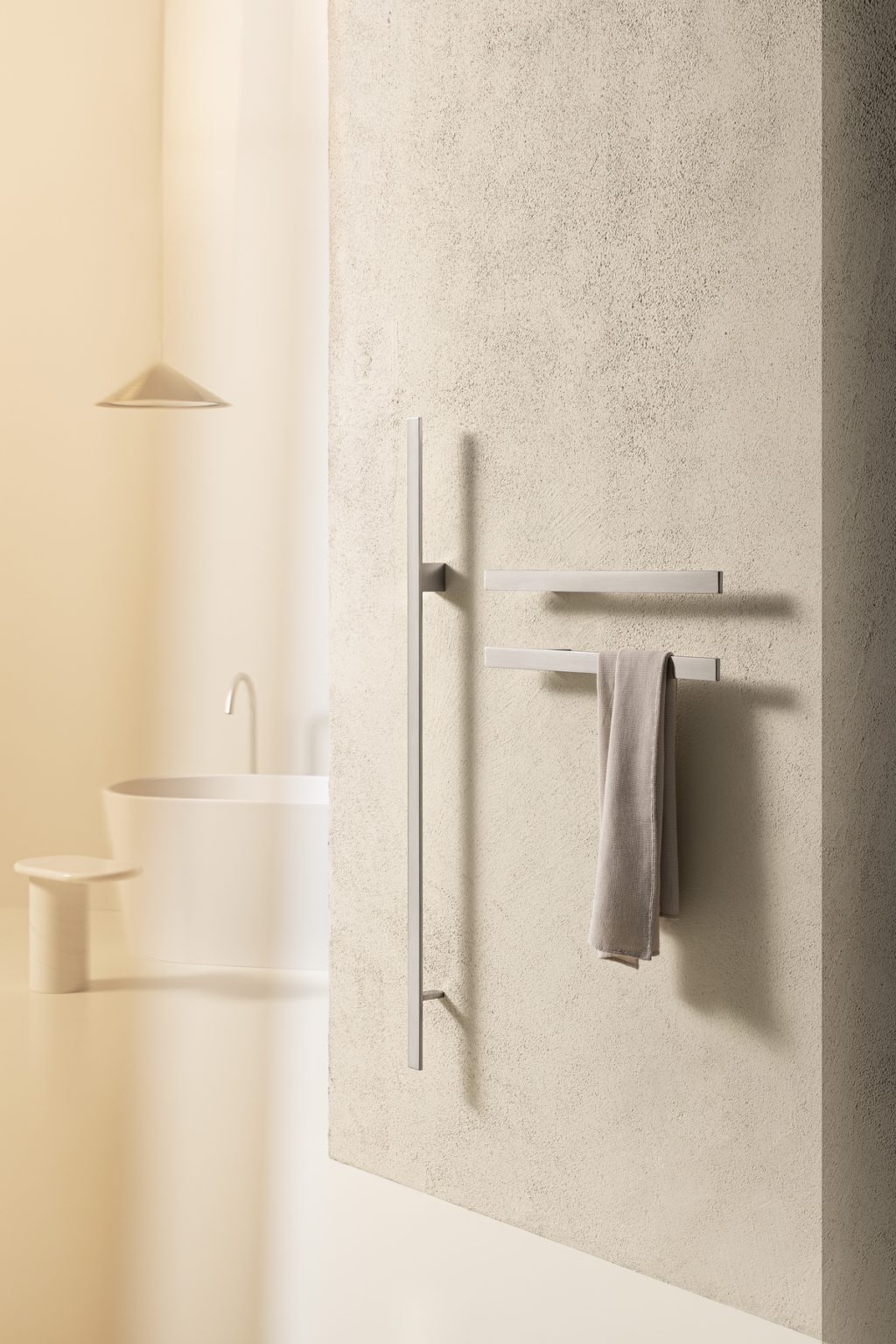 Product previews for the office and home working
Sitia, Nuki armchair
MM Company designs "Nuki" for the Sitia brand: an armchair designed for home working solutions but can also be used throughout the rest of the house.
Inspired by the mood "The human contract" by Sitia, Nuki is an armchair with minimal and two-dimensional features: a graphic sign that refers to the profile of a seated person. Thanks to its versatility and its slim shapes, it can be easily placed in a corner dedicated to home working, or around a dining table. Nuki is equipped with a practical "dot": a small hook, incorporated in the backrest, designed to hang a bag or jacket.
Nuki was born from Sitia's twenty-year experience in the production of contract furniture, enclosing in its essential silhouette, designed by MM Company, all the elements of a professional seat: ergonomics, lumbar support, wide seat, padding, abrasion resistance.
Design: MM Company
Where: HALL 8 Stand D39 - Salone del Mobile - Fiera Milano Rho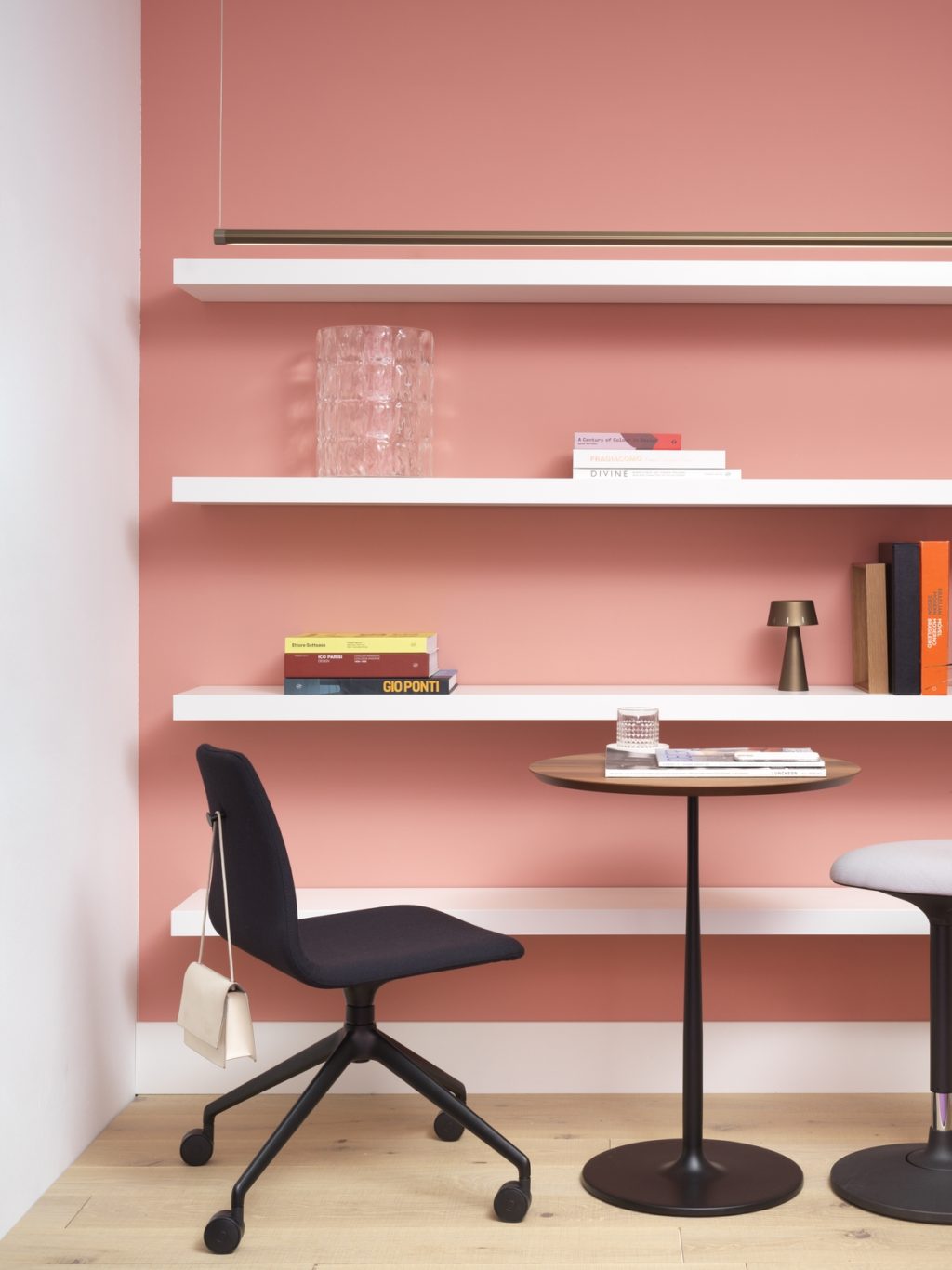 Martex, Biblos collection
Biblos, the Martex bookcase system dedicated to the office and home environment: an indispensable element in the organization of work to accommodate docs and volumes and, at the same time, a surface for displaying decorative objects. Those that create a space with a personalized imprint and contribute to the pleasure of living a place whether it is for work or home.
Biblos - tower
Available in the ground or suspended version, Biblos - tower is available in 2 or 3 columns, in 3 heights and 3 lengths. It can be equipped with backs and sides, top and bottom to frame the shelves.
Biblos - grid
The most versatile Martex bookcase model is Biblos - grid, which can be anchored to the wall or used as a dividing theater in the center of the room up to the ceiling. It can be customized with shelves, planters, drawers, back and bench.
Design: R&D Martex
Where: Hall 6 / Stand B26 - Salone del Mobile - Fiera Milano Rho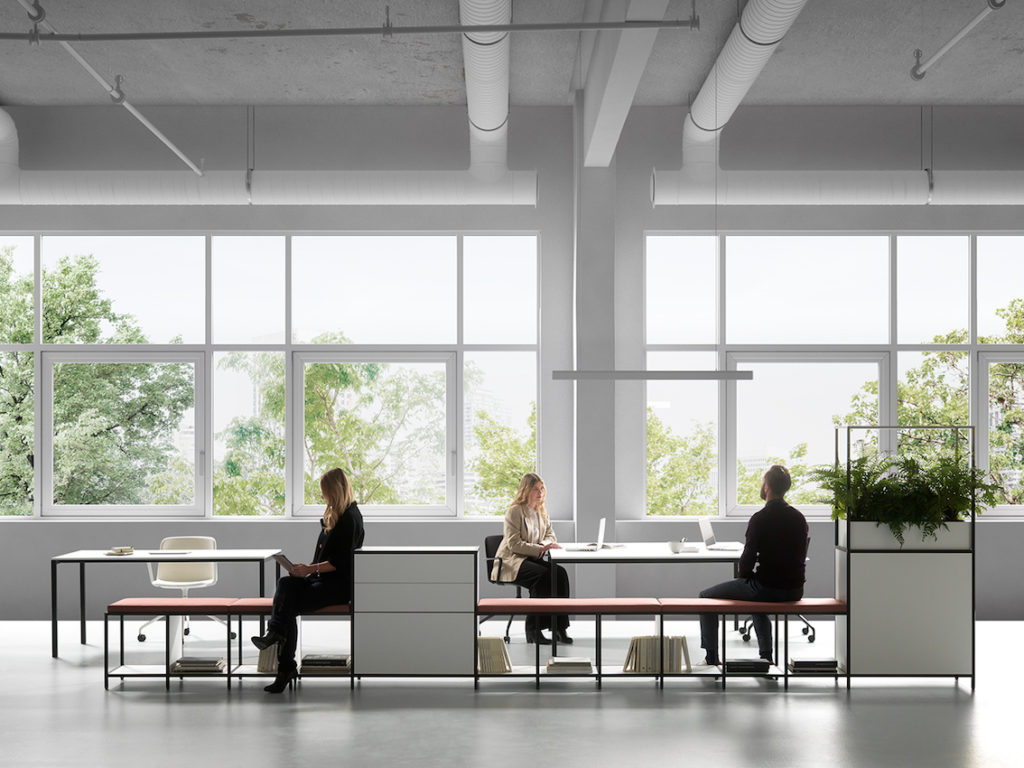 Martex, Nucleo collection
Nucleo is a complete collection of furniture that responds to changes in work methods: no longer in standardized and exclusively fixed workstations, but dynamic and with the need to have more modular and reconfigurable solutions. Common areas, waiting areas, breaks, lounges must coexist in the same office, as well as meeting rooms or points and touch down stations.
The collection includes:
Business core: armchair that is a real work area with rotating tables and integrated electrification.
Core Work Area: modular workstations configurable in one or more workstations. They allow privacy and can be moved around the room.
Meeting Core: small meeting rooms that can be equipped with low or high tables, integrated electrification, chairs, poufs, stools
Freestanding Core: modular panel divider to create small or large cozy rooms, thanks to the modularity. On the double-sided walls, which rest on wheels or feet, you can insert hooks for bags, blackboards, coats.
Pantry core: A pantry available in the office. Equipped with small appliances thanks to electrification, it has a compartment with doors that can be customized in colors.
Design: Monica Graffeo
Where: Hall 6 / Stand B26 - Salone del Mobile - Fiera Milano Rho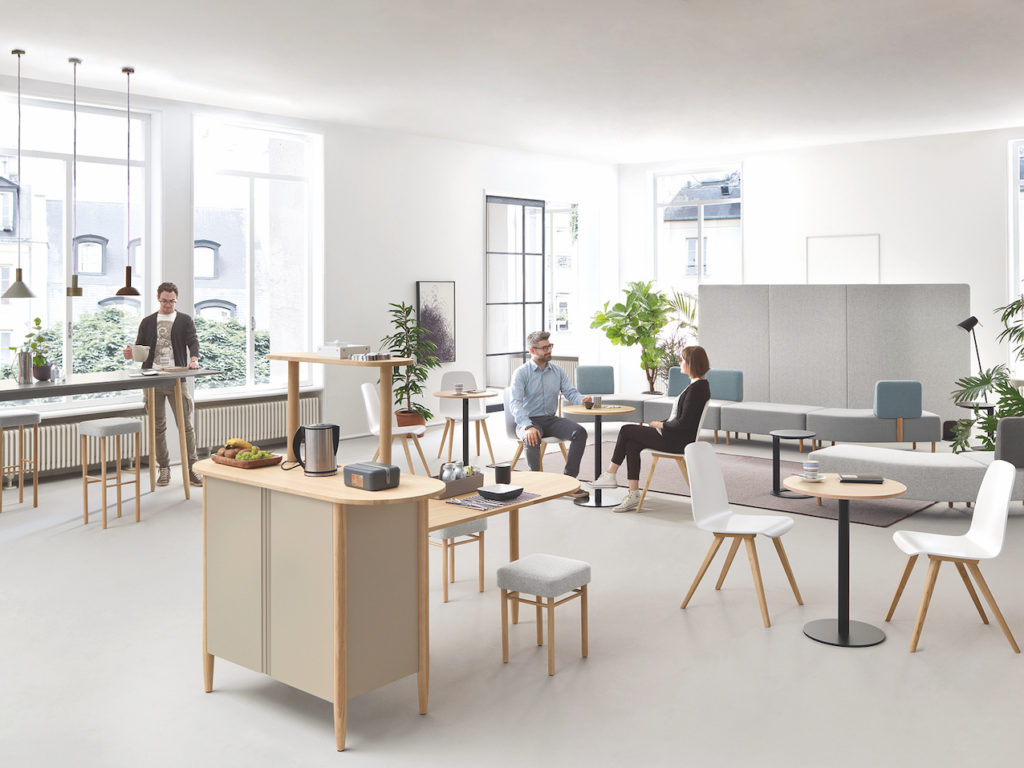 Wallpaper previews
Ambientha, Woman - Above Ground collection
Of refined elegance, sweetness and strength. Woman's praise to women rewrites the contemporary environment. The sinuous dance of nature is combined with the firmness of the female symbol. The soul of the design is a refined combination of lines and is pronounced with the power and grace of Emily Dickinson's verses, which enrich the scene with a precious detail. It is the gold, silver and copper ring that becomes a spokesman for hope in the future, illuminating the walls that now tell a story of beauty and equality.
Where: Fuorisalone - c / o DesignLab: decoration without limits - Via Tortona 37 Milan