Stratum: an ecological and aesthetic element for the entrance of the modern office it has been modified: 2023-09-05 di
"Stratum" by The New Raw is an impressive multifunctional design work featuring the entrance of an office building in the Netherlands. Made using 880 kg of plastic waste, this creation simulates the geological process of sedimentation through a sophisticated 3D sculpture technique.
Stratum, conceived by the famous creative duo of Panos Sakkas and Foteini Setaki of The New Raw is an impressive multifunctional creation that defines the entrance of an innovative office building of an online food shopping company in the Netherlands, Utrecht.
With its impressive 18 meters in length, Stratum is a structure inspired by geological stratification, capable of radically transforming the space in which it is placed. Its versatility is amazing, as it can serve as a seat, reception desk, plant pot, standing work desk and side table.
But what makes Stratum a true masterpiece is its ecological impact. This impressive piece of furniture was created using no less than 880 kg of plastic waste, transforming this material into a new form of "stone". The creation process simulates rock formations through a sophisticated 3D sculpting technique layer by layer, recreating geological evolution in the world of artwork and furniture. Just as layers of fossilized sediment compact and lithify over millennia, Stratum builds layer upon layer until it achieves its final massive form. Some layers curve during the process, just like natural sediments that shape over time.
To underline this metaphor for the geological process, Stratum's aesthetic was developed through careful trial-and-error research, combining design, robotics and craftsmanship. This approach gave the work a handcrafted touch and a unique look. The gray brushstrokes on an off-white background were applied randomly and in different orientations, creating a color inspired by supermarket storage boxes. This subtle touch is a tribute to the customer, while the texture helps to highlight the earthy character of the furniture.
But Stratum is not limited to its solid form; it also invites tactile exploration with its sinuous lines. This sensory interaction makes the work engaging, stimulating visitors' senses and creating a connection with others. The materiality of Stratum has been carefully studied, as its role is crucial in the mental, visual and physical perception of the space in which it is placed.
Panos Sakkas and Foteini Setaki, the co-founders of the studio, explain that "materiality is an important factor in our research as it plays a fundamental role in our mental, visual and physical perception of a space. In this case, Stratum emphasizes the character and functionality of a common entrance hall and at the same time instills a sense of familiarity, putting visitors at ease."
Stratum is an extraordinary example of design that maximizes functionality and adapts to multiple contexts, from reception to offices, from waiting rooms to recreational places such as bars, cafes and restaurants. This work combines form, functionality and ecology in one extraordinary creation. Stratum is not just a piece of furniture, but a work of art and design that leaves a positive ecological footprint on the world. With its ability to engage the senses and its aesthetic beauty, Stratum is destined to become an icon in the world of contemporary design.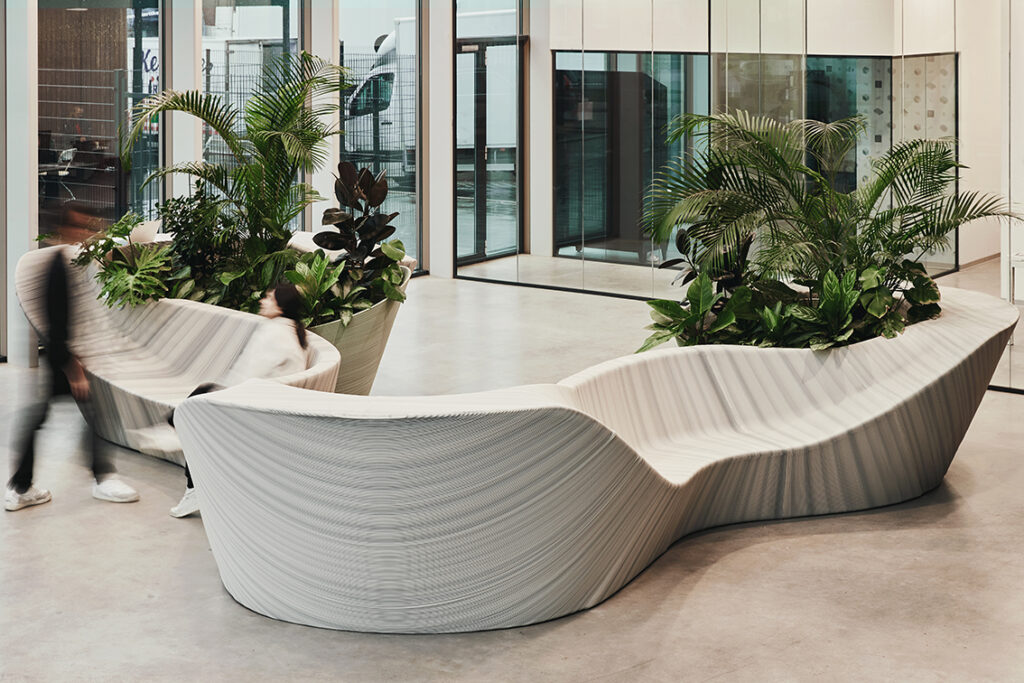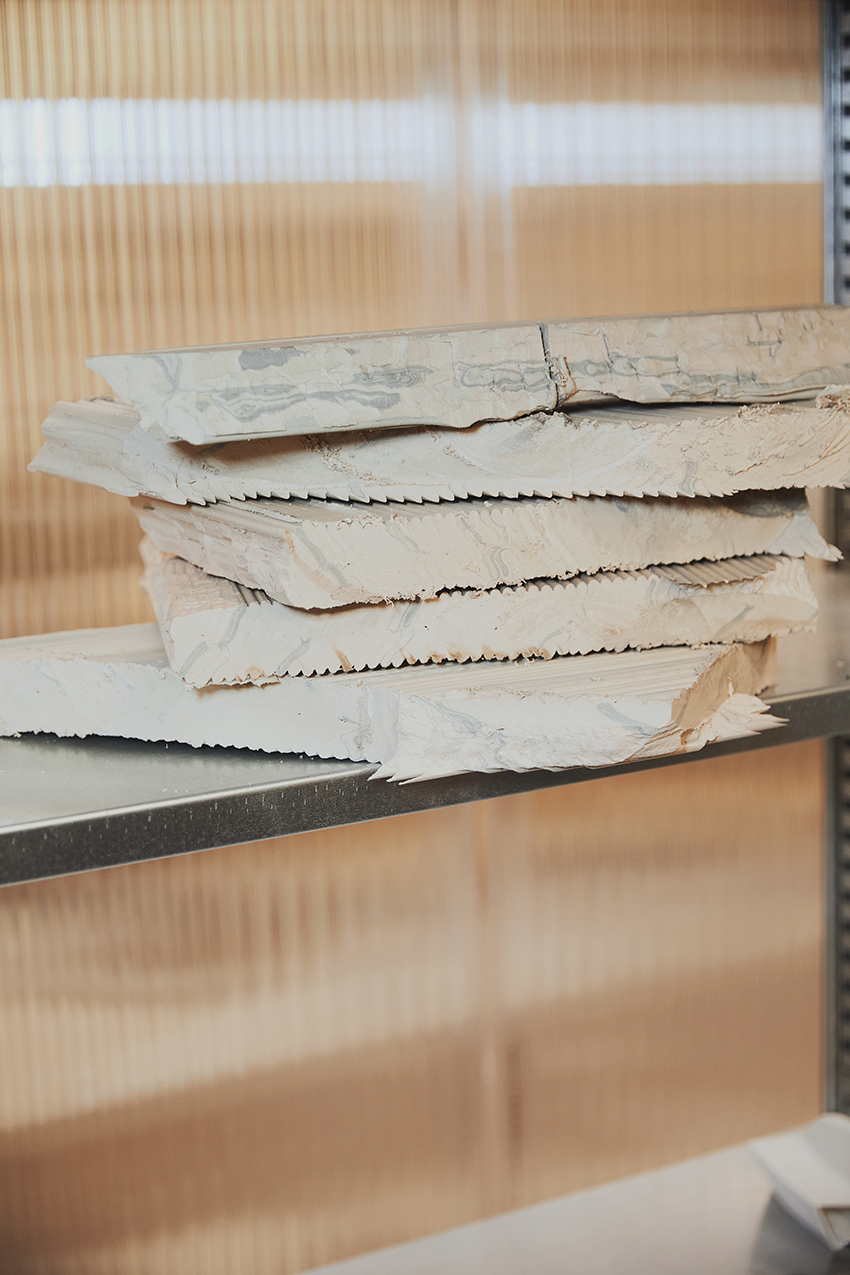 project info
PROJECT NAME: stratum
DESIGN: The New Raw (Panos Sakkas, Foteini Setaki)
PROJECT TEAM: Panos Sakkas, Foteini Setaki, Stavroula Tsafou, ZongRu Wu, Frank Cheng-Huang Lin, Inigo Puerta Uranga, Tim van Dortmont, Nanno Simonis, Damianos Zisimou, Maurizio Filippi
COMMISSIONED BY: Picnic
PICNIC HEADQUARTERS ARCHITECT: DENC Studio
PHOTOGRAPHER: ©Michele Margot