"The ethics of a thing" it has been modified: 2012-03-07 di
Reflections on the environment through discussions, workshops, exhibitions and performances of visual art, fashion ornaments to wear
THE ETHICS OF A THING
16-17-18 March 2012 Former Church of S. Maria delle Grazie - ALBANO LAZIALE (RM)
Edited by Fabrizia Ranelletti
A "thing", not naturally created, has within itself the custom and habit of who produced it.
For this reason, the individual responsibility of the newspaper, it becomes subject to a choral society that may otherwise be defined as such.
The cultural choices of a community is measured on the radius of foresight inherent in the observation and definition of this. The eye surface has a short time and generates culture that does not last long, consumerist. A disposable culture. The reflection on the future is a necessary design life. The look of an artist or an author who applies a creative transformation of one thing, is what can reveal the way for blind travelers wandering. The intellectual analysis of an artist is based often on the truth of concepts and dogmas that others refuse, sometimes despise or at least do not consider. The function of social communicators is devolved and consecrated to their sensitivity. The crazy economy has a pathological infallible antidote in human creative genius. Our Common Home must be protected through cultural choices that are available to everyone, just a minimum of knowledge or just attention. Everyone is the protagonist of his own actions and the actions without conscience are not specifically human. If everyone has an essence, it appears in every single action perpetrated and if the action generates a thing, the very essence translates into the thing.
The thing, therefore, has an essence. Or rather an ethics. curated by Fabrizia Ranelletti (Historian and Art Critic)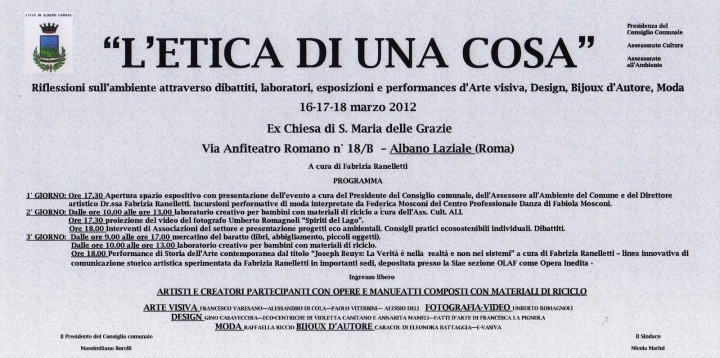 LIST OF ARTISTS / CREATORS
VISUAL ART:
FRANCESCO Varesano
ALESSANDRO DI COLA
PAUL Viterbini
ALESSIO DELI
PHOTO-VIDEO:
UMBERTO ROMAGNOLI
DESIGN:
GINO CASAVECCHIA
ECO-centric VIOLET AND Canitano ANNARITA MAMELI http://www.ecocentriche.com/
FACTS OF ART OF THE FRANCESCA PIGNOLA
FASHION
RAFFAELLA RICCIO
BIJOUX AUTHOR
Caracol of ELEONORA BATTAGGIA
Evasive