Kosho Ueshima presents misoka, the toothbrush to be used only with water
it has been modified:
2015-07-03
di
The Japanese designer Kosho Ueshima - The Industrial Design Studio - submit to Fuorisalone 2015 misoka, the toothbrush to be used only with water, no toothpaste.
The project is a collaboration with the company Yumeshokunin Co. LTD of Osaka entrusting the mineral nanotechnology development of its products.
Yumeshokunin - "craftsman of" in Japanese dreams - combines craftsmanship with advanced technology, with the idea of ​​"transmitting feelings in the world."
Misoka: nanotechnology, mineral ions and water (pure)
The objects that make use of nanotechnology are characterized by dimensions of the order of billionths of a meter. The bristles of the toothbrush misoka are in fact coated with mineral ions nanoscale. As you brush, the ions move in the water and pass the bristles to the teeth by removing stains, coating them and keeping them clean and shiny all day.
Unlike traditional bristles, those misoka thin on tips for better cleaning and massaging the interdental areas. Even without toothpaste, teeth are shiny and clean as just come out of a session of the dentist teeth cleaning.
The misoka expression in Japanese means "last day of the month" and the toothbrush should be replaced every month precisely, after which time it deteriorates and loses its effectiveness. Misoka also stems from the word Misogi which means "to purify body and spirit with pure water." If you brush your teeth with misoka means using energy minerals - noted Kosho Ueshima at the design stage - then this gesture is equivalent to simply be brushed with water. Thus it was born a new way to brush teeth.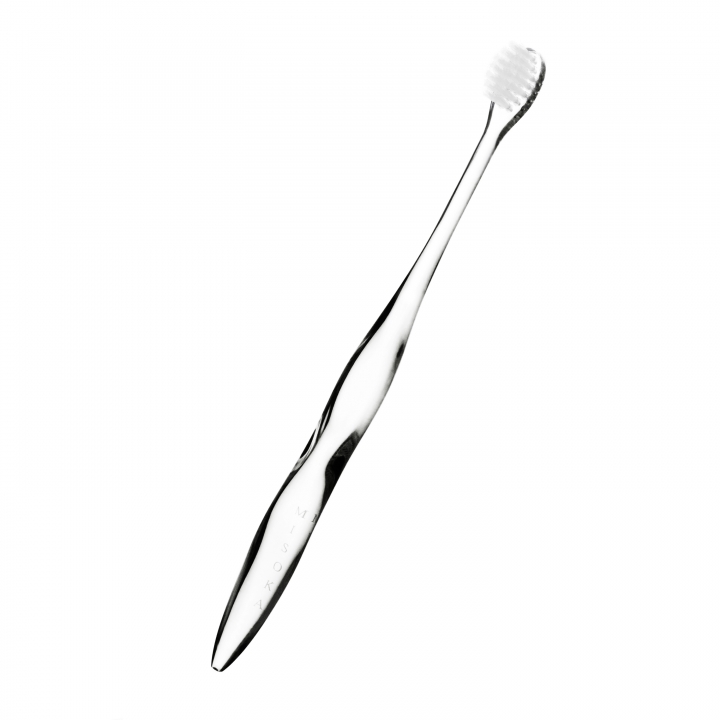 A new water brushing concept
On the Japanese and Asian market since 2007 with a first-generation model already sold two million pieces, misoka debut in Europe and other countries on the occasion of the Milan Design Week 2015 with the new Kosho Ueshima project (TIDs), which He has completely redesigned.
The new sleek and fluid form of misoka inspired by the shape of water, fluid element par excellence, and is made of plastic (PET: Polyethylene terephthalate).
Misoka is presented at the Milan Design Week 2015 in Water Fountain, evocative installation that he is the protagonist of a scenario entirely played on the theme of water. For Kosho construction I involved the known designers Setsu and Shinobu Ito.
Inspired by the Japanese Zen garden, the two designers have designed the fountain Izumi and sitting in stone Konoha realized by Grassi Pietre, Partner of the event.
By Setsu & Shinobu Ito also Eda toothbrush holder made of cast aluminum from Artistic Foundry Campagner.