NOVELLO at the Furniture Fair presents the collection CRAFT
it has been modified:
2014-03-21
di
Craft (which in English means crafts, craft) is the ultimate goal of aesthetic and functional New will present to Salone del Mobile 2014, a collection of bathroom furniture that cleverly recovers memory values ​​returning them in their current form.
Craft has clean lines, clean and rigorous, defined by natural materials and enveloping like wood and stone, combined with modern cement, Laminam, glass and lacquered.
Also boasts of craftsmanship that enrich and enhance the planning of contemporary design. This is how the compositions of furniture that perfectly synthesize tradition and innovation, taking a shape and a unique aesthetic.
Some processes for the realization of these furnishings are done entirely by hand: the concrete, with which are shaped tops with integrated sinks, is tooled and polished by hand, and are manually operated joints also necessary for the creation of plans with sinks Laminam and washbasins in stone.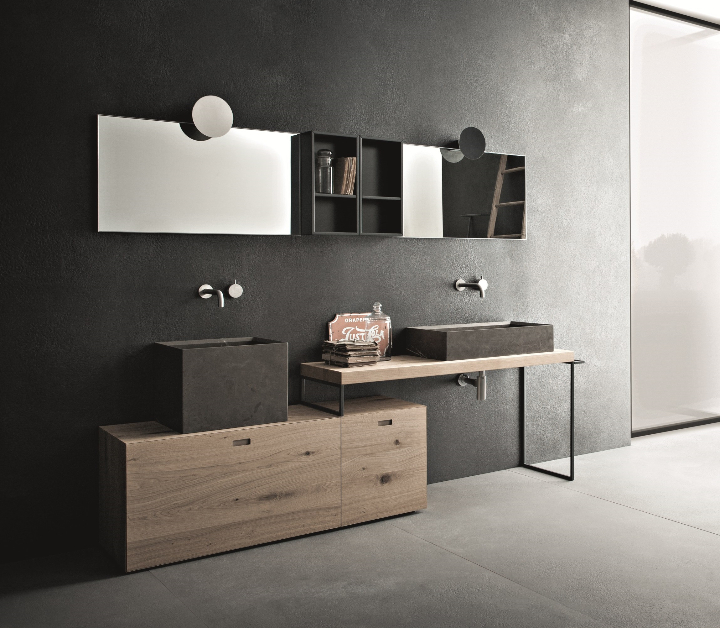 Craft has a number of materials and finishes for floors and furniture elements are the new essences termocotto oak staves and oak nodato, the latter in the natural version, or white; for the bases, wall units and shelves the lacquered glossy and matt; for the top with integrated sink is the unprecedented cement in white, rope, light gray and dark gray, then the Laminam, and the frosted glass painted in the color range Novello. For the washbasins in support, Novello offers a whole new range of stone: travertine polished resin, trachyte opaque, matte gray stone and white Carrara marble. Furthermore, all the elements of the collection have a great modularity in height and width to create compositions suitable bathrooms of all sizes. The combinations and customization possibilities are so endless.
The containers and their fronts have an elegant profile 45 degrees, while the handles are formed in the door panel. The plans may be suspended, placed on the bases of the container or minor metal frames, a solution of great lightness and simplicity.
The collection of ladders in matt painted metal with minimal design and extremely functional. They are in fact equipped with shelves, hooks for robes, paper holder and towel bars.
Finally the mirrors, rectangular or circular, are equipped with LED lighting at the top, bottom or rear, thanks to which create an atmosphere enveloping and intimate. The same basic shapes are taken from the LED lamps to be applied to the walls.