The new Botanical Garden of Padua is also museum
it has been modified:
2014-10-10
di
The Botanical Garden of Padua, inaugurated on September 15 2014, was not only limited all'architattura expanded with a cube of 100 18 × meters consisting of large panels Venetian Glass, In which are preserved the species from five continents,
but also it gave rise to an exhibition that is punctuated by large glass panels. The visit to 5 new greenhouses develops two major themes: botany and the human-nature relationship.
The oldest botanical garden in the world today is also the most innovative. To tell every plant there is only the Latin name of the single species, typically shown on a card, but also a compendium of information provided via an app and shooting from vertical glass panels, placed on the walls of each greenhouse, on which, with monochrome graphics, they are told all the information with respect to habitat characteristics of species and curiosity.
The choice to use only glass as a material for the exposure, and in particular to print it with Cromoglass technology, it has been dictated by its characteristics of inalterability in humid conditions and high temperature, as well as continuous exposure to sunlight and obviating to alterations of the colors, as happens in time for the printing pigments on paper.
Printing Cromoglass also retrostampata then the reflections are minimized, thus facilitating reading and contributing to the spectacular nature of large-scale photographs that print high-resolution, display cases accompany with interactive exhibits and installations created in collaboration with dotdotdot.
The continuity of the image to be printed along the entire surface, and the effect that these are suspended, is made possible by the particular hardware system that exploits adopted dowels that do not provide for through holes, the FZP-G Fischer.
In addition, the glass, as recyclable 100%, is also an environmentally friendly choice and therefore in line with the principles and values ​​of a place whose mission is to preserve the heritage world-wide botanist.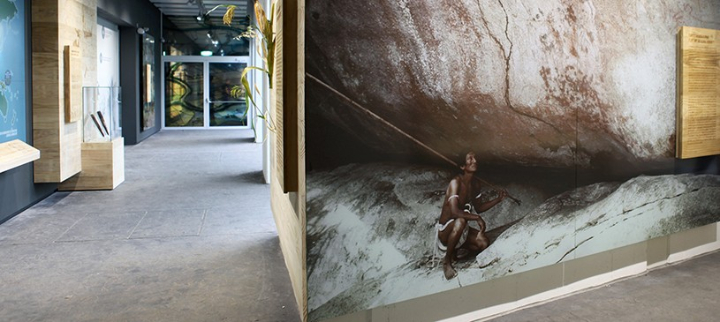 Linkography:
Cromoglass
Botanical Garden of Padua
Venetian Glass Projects
Fixing systems Fischer
Dotdotot
Architect George Strappazzon study VS associated