Timeless elegance: DuPont ™ Corian® for a charming, exterior cladding
it has been modified:
2015-03-19
di
The techno-surface DuPont ™ Corian® is an extremely popular in the world of architecture and interior design for its unique combination of aesthetic, technical, functional.
For several years it is applied more and more frequently in the outer casing of buildings. Recently, such a coating has been applied - designed by the architectural firm Waterstudio.NL - With excellent results in terms of beauty and functionality, in a villa with a unique design that stands on the promenade of the Dutch municipality of Westland.
The architect Koen Olthuis of the study Waterstudio.NL Rijswijk, project manager, explains:
"Building close to a waterfront implies consider special construction requirements and, in these difficult conditions, the techno-surface DuPont ™ Corian® is an ideal solution. After a certain period of time, in fact, the putty takes on an unpleasant, while DuPont ™ Corian® is completely impervious to moisture and weathering.
Decades from now, this facade will retain the same aspect of the day in which it was applied. DuPont ™ Corian® is a practical and efficient, ideal even if the building does not arise on the waterfront. "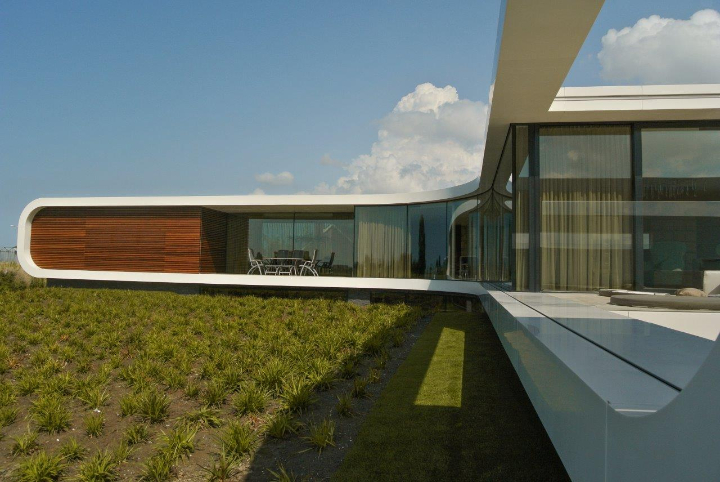 DuPont ™ Corian® can also be used to create special effects. For New Water Villa, the client wanted something unique, a house that was modern in fifty years. The architect has designed a spectacular villa with a particular curved facade covered in DuPont ™ Corian®, stating:
"This material is so inspiring, and from time to time, I discover new possibilities." The customer was immediately enchanted by the beauty of the project, not wishing to change any aspect of the original idea. "
Architect Olthuis, constantly seeking the optimal balance between construction and product, thanks to its experience in the field of industrial design, comments, "DuPont ™ Corian® has allowed me to realize the building just as I had imagined: with an appearance without visible joints and no details that can make visual distractions, such as cornices, window frames and roofs, elements that distract from the true essence."
The exterior facades of Villa New Water in Westland, with their shape beautifully rounded, are a true catalyst of looks. DuPont ™ Corian® has been used for both horizontal surfaces and vertical, color Cameo White.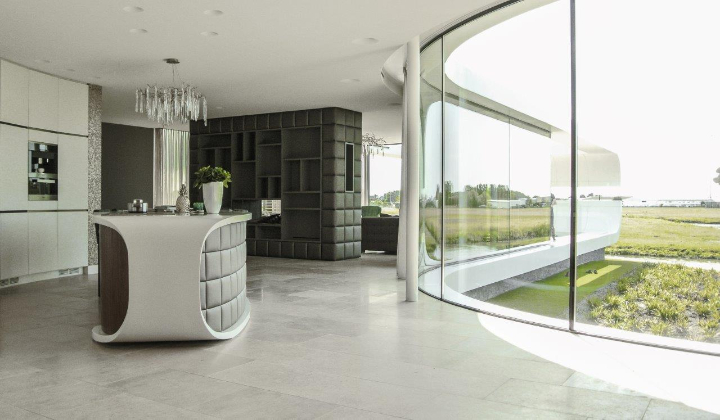 The project of the villa was a very interesting work for the construction company Van Leent Bouwbedrijf, who knew exactly how to take full advantage of the real possibilities of techno-surface DuPont ™ Corian®, and has been able to realize this project very challenging in time and budget fixed.
DuPont ™ Corian® is very robust and non-porous, wind and weather are slow to take effect on it, and it is also very easy to clean.
"These facades are completely smooth. For years to come, they will retain the look brand new, " Olthuis says the architect.
Furthermore, over time it will not be necessary to perform extraordinary maintenance. The environmental benefits go well beyond why DuPont ™ Corian® can always be removed and reused, although there is no evidence that this façade will ever be replaced.
DuPont ™ Corian® has been used for the interior of the villa. The architect Koen Olthuis designed a cooktop island with an area that extends vertically and without visible joints.
"DuPont ™ Corian® has excellent resistance to moisture and chemical attack other sources of degradation typical of the house and is perfect for applications in the kitchen." says.
The kitchen cabinets were made with the same material. To create a striking contrast with the smooth surfaces, some doors have been fitted with a soft padding.