One-of-a-Kind Jewelry Atelier | Daniele Della Porta architect it has been modified: 2023-02-17 di
Mineral is a one-of-a-kind jewelery atelier, located in Cava de' Tirreni (SA), born from the idea of ​​Mario Pisapia, an accredited gemologist and diamond expert, and from the architect Daniel Della Porta. This place offers a total experience in the world of working with precious stones, with the aim of offering a personalized service, in which the person and his needs are at the center.
The itinerary begins with a visit to the open laboratory, where it is possible to watch the manual work of the master goldsmiths, and to the design room, equipped with high-tech machines for gemological analysis, which allows you to "read" the precious stones and fully understand the nature of the object you are buying.
The jewelery atelier is spread over two floors, the first floor is characterized by three rooms: in the first room there is a long black counter with an irregular shape which houses a Neapolitan goldsmith's banquet. In the second room, on the other hand, one can converse sitting at the counter with a glass of wine, talk about one's idea of ​​jewellery, or wait for the dress and jewelery matching tests which can be done in the adjacent dressing room. The final room houses the white table in brushed Invisible Gray marble which also houses the station of the designer.
The second floor, on the other hand, is characterized by the offices and the vault, built in an old cistern. Here the architect has recovered every surface and every detail, keeping the signs of time, creating a large showroom where everything, furnishings and lighting, has been custom designed, including the windows, which welcome stems carrying diamonds at the top.
The entire jewelery atelier is characterized by the use of soft fabrics, such as velvet curtains, and by lighting designed to invite the visitor into an ever more intimate relationship with the objects on offer and their manufacturing.
Mineral's project aims to make visitors discover the beauty and uniqueness of precious stones, putting people and their needs at the centre, to create a unique and unrepeatable object, capable of telling the story and the passion behind it. A real magic box to discover, a journey of discovery in the world of jewels and precious stones.
Daniele Della Porta's renovation project has been able to interpret Mineral's objective, that is to say to communicate the concept that the real precious object is the person and the jewel that will materialize has the purpose of enhancing its uniqueness.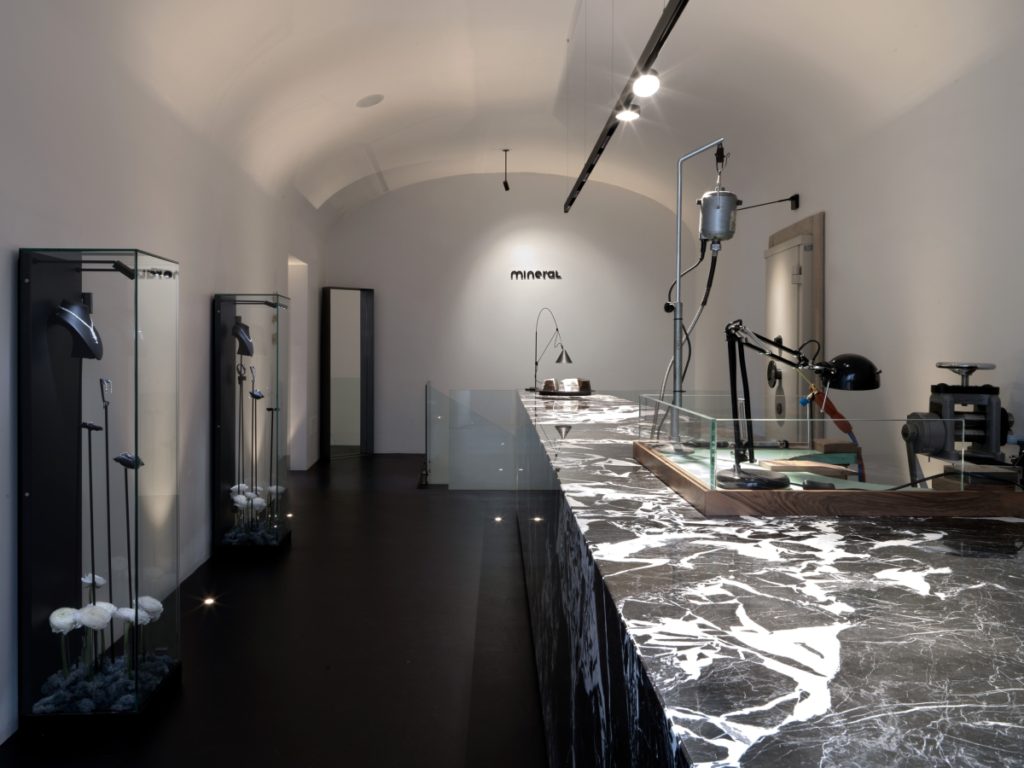 project info
MINERAL
Via Canonico Avallone 22 – Cava de' Tirreni (SA)
www.mineraljewelry.it
Project: Daniele Della Porta in collaboration with arch. Antonietta Memoli
http://www.danieledellaporta.com/
Mario Pisapia – founder
Clara Nardiello – art direction & marketing
Andrea Giordano – brand design & creativity
Photos: Gaetano Del Mauro

Companies involved in the project:
Resin floors KERAKOLL – Terracotta floors COTTOVIETRI – Seats, armchairs, mirrors: EDRA – CASSINA – MOROSO – Marble tops and counters: ALFA MARMI – Curtains; ACRE TEXTURE