Studiòvo / ticket office and bookshop of Giacomo Puccini Museum it has been modified: 2013-11-18 di
New "air" for the ticket office and the bookshop of Museum of Giacomo Puccini, thanks to the work of reconversion and interior design by signature Studiòvo.
In the evocative setting of the eighteenth-century Palazzo Mazzarosa, in front of the birthplace of the famous musician from Lucca, Marco Vincenzi and Andrea Caturegli have given new life to a noble and ancient stage, left in oblivion for many years. Where, in fact, centuries ago, the carriages found the passage to access the internal courtyard of the building, today the designers have created a unique environment, perfect for welcoming visitors to the Museum Puccini.
In the space used as a bookshop and ticket, Hitting is a bi-chromatic contrast. The white, designed to give prominence to the merchandising, is reflected in the bright-lit walls of Q8 Martinelli Luce, In the details of the display cases and wooden counter lacquered dominated uncontested lamps propeller, always Martinelli of Lucca. Gritty and on, the red, used for the back wall and the sofa fabric made, like all the other furnishings from local artisans.
Elegantly simple and genuinely clean, the design, while contemporary, leaves room for memory, reflected in the original eighteenth-century floor.
For didactic use, the space on the back is conceived, overlooking an internal courtyard. Here, visitors, comfortably seated on Desalto's Riga, also red, are entertained with video projections and stories relating to the life and works of the author of masterpieces such as Tosca, Bohemè and Turandot.
The bathrooms, with fun graphics and unpublished, complete the project by Studiòvo for Puccini Foundation.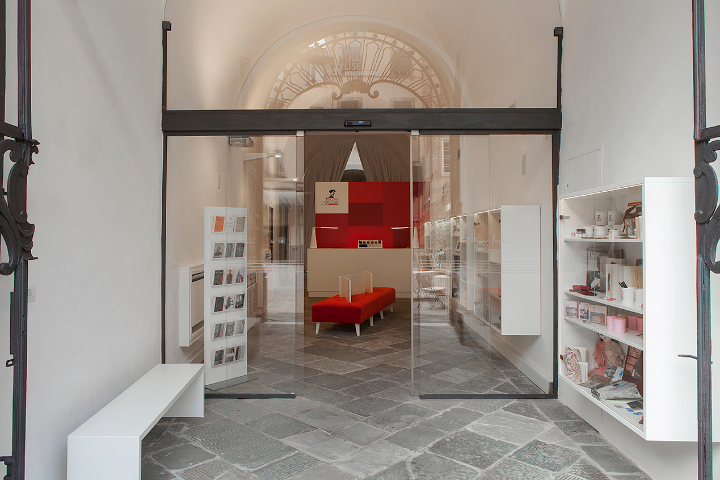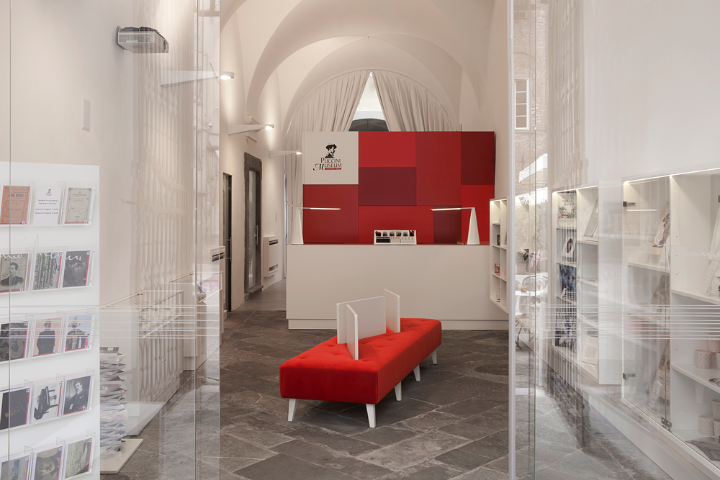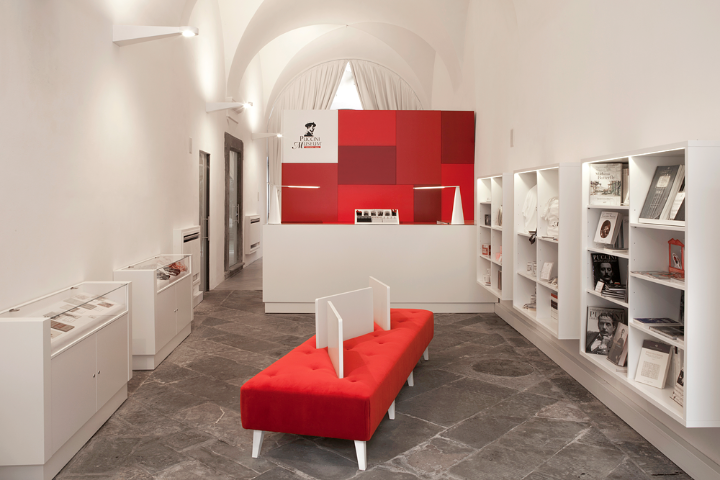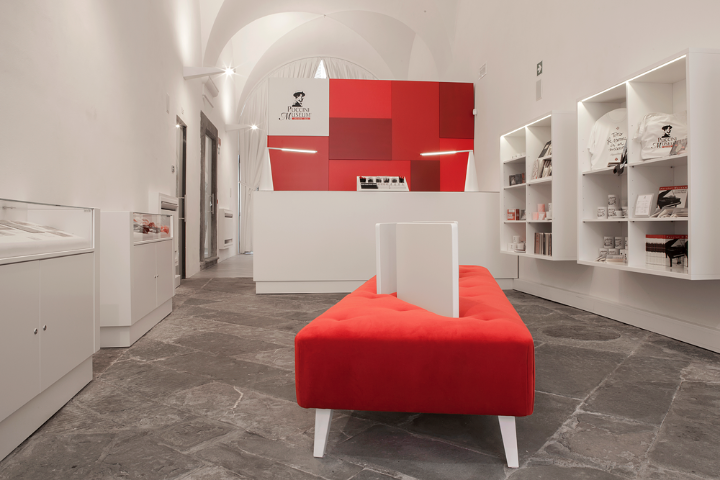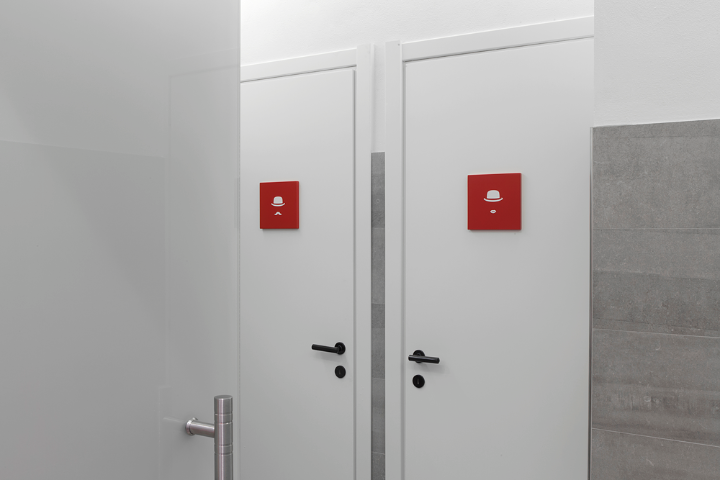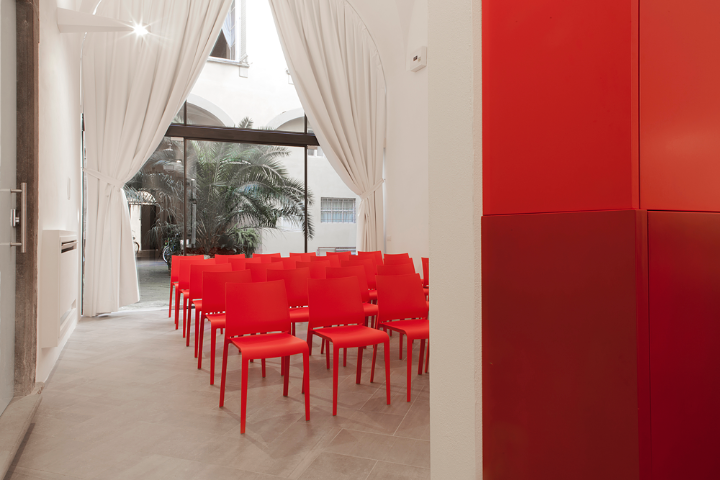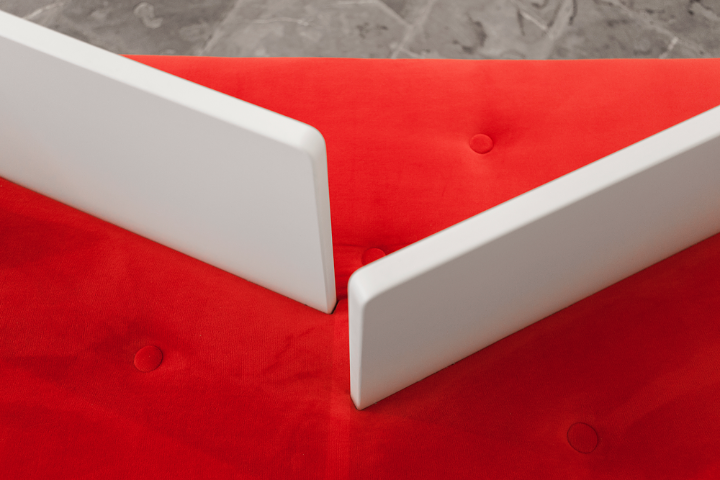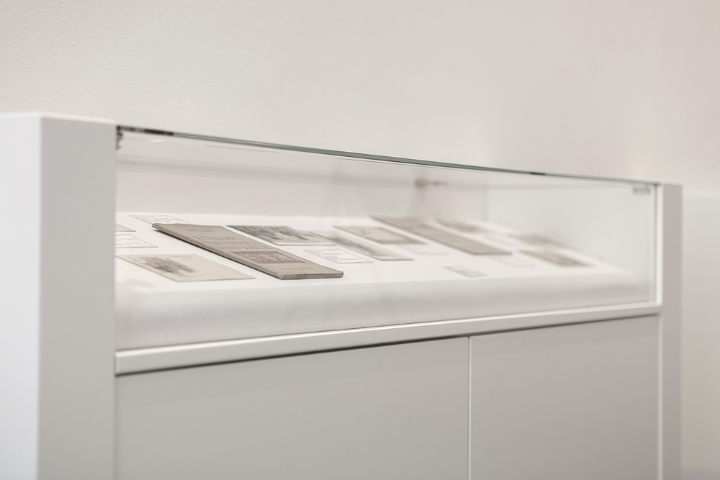 For more info go to the website www.studiovo.it