HI-MACS® for a penthouse on the coast of Nieuwpoort in Belgium it has been modified: 2019-08-30 di
Located on the coast of Nieuwpoort, in Belgium, there is this splendid penthouse which has a large terrace of 100 sqm, a veritable hanging garden made with new generation materials like HI-MACS®.
With this project, the landscape architects of the studio Atelier Artisjok have satisfied the request of the owners of this elegant penthouse to create a panoramic terrace that made the difference.
Coordinated by the studio, the team of landscape artists, engineers, architects, contractors and suppliers has therefore taken up the challenge of transforming the terrace into a veritable hanging garden.
For the realization, the most advanced techniques were used: load-bearing metal structures for load distribution and an automatic irrigation system. The greatest challenge, however, was to find ideal materials that could adapt to the particular climatic conditions of the place. Solutions that could cope with wind, sand and salt affecting the Belgian coast during the winter.
In the search for corrosion-resistant materials, the choice was simple: in addition to its intrinsic characteristics, HI-MACS® perfectly adapted to the composite walking surface and the polyester used for large vessels.
Thanks to the versatility of the material and the availability of different colors - for this project Ivory White and Black Granite were chosen - HI-MACS® was used for the construction of the shower, the whirlpool bath, the steps, the wind screens and even the cat flap.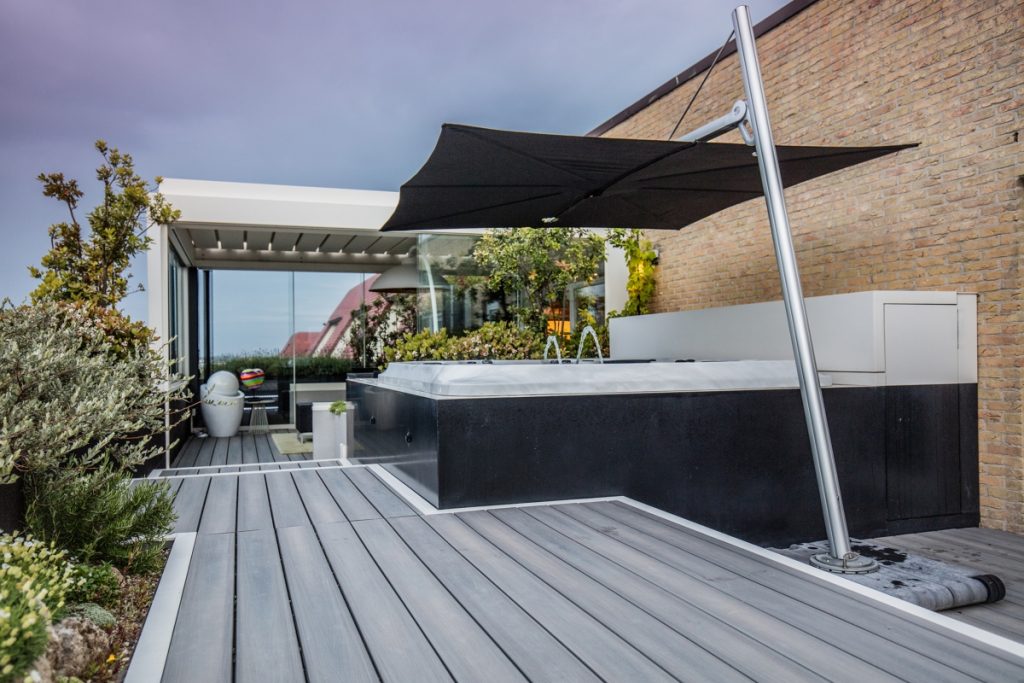 The color palette is dominated by HI-MACS® Ivory White, a slightly more delicate shade than the iconic Alpine White. The touches of HI-MACS® Black Granite create an elegant contrast with the white structures, harmonizing with the gray of the decking. The evergreen plants then give a touch of freshness to a place designed to express a sense of well-being: from the solarium protected from the wind, perfect for the long summer nights, to the comfortable veranda, designed for moments of conviviality with friends.
The hot tub is completed by an elegant shower: both are installed along the brick wall heated by the sun and offer a breathtaking view of the surrounding dunes.
The entire terrace is easy to maintain thanks to the non-porosity of HI-MACS® and the extreme resistance of the Solid Surface material to the harshest climates.
INFORMATION ON THE PROJECT
Place: Nieuwpoort, Belgium
Designer and supplier: Atelier Artisjok Bvba - Peter Duerinck, Belgium, atelierartisjok.be
HI-MACS® manufacturer: L + A Projects, Belgium,
HI-MACS® Supplier: Engels Design & Decoration, Belgium
Material: HI-MACS® Ivory White and Black Granite, himacs.eu
Photos: © Pieter D'Hoop