In San Francisco, a 1974 house transformed into an elegant symphony of wood and color: the Redwood House in Noe Valley it has been modified: 2023-09-16 di
Studio Terpeluk transforms a 1974 home in San Francisco, expertly mixing redwood and bold colors. The house now offers a welcoming and contemporary space, celebrating art, design and integration with the surrounding landscape.
In the picturesque hills of Noe Valley, San Francisco, a 70s home has undergone a masterful renovation by Studio Terpeluk, an architectural design firm renowned for its ability to blend historic heritage with a contemporary aesthetic. This home, named Redwood House, was originally designed by Albert Lanier, a famous San Francisco architect, and represented a complex and challenging renovation project for the firm.
The Noe Valley neighborhood, known for its streets lined with charming Victorian and Edwardian homes, was the perfect backdrop for this renovation. The house is located on gentle slopes, surrounded by private gardens and lush vegetation. The owner's request was clear from the beginning: to expand the living space without compromising the original architectural design of the house, characterized by angular geometries, redwood wood and external courtyards. Studio Terpeluk responded to this challenge with mastery, managing to grow the house from 210 to 299 square meters, adding a new guest suite, a home office, a bar and a media room.
One of the most striking aspects of this renovation is the skillful use of wood, particularly Western red cedar and redwood. The home's facades and cascading patios were clad with irregular planks of western red cedar, creating a unique visual look that encompasses the entire structure. Redwood, however, was used for sloped roof beams, partitions and built-in shelves, providing a warm and welcoming interior landscape.
Upon entering the home, an intimate courtyard paved with ready-mix concrete and redwood decking marks the main entrance. Upstairs, an open-plan space features dark knotted Douglas Fir boards, made from locally reclaimed San Francisco Pier poles. This space is open and welcoming, with redwood surfaces giving it a natural, warm feel.
One of the most striking aspects of the interior design is the bold use of color. Studio Terpeluk founder Brett Terpeluk collaborated with designer Beatrice Santiccioli to create a dedicated and bespoke color language for the project. This has brought a unique vibrancy and personality to the home, inspired by the owners' exquisite art collection and Italian design from the 50s and 60s.
In addition to the interiors, Studio Terpeluk also preserved a connection with the surrounding landscape. Italian landscape designer Monica Viarengo designed the outdoor areas, creating a green haven that changes from manicured to wild as you move around the property. The garden terraces are planted with native California plants and flowering species that attract pollinators, helping to maintain a balance with the surrounding environment.
The Redwood House is an extraordinary example of how contemporary design can respect and enhance historic architecture. Studio Terpeluk expertly blended 70s redwood with a bold color language and scrupulous attention to detail, creating a timeless home that celebrates the art of architecture and design. This project remains a tribute to the beauty of the San Francisco hills and limitless creativity.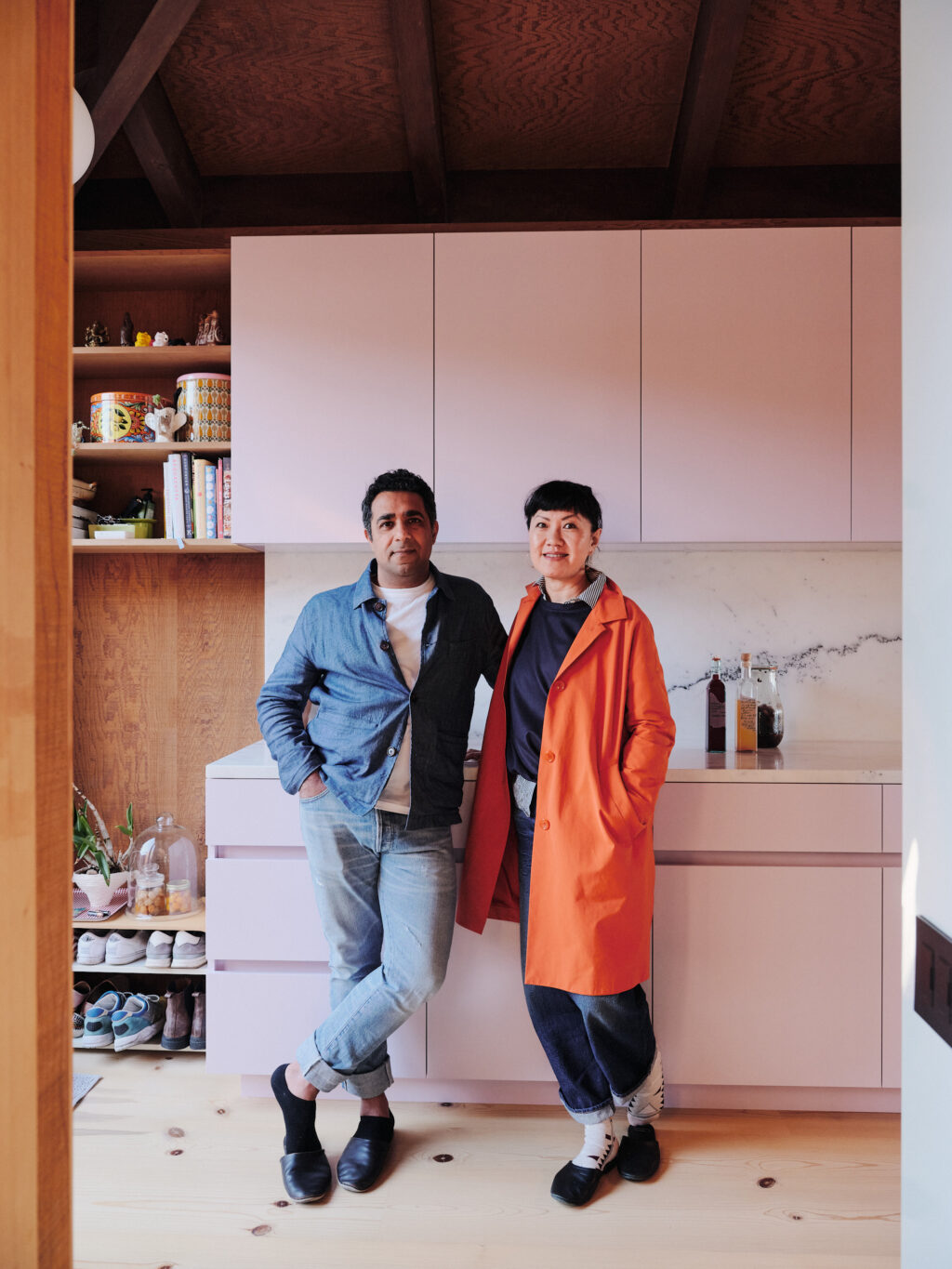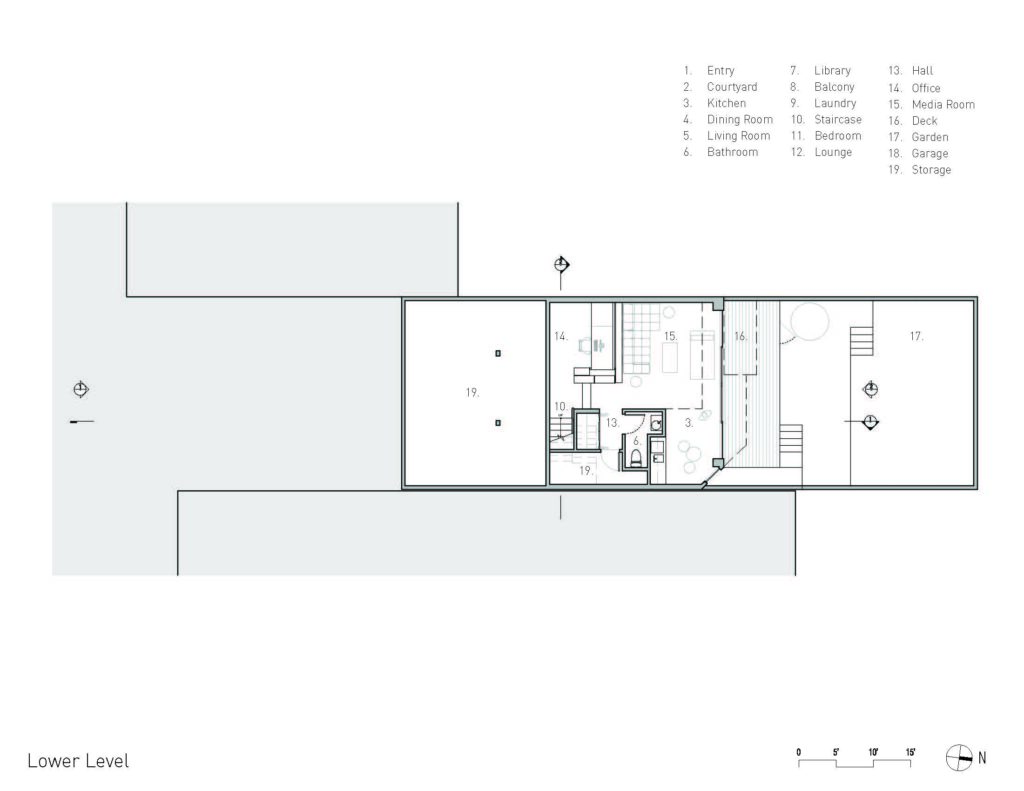 project info
PROJECT NAME: Redwood House
LOCATION: Noe Valley, San Francisco (California, USA)
ARCHITECT: Studio Terpeluk
PROJECT TEAM: Brett Terpeluk, Huy Nguyen
LANDSCAPE DESIGN: Monica Viarengo
COLOR CONSULTANT: Beatrice Santiccioli
CLIENT: Gagan and Jasmin Arneja
DATE: January 2022
GFA: Existing: 210 m299, New: XNUMX mXNUMX
CONTRACTOR: Saturn Construction
STRUCTURAL ENGINEERING: Strandberg Engineering
SUPPLIERS
Furniture: Santiccioli Arredamenti
Orama sliding window systems: Cooritalia
Windows: Bonelli
Wood reclaimed wood flooring: Arborica
Metal fabrication: Upper Story Design
Drapery/upholstery: Malatesta & Co
Art: Catharine Clark Gallery
ART
Entrance vestibule:
Collage by Jasmin Arneja "Time Game"
Library:
Photograph by Tania Franco Klein
Painting by Diane Ding
Dining area:
Photograph by Hai Bo
living room:
Sculpture by Wanxin Zhang "Made in China"
Sculpture by Annabeth Rosin
MATERIALS
EXTERIOR ELEVATIONS
Random width Western red cedar rainscreen cladding. Natural finish (front elevation). Painted exterior plywood (back elevation). Painted Stucco (courtyard)
FLOORS
Custom Douglas fir engineered wood flooring made from reclaimed San Francisco pier pilings, Hand-troweled concrete slab with integral Davis color, terrazzo (primary bathroom), Micro Mosaic recycled plastic tiles (secondary bathroom).
WINDOWS
Orama aluminum and sliding glass (low-iron extra clear glass)
Bonelli fixed and casement (low-iron extra clear glass)
INTERIOR FINISHES
Vintage rough-sawn redwood veneered plywood, Micro Mosaic recycled plastic tiles (secondary bathroom floor/walls – primary bathroom walls). Skim-coat plaster (stair walls, powder room walls). Custom paint colors (walls/ceilings), Custom lacquer colors (millwork), carrara 'Michelangelo' marble (kitchen counter and backsplash)
EXTERIOR FINISHES
2×6 Redwood (exterior decks), cast in place concrete with integral davis color – broom finish (exterior steps and pavers)
COLORS
Arctic Ice (guest room closet, lower level cabinets)
Eggplant (bedroom low cabinet)
Lemon Curry (triangular cabinet)
Nimbus Cloud (middle level doors, painted walls)
Orchid Tint (kitchen cabinet)
Peignoir N.286 Farrow & Ball (powder room walls)
Steam (kitchen divider cabinet)
Wimborne White (walls and ceilings)
PHOTOGRAPHER
©Joe Fletcher