Casa Ornella: the particulier gallery where interiors meets design it has been modified: 2023-04-03 di
Maria Vittoria Paggini opens the doors of Casa Ornella, her "nomadic house", a private gallery previewed at Milan Design Week 2023.
The notes of the famous song "Casa mia" by Ornella Vanoni flutter through the rooms of Casa Ornella, so named in homage to the singer. The designer Maria Vittoria Paggini, hostess and creative mind of the gallery, loves listening to Ornella Vanoni's vinyls while she draws, to find inspiration.
Casa Ornella is an extraordinary place where interior design meets art in a composite and enveloping dialogue. From April 17 to April 23, the gallery will open to the public during Milan Design Week in the 5Vie district, allowing visitors to immerse themselves in an eclectic world where the chromatic rhythm dictates the rules.
The creative vision of Maria Vittoria Paggini is reflected in Casa Ornella, where the conventional styles of the private house merge with those of the exhibition space, creating a marriage of potential, objects and inspirations. The result is a place to live and share with designers, artists, stylists and free thinkers who love to experiment, invent and create what is new, in a layering of inspiration and languages.
The interior design project signed by the designer thus becomes the scenic backdrop where creativity is celebrated, giving life to a contemporary wunderkammer.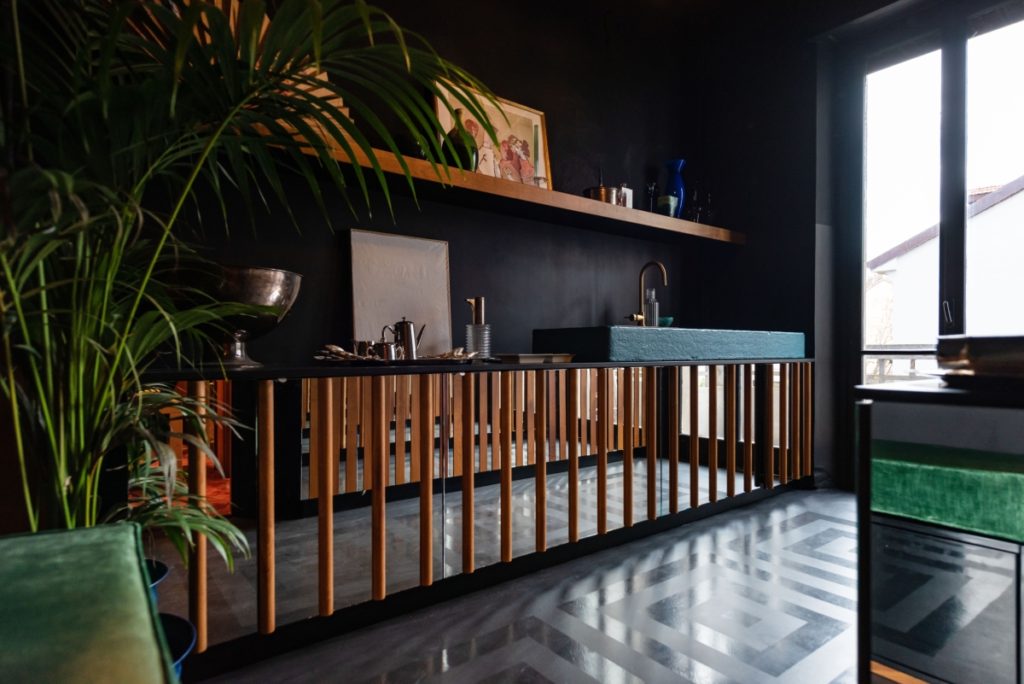 Maria Vittoria Paggini's design study starts from Art Deco architectural references to reach modern lifestyle trends. Furnishing accessories and accessories design an immersive and evocative place that gives a unique personality to the rooms in a succession of shapes, fabrics, lights and materials, where chromatism becomes an expressive and exciting common thread.
Maria Vittoria Paggini, designer of Tuscan origins, is a traveler of life and interiors. She discovers her visions and inspirations in the constant movement between different places and scenarios, connecting emotions, colors and textures in a free and nomadic approach that alternates product design with the complete furnishing of private and representative spaces.
Among the exhibited works we find the pair of tables Sandra and Raimondo, with an octagonal shape and a lively and colorful character, in line with the living color approach that distinguishes the designer's work. Available in three versions (dining, side and coffee), these tables are made of mirrored glass in shades of fuchsia, pink, green, yellow, orange, red and blue. The choice of these materials and the care for the finest Italian craftsmanship give these pieces a timeless elegance.
Not only furniture but also wall decorations. In collaboration with GLoVE, Maria Vittoria Paggini created the MARIAGINA and GIOVANNA wallpapers. These decorations, previewed for Design Week 23, combine art deco architectural references with the contemporary, giving life to an exclusive and unique product, designed to personalize the interiors of restaurants, hotels, offices and shops.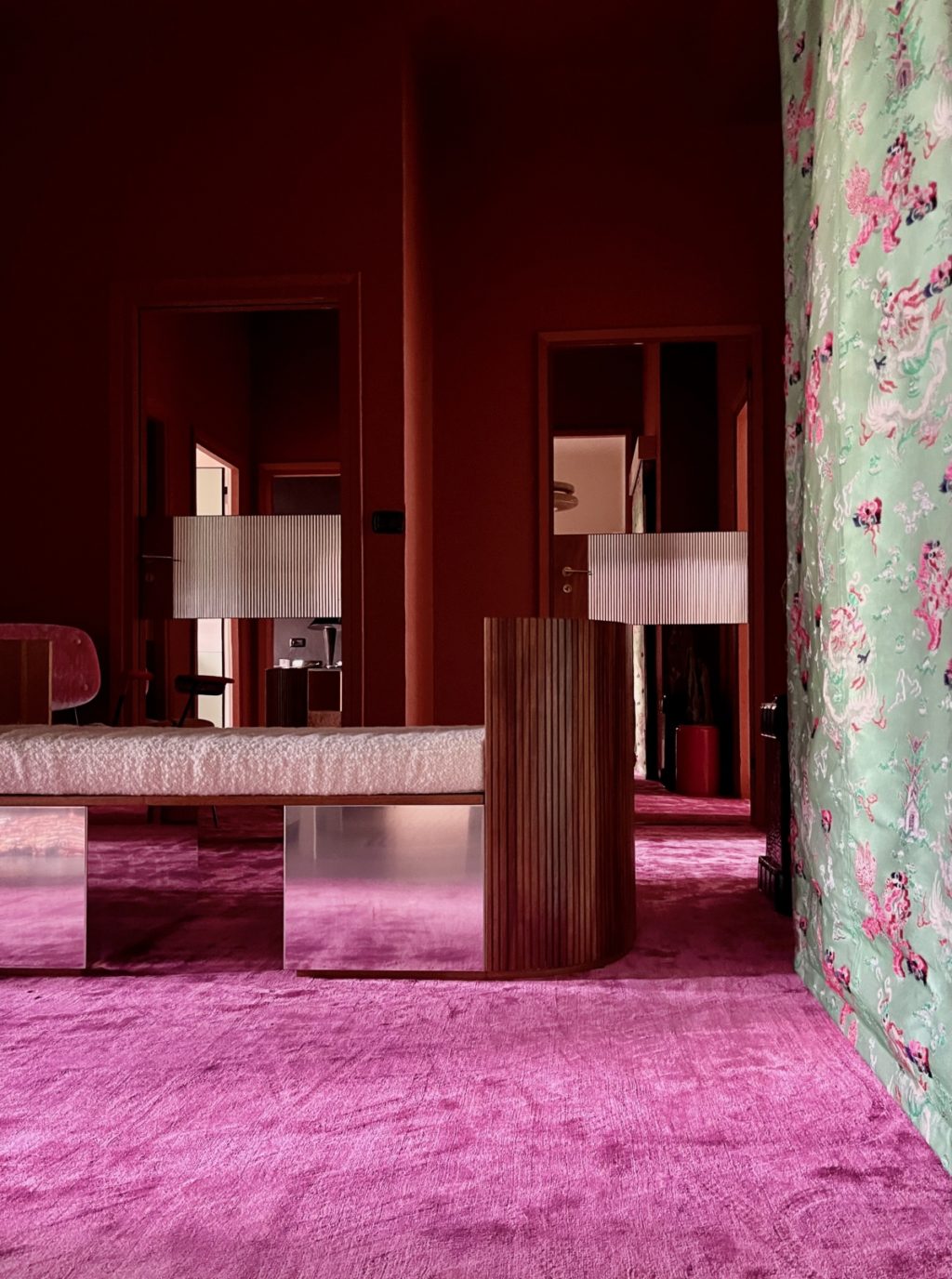 The collaboration with GOUACHE wall art company has instead led to the creation of decorations for floors and ceilings, completely designed by the designer. The company, specialized in customizing surfaces and spaces with handmade artistic decorations, has allowed Maria Vittoria Paggini to best express her creativity in this new field.
Finally, Oltrarno Design was the choice for the creation of the carpets designed by the designer. In a contamination of styles between the past and the future, Maria Vittoria Paggini has designed capsules inspired by art decorations and which can be completely customized in terms of materials, shapes and sizes. Attention to detail and attention to detail mean that each carpet becomes a unique and completely custom made work of art.
Casa Ornella is therefore a place where design takes center stage and where it is possible to admire Maria Vittoria Paggini's ability to create functional works of art with a great aesthetic impact.
Furthermore Casa Ornella, presents a selection of emerging Italian and international brands. Among them, Reflections Copenhagen, known for crystal handcrafted objects with hypnotic shapes, the new autumn/winter 2023 collection is characterized by a palette of shades that brings a new dimension to the shapes of its objects, which fit organically into the set up of Casa Ornella. Julia Archimedes, with his passion for nature and craftsmanship, creates contemporary sculptures linked to light that lead back to nature, the stars and the original form. Sound Architecture, an Italian premium audio and design brand, designs and manufactures bespoke loudspeakers, transforming the landscape from a mere background into a key component to enhance acoustic experiences. The house-gallery is enriched with exclusive works by artists such as Sergio Fiorentino, Nicolas Denino, Philip Salerno, Andreas Senner e Tatiana Brodatch.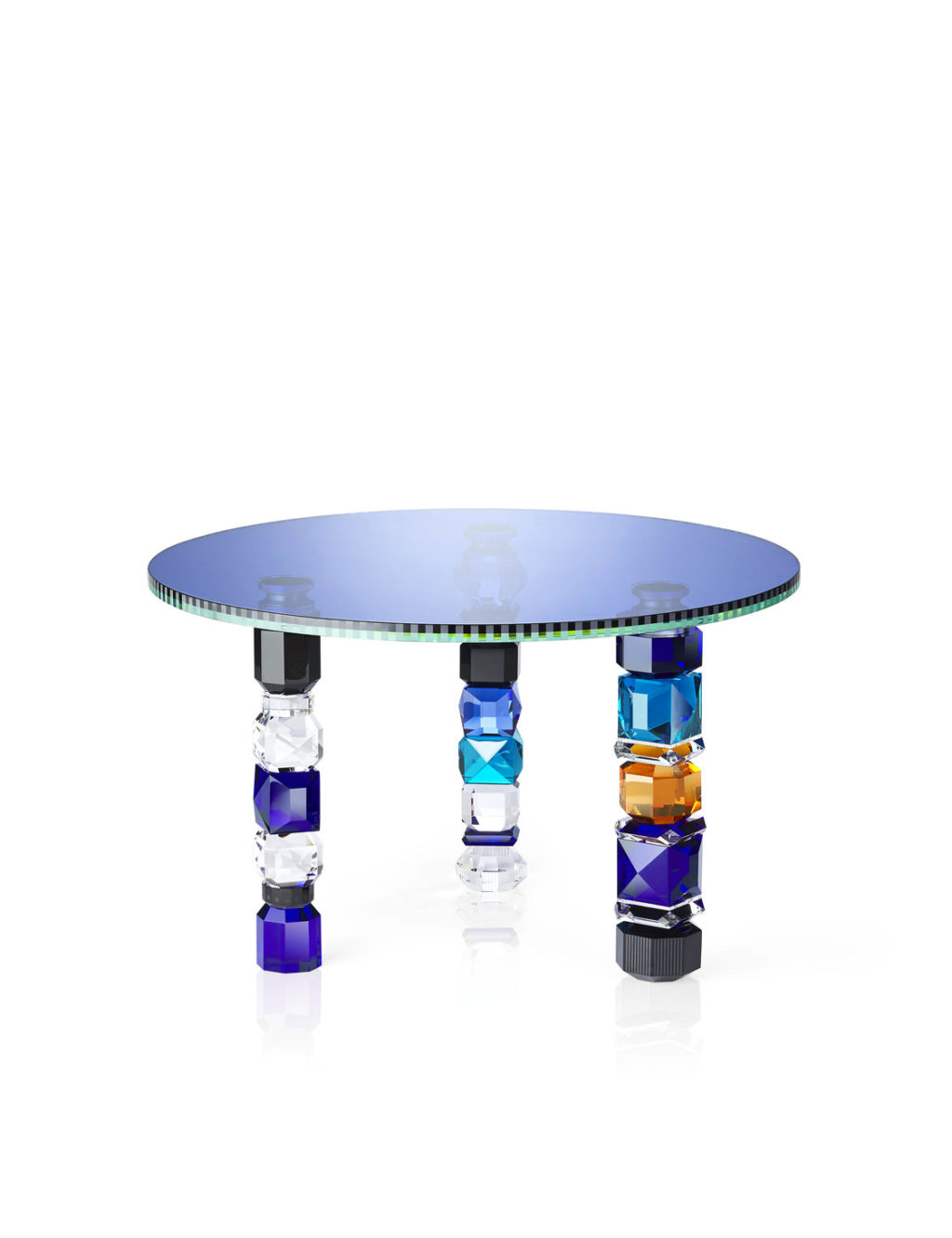 Ornella house
Via Conca del Naviglio, 10
20123 Milan
Open to the public: from Monday 17 to Sunday 23 April, from 11.00 to 19.00