Light, elegant and timeless furnishings: the BRACE Collection in Preview at Milan Design Week 2023 it has been modified: 2023-04-15 di
A collaboration born from the lucky encounter between the Takeda Katsuya design studio, based in Milan, and the company "Tatehiko" from Ashikaga, Japan, has given birth to a new line of furniture called BRACE, which will be previewed during Milan Design Week 2023, in the 5 VIE Art + Design district, at the Takeda Katsuya Design studio-showroom in via del Torchio 5/7.
BRACE is an innovative design concept characterized by a light, elegant and functional structure, with diagonal lines that allow different configurations, dimensions and applications, making it extremely versatile and portable, suitable for any environment and atmosphere. The BRACE collection is the result of Tatehiko's local craftsmanship, handed down for three generations, based on the philosophy of valuing and using local resources in a sustainable way.
BRACE is a collection that attracts for its strong aesthetic appeal, with a structure made of precious Hinoki cypress wood, a material traditionally used in the construction and furniture industry in Japan since ancient times. The joints are made with a traditional Japanese architectural technique called Shiguchi, which uses steel to ensure strength despite thin structures. The supports of BRACE are light in color, with brass joints, inspired by the shoots that grow in the forests of Tochigi, where the Tatehiko company is located.
The Hinoki material is of high quality from a technical point of view, thanks to its resistance, flexibility and resistance to wear. Its neutral white tone goes perfectly with any environment, be it Eastern or Western, and its intrinsic nobility gives the decor a great refinement.
BRACE is a collection that offers endless creative and application possibilities. Thanks to its simple but sophisticated design, the BRACE structure can be easily replaced over time, allowing you to renew the furniture in a versatile way. It is a line of refined and extremely versatile furnishings, in perfect harmony with the comfort of living spaces.
The presentation of the BRACE collection during Milan Design Week 2023 will be an opportunity to appreciate the encounter between Italian and Japanese design skills, which merge into a unique and fascinating product. The combination of high quality Hinoki wood, elegant and functional design, and Japanese craftsmanship with modern steel technology, makes BRACE a highly appealing furniture collection for lovers of design and high quality craftsmanship.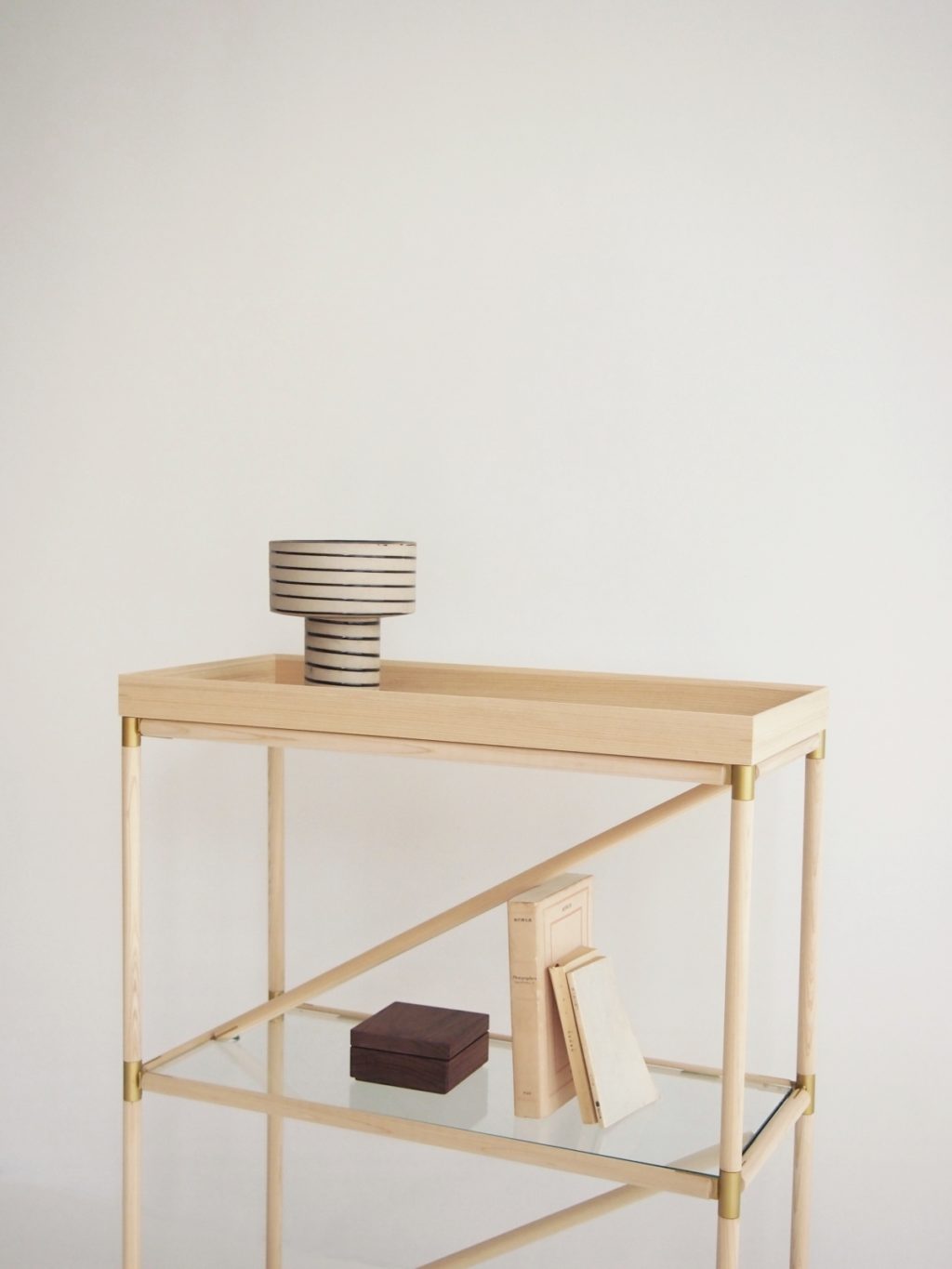 Side table dimensions: W400mm X D300mm X H550mm, the coffee table W650mm X D650mm X H380mm, the bookcase W650mm X D300mm X H793mm. The tray at the top is completely removable and can be easily transported due to its light weight.
It will be possible to discover the collection at the Takeda Katsuya Design studio from 17 to 23 April, via del Torchio 5/7, Milan