Surreal and unconventional lighting: David Lee's Ugly Ducting it has been modified: 2023-05-23 di
Ugly Ducting: The Surreal Illumination of David Lee. This innovative design takes inspiration from scribble and ducting tubes, transforming irregular lines of light into a three-dimensional lamp that appears to float. Made from recycled materials, Ugly Ducting represents the art of transforming ordinary objects into bright and functional creations.
David Lee, an artist dubbed the 'jack of all trades', has created a new lighting design called 'Ugly Ducting'. This design takes inspiration from two elements: the basic element of the design, the "scribble", and a common object in homes, the "pipe for ducting".
The irregular, illuminated line seems to come straight out of the notebook and take on a three-dimensional shape, forming a series of luminous "scribbled lines" that seem surreal. With a holder holding the tubes together, it almost feels like the line is floating in the air.
Designed and manufactured in its experimental center, Ugly Ducting is a prototype under development of an extended series of lamps based on the idea of ​​lines and channels.
David Lee describes himself as a "man of all trades". His works are made using a wide range of available materials. He calls himself an amateur plumber, carpenter and electrician while pretending to be a professional craftsman. As a creative artist, he calls himself an "artistic do-it-yourselfer". He recycles collected or recovered materials and recreates them into different objects, giving them a new perspective and new uses.
But what is more important, the artist's experiments generate a new language that dialogues between death and rebirth, but always in an amusing way. His works give life to materials that would otherwise be destined for landfill, transforming them into new luminous creations that capture the attention and stimulate the imagination.
David Lee's Ugly Ducting represents a new frontier in artistic lighting and in the creative use of recycled materials. This lamp with a unique and surreal design not only offers an innovative light source, but also tells a story of transformation and reinvention. It is an example of how art can transform everyday life, bringing new life and meaning to seemingly insignificant objects.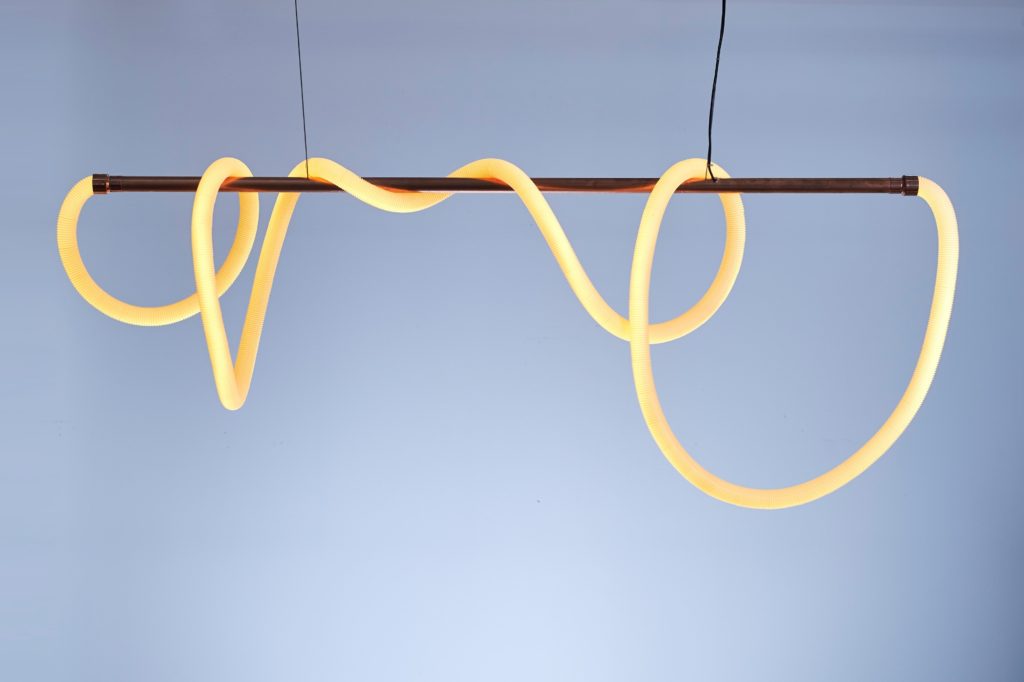 project info
Company/Firm: I Am Not David Lee Studio
Designer: David Lee
Photo Credit: Tsang Photography
Location: Singapore
Project date: 2021