Manutti Outdor / preview of the Milan furniture fair 2012 it has been modified: 2012-02-27 di
The Belgian company Manutti Outdoor sent us a preview of some of the innovations presented in April at the Salone del Mobile in Milan 2012.
LATONA
The collection includes over to the chaise longue, you see at the top, even a recliner chair in different positions and two rectangular tables. The sessions of the collection LATONA they are in Batyline®, an innovative material born from the recycled polyester, without toxins, ecological, 100% recyclable.
Batyline® is also synonymous with exceptional strength, dimensional stability anti-deformation, network structure for ventilation and quick drying after rain or use the pool. It 'a fiber colored dough, does not fade when exposed to light and UV rays, it is resistant to UV (2000 hours of exposure), to extreme temperatures (-30 70 ° + °), seawater or pool, is waterproof and easy to clean and maintain.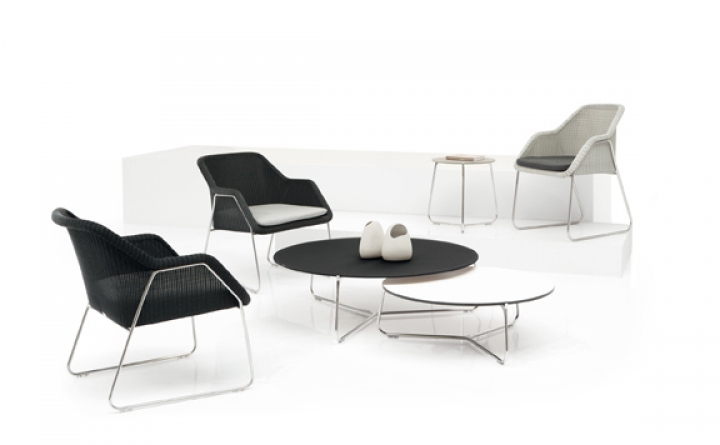 MOOD
The family sitting MOOD which includes: stool, chairs 2 different sizes, chair x children and chaise-longue, has expanded with 4 round tables, designed by Gerd Couckhuyt. The sober and elegant shape and the materials used make it a coffee table not only for outdoor, but also suitable for the home.
Structure: treated stainless steel
Plan: glass (3 colors), ceramics (4 colors), Trespa® (3 colors)
Trespa® is a flat plate made of thermoset resins reinforced with fibers omogenicamente on wood base and manufactured at high pressure and temperature. The visible side is provided with a decorative surface thanks to patented technology ebc. The finishing of the board is for all colors in black.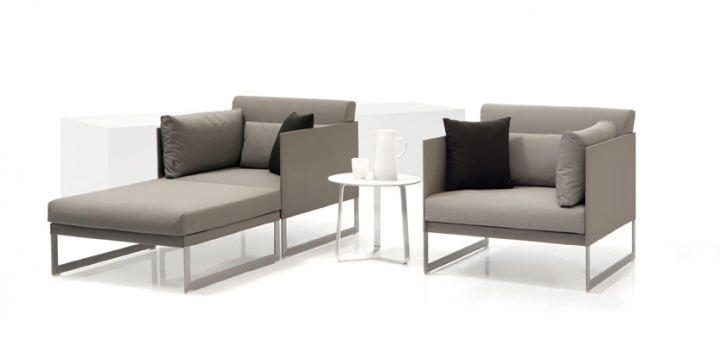 SQUAT
Manutti presents a new modular sofa with a rigorous design but without detracting from comfort. The collection consists of 10 elements that offer various composition possibilities. Its structure in treated stainless steel and the waterproof Batyline® fabric of the covering make it an ideal collection for the outdoors.
Structure: treated stainless steel
Coating Pillows: Nautic fabric (Batyline®) - Sand color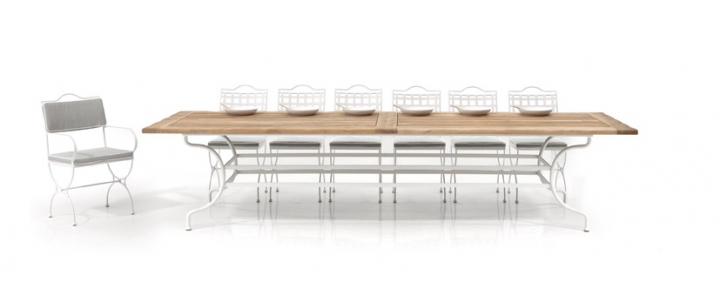 TABLE CAPRI
This new large rectangular table, which can accommodate up to 14 people, completes the Capri collection, consisting of round and square tables of typical "Mediterranean" taste with classic wrought iron structures.
Structure: wrought iron, in the new white finish (other colors available: brown and anthracite)
Plan: "Old" teak from sustainably managed forests