POP by Eugenio Ratta personal POP by Antonietta Campilongo it has been modified: 2015-03-21 di
Inaugurated on Saturday March 14 the exhibition by Eugenio Ratta by Antonietta Campilongo.
POP by POP is the title of the event. The exhibition will be on view at the cafeteria of the Cloister of Bramantefino to 13 April 2015.
The exhibition set up in the cafeteria of the Chiostro del Bramante in Rome proposes the theme of Pop Art through the works of the artist Eugenio Rattà.
If there is a challenge inherent in taste for the quote, this challenge is to use a scheme known and formalized and be able to unearth a new development. Or put it in another and alien context and then invent a new dimension. This challenge, perhaps unconscious, perhaps disarmed, is that dispute, and wins, the work of Eugenio Ratta. Which draws liberally from PopArt and his golden decade (late '50 - end' 60), it condenses themes and techniques, it chases the ways and kinds, and eventually fits all this baggage to a sublime contradiction at quell'ironico, solar, festive game of raises and attempt mutual prevarication between the privacy of the intimate charms, and the brazen rowdy and dismissive of contemporary mythologies. Painting timbre and tense, insertion of materials, use of real collage (with connected depredation of images from magazines, photographic reproductions, figurines and advertising); and then the strong character of the two-dimensional representation, the transfiguration of the subjects in the guise of painting, the connotation of their stereotypical attitudes, the intent of decorative motifs and iconography; all this creates a luminous geometry, a psychedelic arrangement, which on one hand gives an account of an imaginary artistic explosive and redundant, the other lives the problematic relationship with the world and criticism, with the conditioning collective, with a thousand facets that the chimeric reality takes. It is from this connection, that a closer look reveals a refined early friction, which transmit that feeling and atmosphere of impalpable inadequacy, which are the original and significant figure in the works of Ratta. Among utopias memories and fantasies state of things, the many pressing demands and seeking harmonious coexistence in the living space of each, the artist does not hide the progressive and risky detachment, only the mask glamourosa levity, opposes an expansive vision, knowingly naive against the current devastating models of mass communication, enjoys mocking and decorate the world with his own clippings, his own surplus, in his own delusions.
Julius Francis Faraci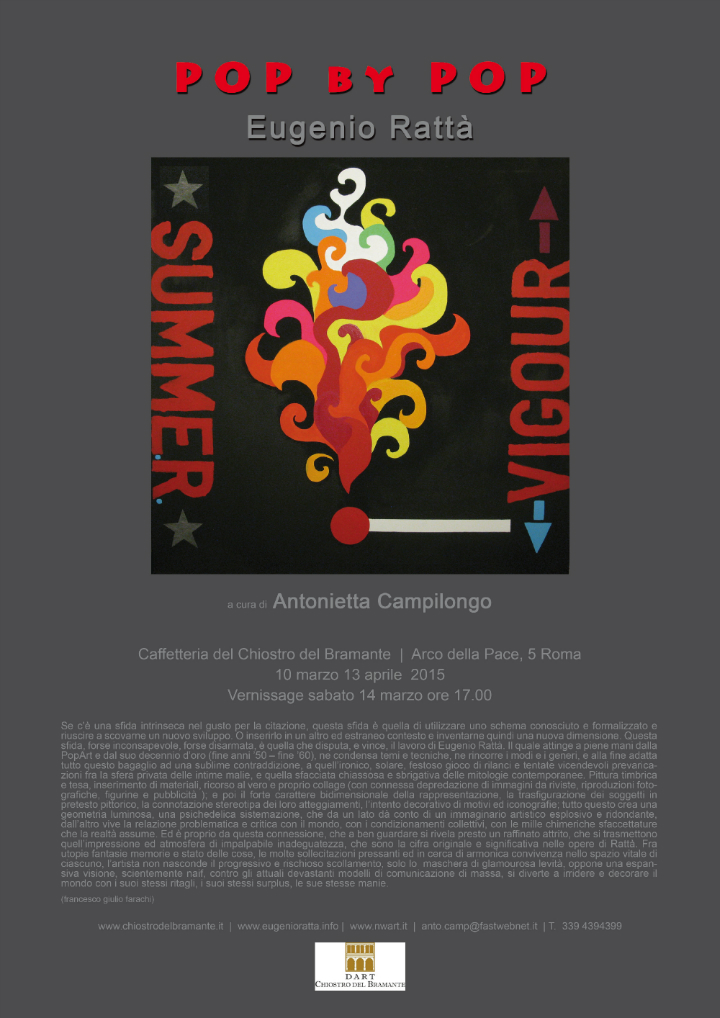 Technical Data
Title: POP by POP | Staff Eugenio Ratta, by Antonietta Campilongo
Artist: Eugenio Ratta
Organization: NwArt
Period: 10 from March to April 13 2015
Vernissage: Saturday March 14 2015, hours 17.00 / 20.00
Entrance: sweeper
Opening hours to the public: The Chiostro del Bramante is open every day Mon - Fri 10.00 - 20.00 - Sat - Sun 10.00 - 21.00
Address: Cafeteria of the Cloister of Bramante - Porch top via Arco della Pace 5, Rome
info:
e-mail: anto.camp@fastwebnet.it
T. 339 4394399 - 06 / 68809035
www.nwart.it - www.chiostrodelbramante.it - www.eugenioratta.info