Z-FARM / Victory Gardens at Fuorisalone 2014, Cascina Cuccagna
it has been modified:
2014-03-26
di
From research to Z-Farm, A new brand of Isolplastic, born the Victory Garden, which will be presented to fuorisalone 2014 during the Milan Design Week.
The "Victory Garden" are small gardens that during the two world wars, were planted at private residences, but also in public spaces and wherever it was available a little 'green.
Were especially Britain and the United States to raise awareness, with the motto "Grow Your Garden", to make themselves useful and independent. So it was that thousands of small gardens sprang from nothing; and who did not have a garden, laundered containers of all kinds to turn them into mini-home gardens.
In 1943, in the US, 20 million Victory Gardens produced 8 million tons of food: more than 40% of all vegetables consumed in the country.
Today, with increasing awareness of environmental, consumer awareness and a healthier food and sustainable urban gardening return more relevant than ever. And cultivate becomes an element of distinction. Even First Lady Michelle Obama has planted his small vegetable garden, a "Kitchen Garden" on the White House lawn.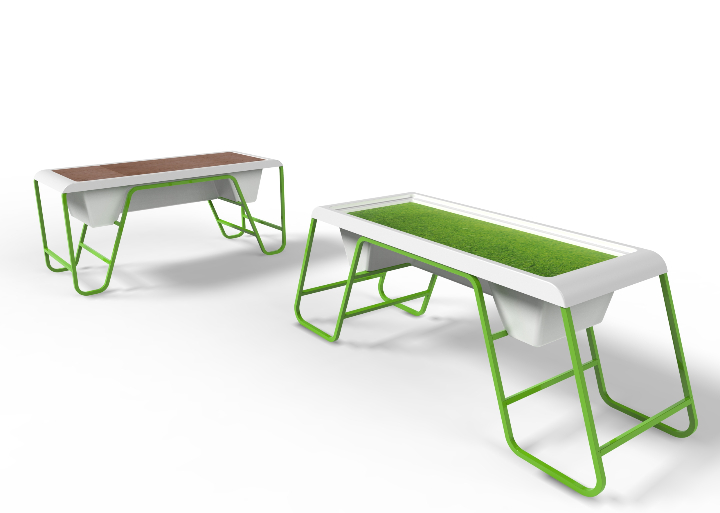 Z-FARM believes that the philosophy of "vegetable gardens for victory" is still highly relevant. Grow a Victory Garden is a small gesture of "resistance" to a consumer more and more careful and respectful of the planet.
Z-FARM is a brand of Isolplastic, a leader in the field of thermoforming, which bases its success not only on the professionalism, reliability and quality of its products but increasingly on respect for ethical values ​​in which it is recognized. Isolplastic, as always, has made sustainability, attention to the environment and social issues its philosophy.
From the research of new and young brand Isolplastic, Z-Farm, founded the modern Victory Garden, a collection of "green tables polyvalent", small home gardens extremely elegant in design, functionality and suitable for any indoor and outdoor space.
The table is composed of a supporting structure in powder coated metal for exterior and a tank for the land of thermoformed plastic material.
A table to grow and to practice gardening; an object modular and flexible, with many accessories including greenhouses, storage tanks and a removable top that facilitate the work, allow to place objects and allow, in case of need, to completely close the Victory Garden transforming it into a
practical table or a console.
Designed by designer Enrico Azzimonti with the technical advice of agronomists and operators of "ortho-therapy" the Victory Garden of Z-Farm are available in two variants.
The Garden Therapy
The Victory Garden are also designed for the "garden-therapy", a practice relaxing more and more widespread. Given the particular structure that raises the cultivable area so as to make it workable standing or sitting comfortably, the Victory Garden are perfect to allow the practice of gardening to people with disabilities and the elderly.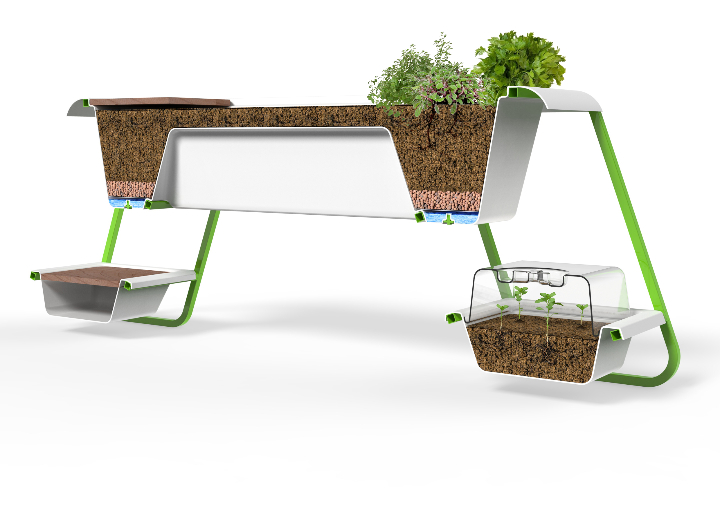 More information about: www.isolplasic.it