Atelier Macramè at the Milan Triennale
it has been modified:
2017-02-06
di
Continues until February 19 2017 the exhibition W. Woman in Italian Design, the exhibition curated by Silvana Annichiarico as part of the ninth edition of the Triennale Design Museum which traces a new history of Italian design totally feminine way.
Among the projects on display also Bakery Stool Atelier Macramè signed by Laura Calligari, designer, founder of the brand.
Bakery Stool is a simple and essential chair whose aesthetic brings us back to the atmosphere of the bakery, the typical American bakeries where they were born the famous muffins, which the project wants to symbolically recall the unmistakable shape and softness. The designer creates in this case a multifunction complement: made of turned wood and composed of 2 elements - base in white finish, equipped with a handle in rope and seat in natural finish - Bakery Stool can be at the same time transportable stool, small objects container or, more simply, small table. The measures of this piece of furniture are based cm diameter x height cm 44 40.
Bakery Stool is part of Collection Design Around, A project created by Laura Calligari with the aim to investigate the issue of food traditions in different countries around the world through a look at the same time poetic, ironic and original, which reinterprets the universe functions and forms of food-related objects and foods. The whole project comes as part of Atelier Design Around macramé, actually created with the aim to design collections of furnishings and home accessories made with the support of selected local craftsmen who express their manufacturing excellence in objects contemporary design.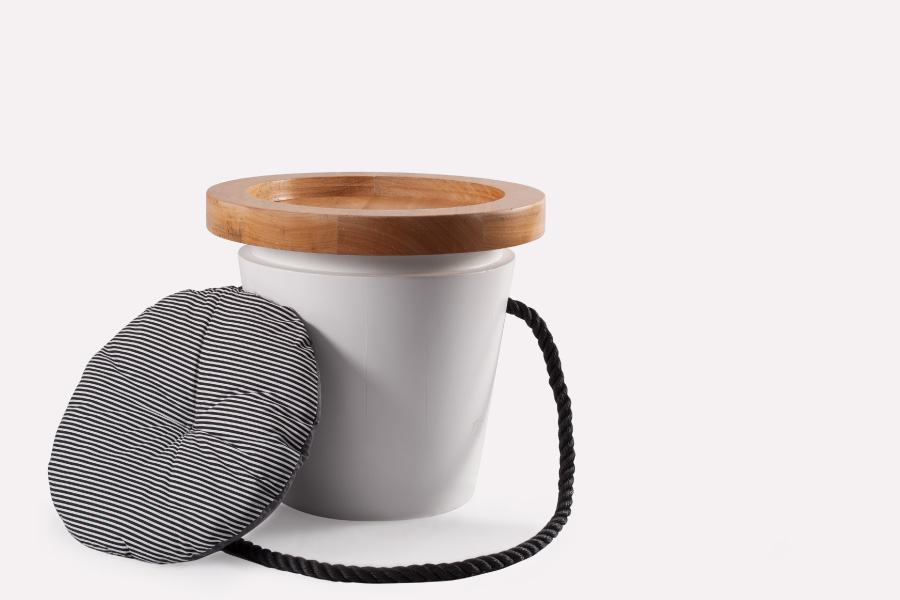 After studying architecture, Laura Calligari founded in 2010 online magazine www.arredativo.it - ​​attentive observer of all the best design of yesterday and today. In 2013 it creates Atelier macramé, reality through which it designs furniture and accessories - always inspired by the simplicity and the daily traditions - they know to combine poetry, humor and creativity in an original point of view on Italian design in small series.