urlaubsarchitektur.de: holidays between architecture and design
it has been modified:
2013-02-07
di
Eduardo Souto de Moura, 4rooms Porto, credits: Luis Alves Ferrera
Accommodation all the same? Hotel Mass? Holidays mainstream? No, there are places where you can live a different holiday, made of style, architecture and design. It is a portal that these sites collect them and offers them. It is called urlaubsarchitektur o holidayarchitecture (For those who prefer to visit its English version), strongly wanted by Jan Hamer, architects and discerning traveler, who long has selected fascinating places, often owned by other architects, able to act as a perfect synthesis between the architectural value of the structure, the elegance of the restructuring, the taste and simplicity of the furnishings, designed to enhance the environment, but above all to make the stay of those who rent comfortable and unique.
The houses today hosted by urlaubsarchitektur are more than 200 scattered in Europe and overseas: some sustainable, able to blend in with the surrounding landscape all; most award-winning and / or signed by great architects such as "Zumthor Ferienhäuser " Peter Zumthor in Vals / Graubünden in Switzerland, the B & B "4 rooms Porto"Eduardo Souto de Moura in Porto / Portugal,"The Long House"Sir Michael and Lady Patty Hopkins Norfolk / England, or houses of promising newcomers such as Jan Henrik Jansen ("Black & Bright"On the Danish island of Moen) and ventira.architekten ("aradira"Lt is"refugio Laudegg"Austria / Tyrol).
Jan Henrik Jansen, Black & Bright, credits: Andrea Glatzke
The selection of urlaubsarchitektur is growing so much so that the will of its founder, Jan Hamer, is to include new homes, new hotels, particularly of architects who have to propose projects "made in Italy" in line with the style and philosophy of urlaubsarchitektur.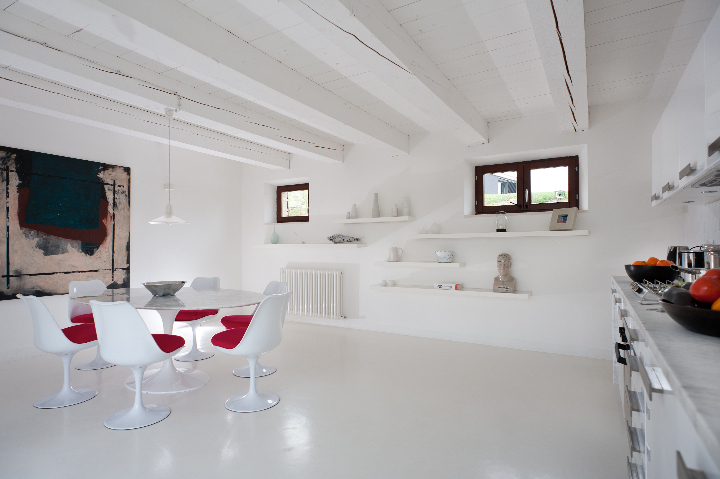 Andrew Frank, Quiet village, Credits: www.borgotranquillo.com
For information and registration: www.urlaubsarchitektur.de| britta.kraemer@urlaubsarchitektur.de