SOMA Architects / KOUKJIAN JEWELRY in Beirut
it has been modified:
2012-11-19
di
Designed by the architectural firm SOMA in Beirut, Lebanon, KOUKJIAN jewelry has the appearance of a precious casket door joys.
In downtown Beirut, Lebanon, the architectural firm SOMA he was commissioned to carry out the Koukjian jewelry. The exclusive location is an open space long and narrow 46 square meters, designed to bring to mind the inside of a jewelry box treasure chest, white and luxurious, but at the same time essential and ultra contemporary.
A fundamental material selected for the construction of the interior was the techno-surface DuPont ™ Corian®, Used to create the outstanding material effects of the jagged wall covering, obtained via a parametric software capable of creating a clear reference to the skill of the setters of precious stones on display in the boutique. In addition to strips of DuPont ™ Corian® white that completely characterize the inner lining of the jewelry, there are additional items of furniture made by the company in DuPont ™ Corian® Design Tribu Beirut.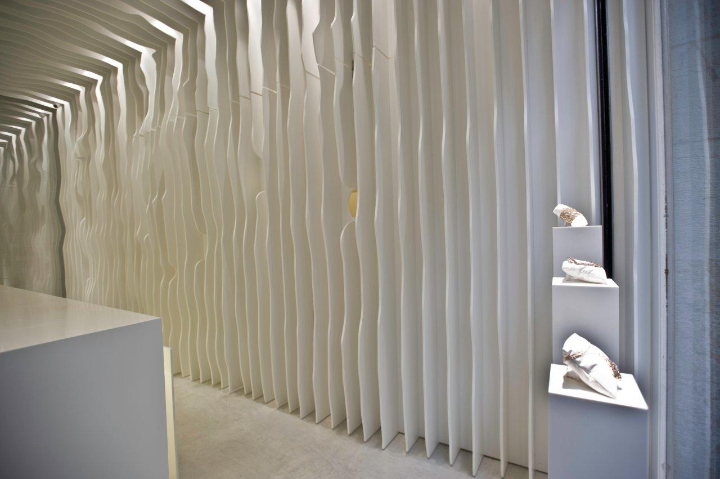 Not only the walls, but also the display cases are made of DuPont ™ Corian®: refined and discrete columns emphasize the beauty of the jewels on display in the main window. The monolithic design and clean by a long reception table in the center of the open space contrasts with the rugged surfaces of the walls and ceiling. The table is made entirely of DuPont ™ Corian® and integrates lighting solutions that emphasize its geometric and completely white environment purity.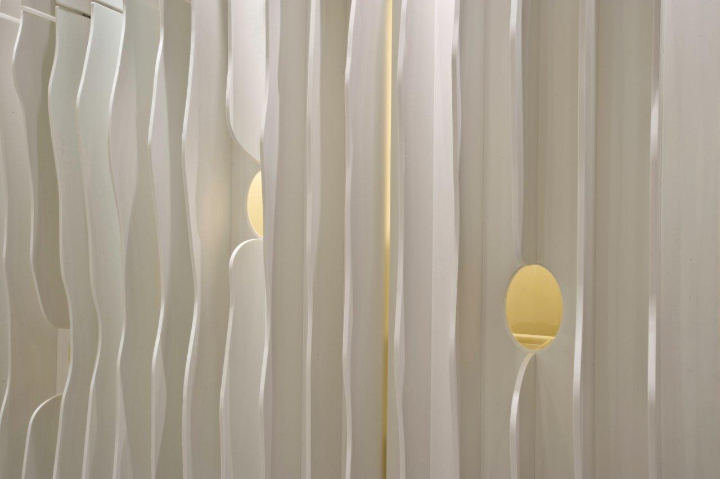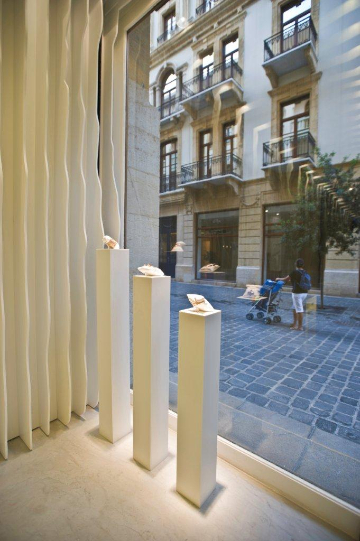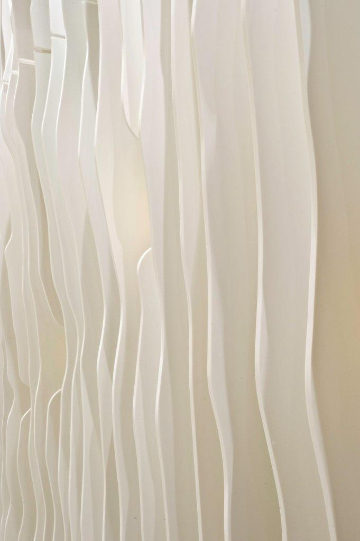 DuPont ™ Corian® is a versatile techno-surface, with exceptional application potential. The solidity of the material and its ability to be molded, engraved and combined with other materials allows designers to imagine a variety of solutions.
SOMA Architects has selected DuPont ™ Corian® in a project where every single detail has been designed to attract visitors and customers through a given evocative design and the warm atmosphere that is able to create. A totally white space, pure and at the same time refined and stylish.
The entire jewelry is wrapped in a "white cloud" of DuPont ™ Corian® and the lights positioned between the vertical strips characterize the aesthetic result, giving the location an amazing visual effect. The SOMA Architects has been able to realize a linear space that expresses perfectly the elegance of jewelry.