Danilo Pirro / Enrico Lattes The architect found
it has been modified:
2013-05-28
di
June at the 12 17,30 at the hall "Paul Candelori" Charity foundation of Terni, will be presented the book of Arch. Danilo Sergio Pirro "HENRY LATTES - ARCHITECT RITROVATO"Published by Gangemi Editore Roma.
The book is the result of research on the human and professional story of Henry Lattes architect author, with Bravetti and Staderini, the plan of Terni of 1934.
Died prematurely at the age of 30 years after a car accident Enrico Lattes was born in Pitigliano, son of Azzaria Lattes, mayor of Monte Argentario, a prominent Jewish community.
Its activity crosses national borders, when in the late '20 moved to Tripoli, where he worked on the project of the Trade Fair. Enters strongly in the debate on the architecture of the time which is between the rationalists "progressives" and "nationalist" defenders of the classical tradition of Italian culture in the lands overseas.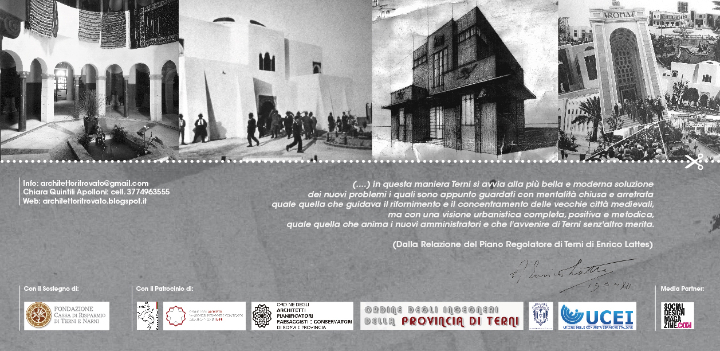 PRESENTATION OF THE PROGRAM WILL 'SO' ARTICOLATO:
Greetings from the authorities.

Dott. Mario Fornaci, President Foundation CARIT
Mayor of Terni, On Leopoldo Di Girolamo
Chair: Arch. Francesco Andreani - Association URBES
Presentations by:

Arch. Aldo Tarquini already Planning Manager City of Terni
Prof. Arch. Giorgio Muratore - Professor of History of Contemporary Architecture at the Faculty of Architecture "Valle Giulia" - Rome

Screening of a film on the work of the architect Lattes.
There will be: Mario and Elena Lattes
info: architettoritrovato@gmail.com
Chiara Quintilii Apolloni: cell. 3774963555
Website architettoritrovato.blogspot.it