Anna Castelli Ferrieri
Anna Castelli Ferrieri Architect and designer, the 6 August of 1920 was born in Milan, her father Enzo Ferrieri attends great intellectuals: Luigi Pirandello, Eugenio Montale and Umberto Saba, it is therefore a cultured and refined environment in which Anna grows.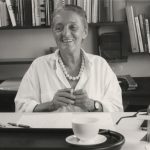 Enzo Ferrieri is also the founder and editor of "Convegno", a magazine of literature, theater and visual arts of the time which, together with the circle of the same name, became an important meeting point in the Milanese cultural debate.
Anna Castelli Ferrieri became famous thanks to her industrial design projects and her innovations, especially those related to the revolutionary use of plastic.
He collaborates with Kartell, an avant-garde company founded by Giulio Castelli, an engineer in the chemical sector.
Anna has been creating various objects for Kartell since the mid-XNUMXs. His design philosophy was to create innovative and functional objects to be used in everyday life. A theme that today we could consider banal, but that at the time shocked the furniture sector and beyond.
It was the 4870 chair designed for Kartell that earned it the first Compasso d'oro in 1987, a chair made entirely of plastic, which had the peculiarity of being able to be perfectly superimposed with other chairs of the same model.
In 1946 she founded her architecture studio in Milan and began to actively collaborate with the Milan Triennale, which hosted several of her exhibitions over the years and which awarded her the gold medal in 1947 for a convertible armchair and a children's bed.
His philosophy was inspired by the idea of ​​architecture "within everyone's reach", oriented in this by the rationalism of the Bauhaus school.
Anna Castelli Ferrieri died in Milan 22 2006 in June, but in the history of design its track is definitely immortal.
---
1-24 display of 32 results