2019 Fuorisalone | NO.MADE luxury mobile home | Brera design district it has been modified: 2019-04-03 di
After EDEN Luxury portable suite of the FuoriSalone 2018, and winner at the ICONIC AWARDS as innovative architecture, Michele Perlini returns this year at the Brera Design Week with a new concept for "nomadic" living.
"Architecture is subject to an aimless wandering: living no longer expresses the bond with the earth, its roots, but the manifestation of an elementary human need, the dream of an instantaneous architecture"
cit. Christophe Pourtois, Architecture and Nomadism (2010)
NO.MADE is a micro dwelling, a traveling domestic space imagined as a buen retiro for scenic locations, a houseboat or a special place for urban spaces.
The prefabricated module is designed to meet the strictest sustainability requirements, and consists of a small cell of reduced dimensions (3 x 9 meters) to allow easy transport and assembly, defined by a structural frame in corten steel and a large façade panoramic in aluminum in which fixed and openable elements are integrated without any interruption of continuity, a device "all glass" to plunge into the surrounding landscape: "The idea is to give life to unprecedented glimpses between inside and outside that, thus, become one with each other" explains Michele Perlini.
The glazed opening, made with highly insulated aluminum profiles, allows the environment to be naturally heated during the winter, while in the summer months, the automated sunshades protect the house from excessive heat.
With a strong attitude to sustainability that architect Michele Perlini highlights in all his work (CasaClima expert consultant has created the first CasaClima conservative restoration class "A" Nature in Italy, and the first CasaClima Welcome in Italy) also for NO.MADE the study of energy consumption was a priority and guided the design choices: the glass is selective, therefore it is at the same time low emissive and solar controlled.
The facades in high density mineral panels, with very low transmittance and covered with fiber cement, guarantee high energy efficiency. The module is certified Casa Clima Mobile Home.
The interior space is designed as an open space, where there is a living area, a sleeping area and a bathroom, which can be separated by sliding wooden panels; the havana colored wall covering is uniform and homogeneous.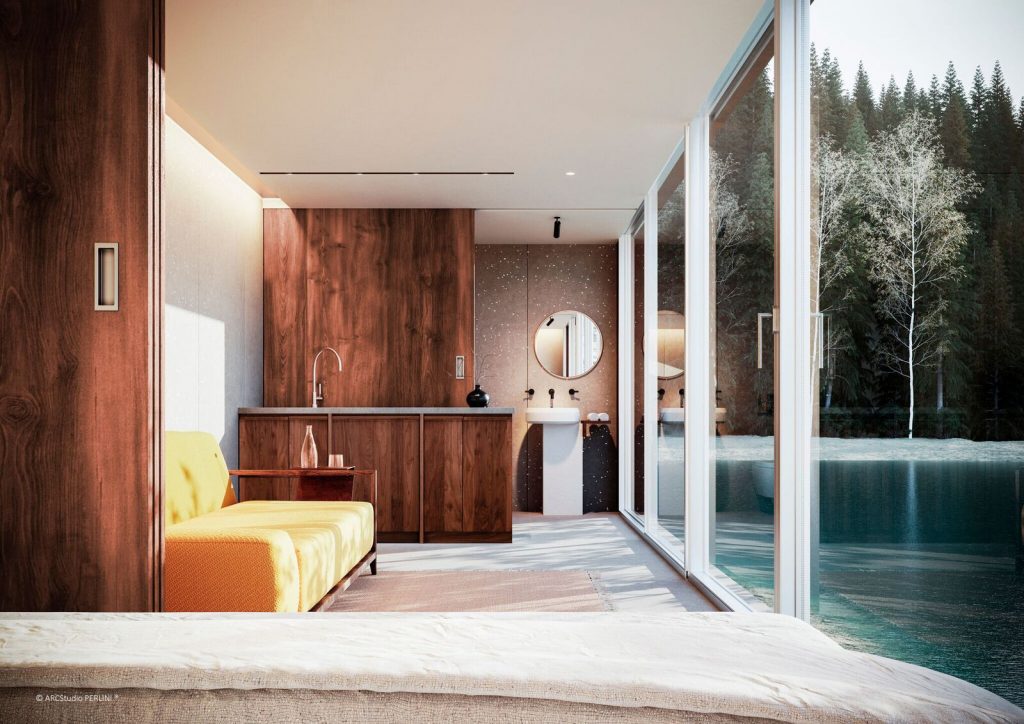 NO.MADE furnishings are custom designed by Michele Perlini and designed as an integral part of the project.
Handcrafted, they reaffirm the architect's extreme attention to the issue of environmental impact, through the choice of natural materials for the sofa and bed, with structures in solid American walnut and upholstery in natural fabrics, silk, cotton - from integrate with accessories in recycled plexiglass or corten designed for maximum comfort (magazine holder, tray, tablet holder, LED reading light and cigar holder).
The bathroom has a freestanding sink and the chromotherapy shower allows you to enjoy panoramic views through the full-length window; finally a mini kitchen with a small table attached for breakfast or a quick lunch but also for enjoying a candlelight dinner.
Even the lighting project, with spotlights and light cuts in the ceiling, is designed to create a soft, soft, enveloping atmosphere.
"I conceived NO.MADE as a small, intimate place where you can isolate yourself, feel out of everyday life and at the same time within the natural or urban context in which NO.MADE will find itself. A space for living where the materials, furnishings and every little detail are conceived and designed to create an enveloping and familiar atmosphere capable of offering always new and unprecedented views " - Michele Perlini.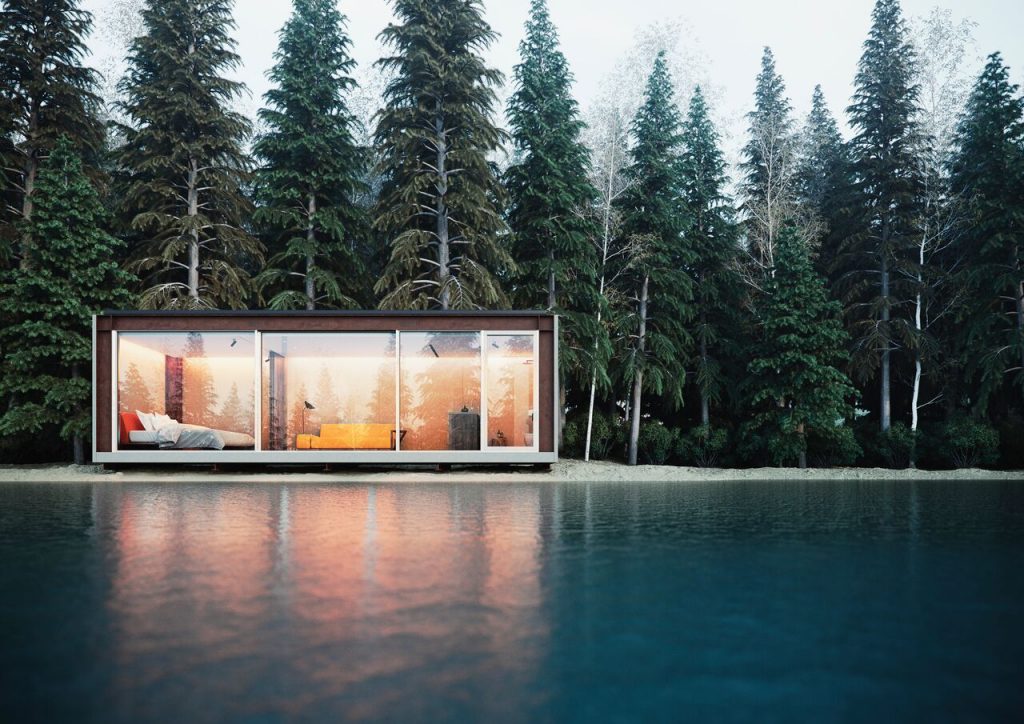 CREDITS NO.MADE
Place Milan Brera Design Week 8-14 April 2019
Type of project Luxury mobile home
Dimensions 3 x 9 m
ARCHITECTURAL PROJECT: Michele Perlini
PROVIDERS
Lapitec wall coverings
APPTEC floor and Ceramica Sant'Agostino
FLOS and LineaLight lighting
Kvadrat fabrics
Dornbracht taps
Agape washbasin
Alape bathroom mirror
Aluminum windows and doors: Schüco International Italia
AGC flat glass glasses Italy
PLH plates
ECOSTEEL steel construction system
RÖFIX insulation and painting
HOVAL air conditioning system
GALANTE SAS carpentry
Wc Acqua Clean GEBERIT
https://nomade.arcstudioperlini.com