Laura Martini and Alessandra Gruppillo / Co.Bu. Bucolic condo it has been modified: 2012-03-17 di
At Green Urbanity Laura Martini e Alessandra Gruppillo, Designers always attentive to cambiamentie the inevitable consequent need for these involve, involved presenting Co.Bu. condominium bucolic, A project that aims to involve the community in harmony with sustainable trends.
Within a progressive process of urban expansion, greenery takes on new roles, no longer just symbolic or decorative but also hygienic linked to the healthiness of the air. Thinking of all the houses, typical of the city, without a balcony or a garden, we also wanted to give them the opportunity to create a small oasis of nature and relaxation, a pastime that involves the deepest feelings; watching plants grow, fertilizing them, protecting them from parasites, reaping the fruits… is an occupation that increases availability towards others and self-esteem. The idea therefore arises from the need to live everyday life in a more serene and relaxed way, just like when you are on vacation and you feel free and in a certain sense even more vital.
Hence Co.Bu. the bucolic condominium, where the shutters, absolute protagonists, will give life to a real vertical garden, in this way also the city takes on the appearance of a lush hill, a field in bloom that restores our spirit and our mind . The project consists in the construction of an aluminum shutter with revolving doors that houses pockets containing coconut fiber (well-ventilated and light structure, excellent drainage, stable pH, retains humidity, is ecological and recyclable) where seeds of the most varied species are planted of plants, flowers or even vegetables which, once grown, will make the condominium lively and dynamic.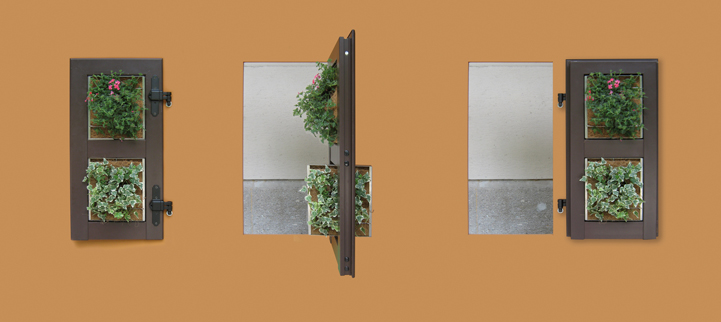 A spray atomizer, adding to the natural humidity and precipitation contribute to irrigation and well-being of the plant. A simple idea that can make life more pleasant both inside and outside of our condo.