The 'renderissement': industrial hyperrealism transition between design and art. it has been modified: 2017-03-27 di
What I have called Renderissement is the art of creating pictorial images with the exclusive help of 3D modeling / rendering software.
These software commonly used in architecture and design for the restitution photo-realistic objects in our case is used for the production of photo-unrealistic visions.
Use inverted, playful and charming.
But contrary to what one might believe, the resulting art is much closer to classical painting than to digital painting. In fact, as classical painting is figurative, it requires the study of bodies, geometry and proportions.
The artist is forced to understand and draw the object in its three dimensions, so in a certain sense he sculpts it, studies and positions the lights, the background and the environment that surrounds it.
This is the most complex, technical and calculated part of the creative act and it is not the one where the software helps you the most.
What the software is, in fact, irreplaceable is in its ease of making you commit the unexpected mistake.
A new proverb says that by making a mistake one invents himself (Gianni Rodari, Grammar of fantasy) and it is precisely from error, in all its exceptions, that this art is nourished; the perfect object in the wrong place, inconsistent light reflections, the juxtaposition of two incompatible objects, misleading materials, in short, an inexhaustible range of errors to be made or discovered.
The art then lies in trying to lead the software to the desired and known equivocal effect, in a certain sense familiar, distinctive, or in experimenting with new optical typos and pursuing them.
A sort of industrial, surreal and digital hyperrealism was born, a transition between design and art.
"The diplomatic path of today"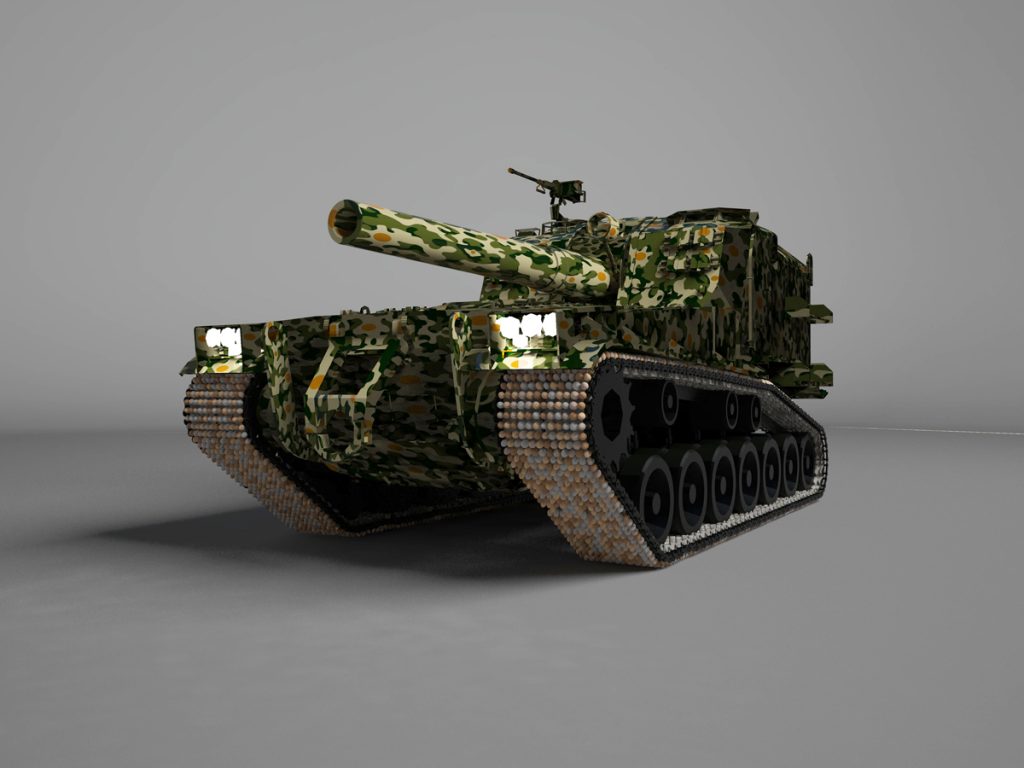 You can find the diplomacy in the books.
You can find the diplomacy on paper.
You can find the diplomacy shake hands.
You can find the diplomacy of the food front.
In a phone call. You can find it in the songs.
You can find the diplomacy in your mind.
Where you can not find the diplomacy is in a refugee camp.
Or in a mass grave.
Incoherently: you should.
(specific text by Andrea Milluzzi, reporter from Iran and Iraq, text editor of the Cortona On The Move International Festival)
Today's diplomacy represented as a ridiculous and ill-equipped tank to move, as if forced to walk on eggshells.