The Mara patented height adjustment system recognized by the European Union's research and innovation program.
High-tech environments and spaces designed like those of a Roman domus in a historic building under the banner of reducing environmental impact.
SDM Products Selection, a selection of design products able to improve the liveability of indoor and outdoor spaces, while at the same time expressing a mood.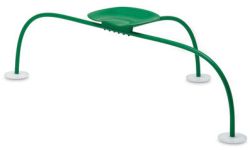 Mooring Stool, Achille Castiglioni for Zanotta
A harmonious dialogue between working environments, with technical and functional requirements, and a relaxed and confidential atmosphere typical of the domestic dimension.