ALL-IN-SQUARE, micro-architecture and urban design integrated with solar technology
it has been modified:
2013-02-18
di
ALL-IN-SQUARE, designed by IN-TRY for for public spaces, is formed by a microarchitecture that can be used as a temporary shop or point of information, the more different modular layout elements, such as seats, lighting elements, bicycle racks, and a floor with luminous inserts.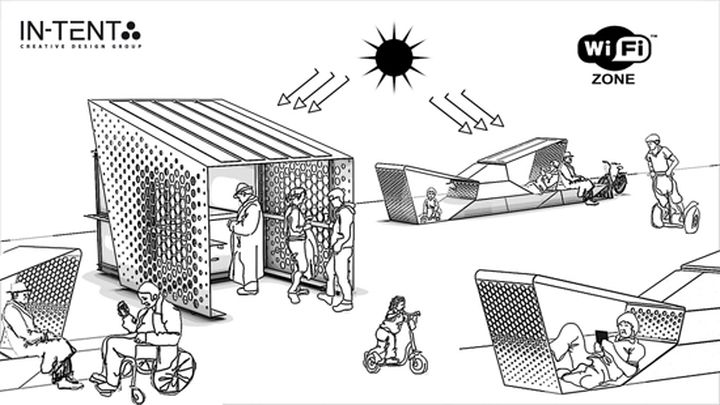 With this project we wanted to accept a change of attitude of the urban population by offering possible solutions of furniture for urban spaces that facilitate the use of new mobile technologies in public spaces and the use of alternative energies, such as solar, to meet energy needs.
The micro-architecture is complemented by two elements: a cubic structure and a metal skin that surrounds the architecture and allows to customize it. During installation it is possible to place this element as a tunnel with respect to the cube, thus creating a porch of access, or so completely enveloping defining undergoing a specific decoration production, which will be realized for laser cutting, and which will characterize in a unique way architecture.
The elements that accompany the microarchitecture and that combined among them define different configurations are:
a backless bench granite
an alternate seat to 'cocoon' of perforated sheet
an illuminating element for external
a bicycle rack
The project is also complemented by a multimaterial granite flooring, solid surface and corten steel, which recreates the soil the same game geometrical composition of the furniture in three dimensions.
The compositional logic of the design and its non-binding and temporary destination of use offers the opportunity for public customers as individuals to create, starting from a few pieces of furniture, distinct scenarios that furnish the space functional and customizable manner.
The integration of 'smart' technologies in both the urban landscape elements in the microarchitecture and the floor, allow to respond in an innovative way to the expressed needs of an urban population permanently connected, for business or fun to the network, which is moving ever more with alternative means to the car in urban centers.
The company URBAN SQUARE producer of the ALL-IN-SQUARE project encourages and promotes urban construction of the city where all the elements that define it as such, roads, buildings, urban elements, signage, are articulated with each other intelligently and always supported by an invisible technology and accessible.