Pubblic Design Festival / Outdoor at Milan Design Week 2011
it has been modified:
2015-09-30
di
Disano Lighting was the technical sponsor of Pubblic Design Festival, organized by Outside, a group of young architects and designers that deals with the redesign of public spaces.
Now in its third edition Pubblic Design Festival has presented a series of projects to give a new face in different places in the city of Milan. In particular, the overpass knocks a driveway and ample parking are underutilized. In the Garibaldi district, currently without a clear identity, it was a place of exploration projects that will improve the quality of urban life. In the green triangle south of the overpass, the project Crossing Path Super Bench, designed by raumlaborberlin, German designers that the '99 working in the field of urban design and of' interactive environments, developing new strategies for urban regeneration, "institutionalizing" the trails born spontaneously from appropriation of citizens of an urban unplanned. The superpanchina, as particular urban furniture, comprises a series of innovative sessions that implement shape and surface of the traditional green benches, positioned near crossroads. Disano Lighting has chosen to be the technical sponsor of the event with innovative products designed to best meet the needs of aesthetic renewal of the city, with new environmental friendly technologies.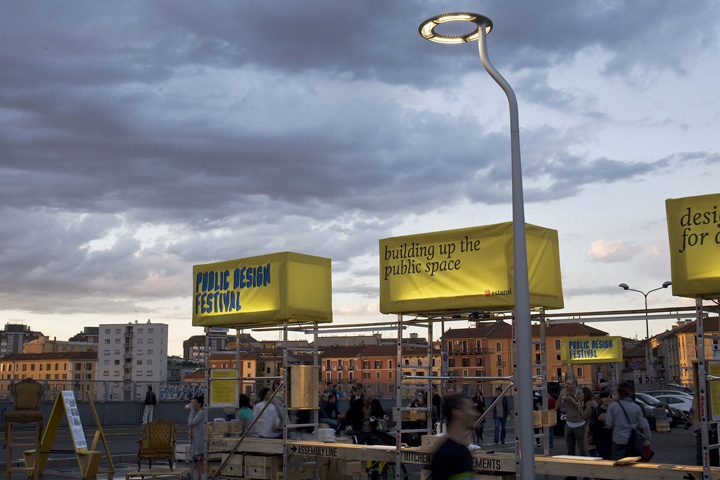 In particular Aura (Alessandro Pedretti design studio Rota & partners) is the LED streetlight, which pushes the boundaries of lighting in the city. In addition to energy savings and the high quality of light guaranteed by the LEDs, Aura can also characterize day the cityscape with a new aesthetic. Other products catalog Disano and Fosnova (Disano group brand), such as Elf projectors, Chrome and Agadir, and will be used to give prominence to the work of designers and atmospheric lighting effects.