Bassam El-Okeily and Karla Menten: Narrow House it has been modified: 2010-11-09 di
"Narrow House" by Bassam el-Okeily architect Brussels, is a three-storey building constructed Bilzen, a small town near the eastern border of Belgium. The project, which is a collaborative design with Karla Menten architect, has a dynamic and expressive street facade: a layer of coated glass space that could be defined as an atrium thin, with two overhanging balconies with different angles and directions. illuminated in a multitude of colors, the night "Narrow House" is like a sculpture.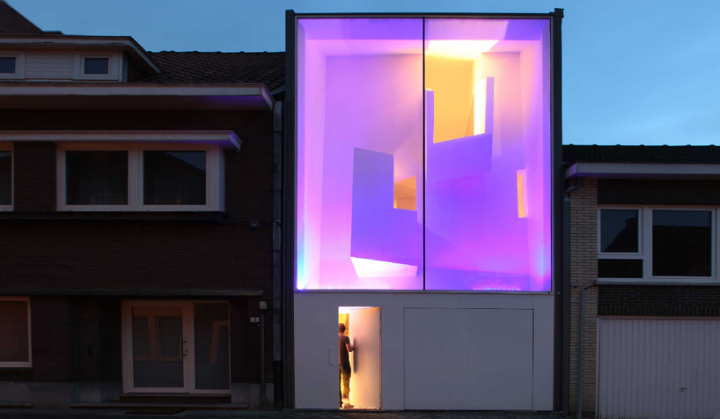 The land on which it was built has a width of 5,3 meters, the mansion, built for a couple, houses a garage and ground floor entrance. the second and third level are totally enclosed in glass, exposing a white facade with a series of balconies. The lower balcony connects to the library and reading corner, offering natural light and a sheltered view of the road. Plan topProtrudes more forward and houses the studio where the woman the house does his work as an artist.