LECO, the system for differentiated waste collection with a playful aspect by FLUSSOCREATIVO it has been modified: 2011-01-19 di
Leco, fully equipped ecological station designed by Flussocreativo, It has a young and colorful appearance, with a strong playful reference imprinted in the collective memory.
It 'a siatema of containers for waste collection, composed of five elements in the low density polyethylene (LDPE), two of which for the aluminum and the glass, in the respective blue and green colors and two, of larger size, for the white and yellow card for plastics. The four elements are positioned in turn on a fifth element, gray color, which serves as a base.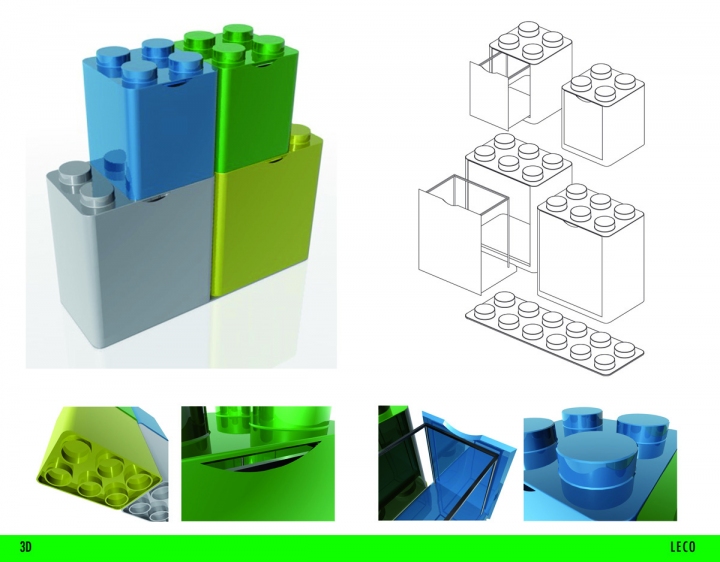 The originality of the Leco form deviates from the classic container for recycling trying to engage the user through two fundamental aspects: the aesthetic sympathy and modular functionality.
Leco is clearly a reference to the "Lego", a world game that raises us from our ability to manage and combine small objects, stimulating creativity.
From the desire to create here, even for a sensitive topic such as environmental sustainability, the opportunity to interact with the containers so pleasant aesthetic overcoming obstacles and formali.Tale vision led us to the conception of a collector who had the ability to attract the attention, in addition to its function, for its ability to resolve problems of space and entice the daily practice of differentiated collection.
Specifically, each individual container is composed of an outer shell in LDPE with the two ends of the assembly times, which refer in a very intuitive way to the ease of interlocking between typical elements of the game "Lego"; while in the front part, always LDPE, there is provided a full drawer with metal frame for the accommodation of the bag.
The hypothesized technology for the production of Leco is rotational molding, with adequate measures for housing necessary inserts, as the guides for the sliding of the drawer and drowned bolts for fastening the frame of the bag.
The suitable material for the production of Leco is the low density polyethylene, that is one between materials, together with the PET and HDPE, easily recoverable and recyclable from post-consumer; It has a very good dimensional stability and is usable without problems of fragility and breakage up to 80 ° C and can be easily colored. The processability of LDPE is done through different technologies such as extrusion, blow molding, injection molding and rotational methods as in the case of the Leco station.
Leco is a new solution, engaging and colored to try to improve the ability to spontaneously recycling, contributing daily to environmental protection.