Reisenthel / new bags presented at Macef 2012> it has been modified: 2012-10-08> di
Directly from the last MACEF of Milan, here is the news Reisenthel in accessories for daily mobility. Brand new fantasies Fifties Black and Rings and Black Series: stylish handbags and practices for work and leisure.
Bag to business: the new "black series"
The new collection of black series business Reisenthel presents useful products for commuters, employees and in general for those who frequently travel by plane, train or car. The black professional look of these bags is elegant and exclusive, while the orange interior gives it that certain "je ne sais quoi". Bags are comfortable and sturdy, ideal for long trips and perfect companions in the office, for every type of business.
The spacious boardingbag has a large main compartment, a roll-top cover and lots of space for documents, travel accessories or laptop. As a practical detail, the rear slot makes the bag applied to a trolley, and has a zippered pocket.
With padded shoulder strap durable polyester, boardingbag is comfortable to carry all day.
Businessbag is equally practical, but smaller and more compact. This stylish bag can hold small accessories Office as pens, notepads and calculators in the many pockets. The main compartment with double zipper has room for tablets and document holder.
The well-organized officebag is the companion for trendy men and women in business. This compact bag is divided into three compartments and is fully padded to protect the contents. The fresh orange interior lights dull daily routine.
Courierbag stands out for its sleek design. It has the right size to hold the document holder while various compartments help to create order in the bag. courierbag is perfect for commuters who are constantly on the move. Even rucksack for maximum flexibility. Has adjustable handles and many pockets for pens and accessories.
When you're on the go, you certainly need space for your tablet - here tabletsleeve. The tough polyester protects the small computer, the elastic bands hold it still. The bag also has a thin inner pocket and a lateral compartment to hold comfortably various accessories, such as a pad for notes.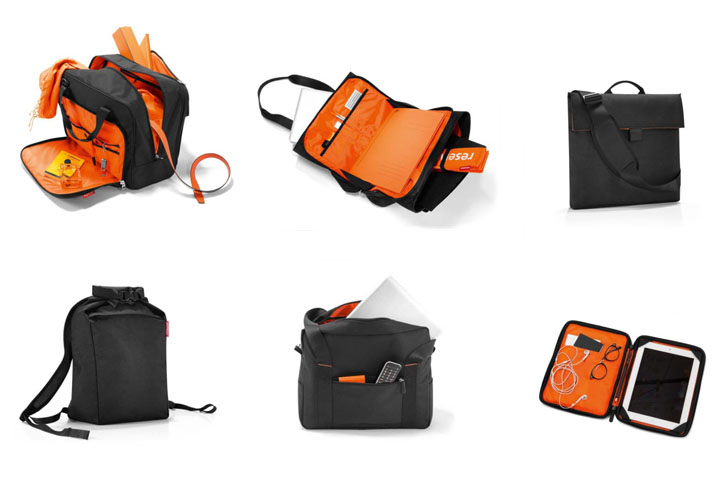 All products in the series are black polyester ripstop with a fabric texture and are the perfect companions for those in search of a perfect organization!
boardingbag, x 46 36 21 x cm, ca. € 96.90
businessbag, x 38 31 12 x cm, ca. € 69.90
courierbag, x 39 38 10 x cm, ca. € 48.50
officebag, x 41 33.5 23 x cm, ca. € 72.50
rucksack, x 37 45.5 17.5 x cm, ca. € 45.90
tabletsleeve, x 21 27 2.5 x cm, ca. € 21.50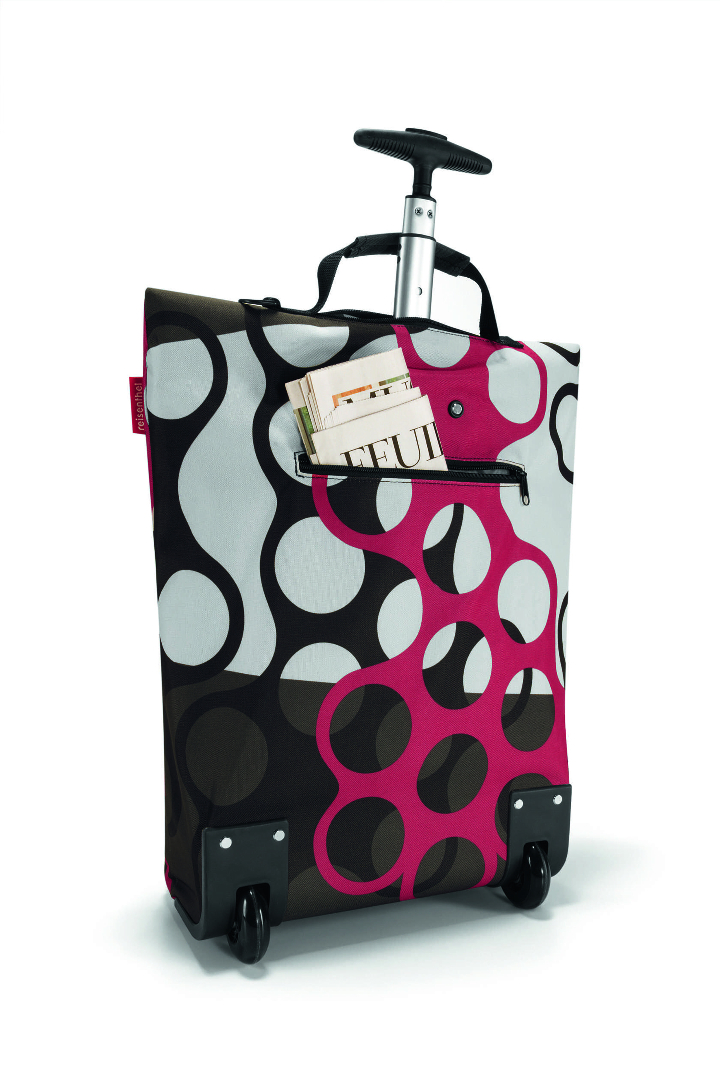 Fantasia "rings"
Friends of art: the bag Reisenthel in fantasy rings, of which already we have spoken, It is a captivating fantasy now available for both products bestseller and some new items in the categories and SHOPPING TRAVELLING. Starting with the classic carrybag - the original of the shopping basket. This basket is a safe partner to carry up to 30 kg of spending from the market up to the house and also has space for the change in the small internal pocket. The flexible easyshoppingbag, however, is suitable for bulky purchases at the supermarket. Easy to carry when it is wrapped around itself, it attaches to the cart once opened to contain expenditure.
And when you need a chic accessory for shopping? The stylish shopper M is always the right choice; The large handle makes it easy to carry and zip lets close it completely.
A new product in the collection is trolley M rings, the modern aid for shopping. It 'a shopping trolley versatile and useful even for purchases more voluminous. Thanks to the telescopic handle is also suitable for taller people, but just lower it to turn it into a moment in a portable bag and spacious. This makes M trolley ideal shopping companion, suitable for all purposes and attractive, thanks to its refined design.
Colorful, practical and surprisingly different - make shopping fun!

trolley M, size x 43 53 19 x cm Price on request
carrybag, size x 48 29 28 cm x € 54.90
easyshoppingbag, size x 32.5 38 51 cm x € 15.90
shopper M, size x 51 30.5 26 cm x € 14.50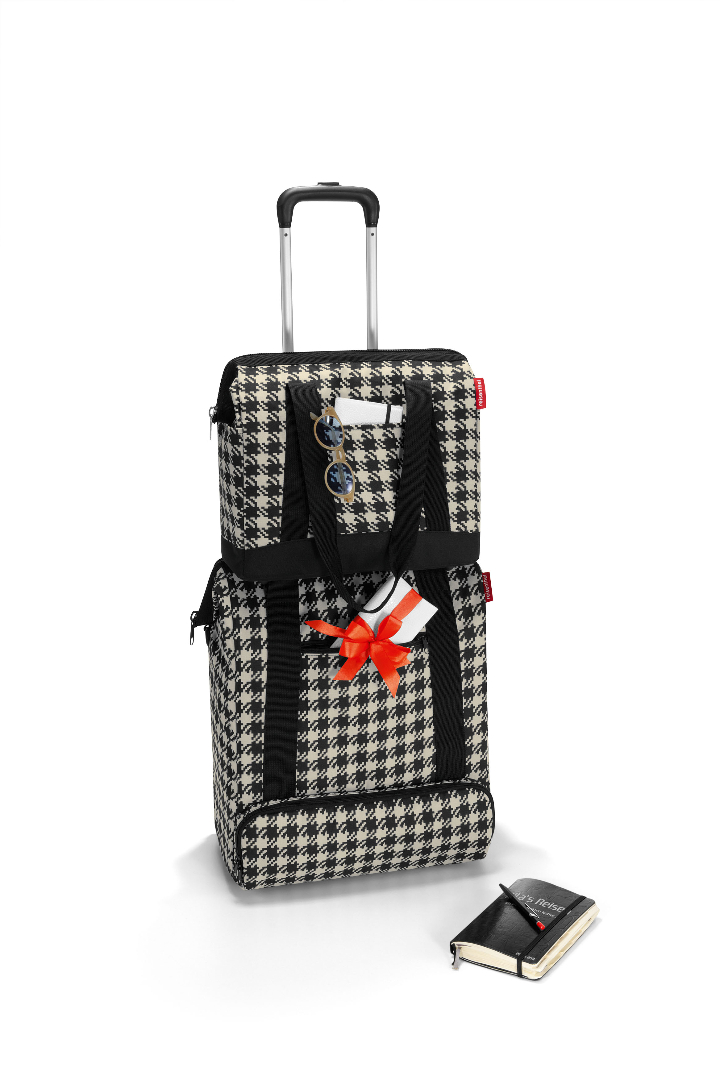 '' Fifties black '' style years' 50 to travel glamor
As a tribute to the years' 50, Reisenthel Accessories bag he also created the style icons such as Audrey Hepburn and Grace Kelly would have loved it! His most loved products, as allrounder (S, M and L) and beauty duo, become incredibly trendy in looks fifties black.
These timeless accessories, from the black and white pattern become perfect wherever you are, whatever you do. Whether traveling or prey wild shopping, bags and trolley Reisenthel are always the right choice.
In addition to the models already known, Reisenthel presents two new products in the fifties look black: allrounder plus and allrounder wheely. They are both perfect traveling companions, both for short trips and for long holidays.
allrounder wheely is a trolley with wheels that offers a lot of space for clothes and accessories. Even the shoes can be conveniently stored in the pocket on the bottom. The six pockets and the outside make it a spacious trolley suitable for any occasion. This handy bag can easily
carry up to 15 kg and is extremely robust thanks to polyester anti-tear.
The travel bag allrounder plus is designed with intelligence can be combined with the telescoping handle of allrounder wheely making it very easy to carry. The tapered shape and the long handles make allrounder plus a bag handy, ideal for everyday use. With a total of eight pockets, there's plenty of indoor and outdoor space for cosmetics, towels and passport.
Together, plus allrounder and allrounder wheely are unbeatable. Once your will, you'll wonder how you ever lived without - Your reliable companions from sophisticated look years' 50!
allrounder plus, x 36 35 18 x cm, approx. € 34.90
allrounder wheely, x 40 55 25 x cm, approx. € 119,90
Also the following accessories are available in the fifties black design:
carrybag, moonbag L, mm shopper, loopshopper (sizes L and M), allrounder (sizes S, M and L), M shopper,
shopper e1, Cityshopper, easyshoppingbag, bottlebag, wrapcosmetic, travelcosmetic, travelcosmetic XS,
beautyduo, multicase, toiletbag, umbrella, trolley M, carrycruiser, foldable trolley.
For more information: www.reisenthel.com