The Radisson Blu Hamburg chooses Kaldewei it has been modified: 2013-02-19 di
The 4-star superior hotel chooses the quality of enamelled steel shower trays Kaldewei, Replacing more than 250 tiled surfaces.
In autumn 2009, the Radisson Blu hotel in Hamburg reopens in style after a year-long renovation costing millions of euros.
Despite the important investment, just a short time after the reopening, General Manager Oliver Staas and his staff noticed stains and water infiltrations
in the bathrooms. The affected rooms are closed and 252 tiled shower areas are gradually replaced by Kaldewei enamelled steel shower trays, in order to be able to count on a safe and durable solution and to ensure maximum hygiene for its customers.
The building of the Radisson Blu in Hamburg, over 100 meters high, is part of the architectural heritage and stands out for its elegance and care of the interiors, both in the common areas and in the rooms. Its 556 rooms and suites are furnished by interior designer Christian Lundwall in three different styles: "Natural", with light wood and soft cream tones, "Urban", in a metropolitan style, and "New York Mansion", characterized by a lounge atmosphere.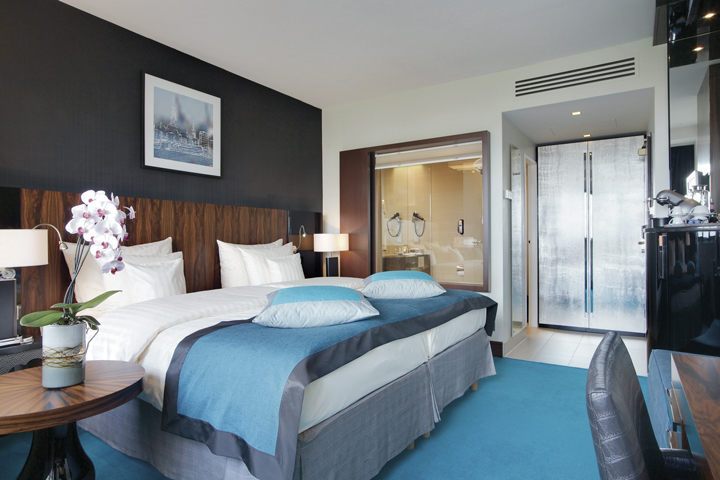 The bathroom is the business card of a hotel room, the shower areas of the bathrooms in the Radisson Blu Hamburg rooms, renovated during the 2009 renovations, were covered with tiles, which proved inadequate compared to the standards and needs of the hotel. hotel, especially from a hygienic point of view. An unacceptable situation for a structure like the Radisson.
Oliver Staas, General Manager of the hotel, says:
"In the evaluation of a hotel room by guests bathroom plays the most important role; They lacks hygiene and cleaning the findings will only be very negative. "