The Made in Design to celebrate the New Year 2014!
it has been modified:
2013-12-16
di
The New Year 2014 is approaching, if you decided to celebrate it at home, you will be definitely useful these objects selected for setting up the table of your dinner between products Made in Design!
Carafe Drip - Eva Solo
On the occasion of the hundredth anniversary of Eva Solo, the famous carafe drip it plays a beautiful leather sheath. Behind a simple design, inspired by the classic milk bottlesThis carafe hides several features! It will be ideal for any type of drink (Hot or cold); will be maintained at the desired temperature thanks to the insulating sheath neoprene. The size of this carafe is designed to adapt to any refrigerator door.
His wide neck also allows to slide inside of ice cubes or lemon slices. Practical, its cap-capsule It opens automatically when you pour your drink and its nozzle drip dispenser will make your life easier! Ideal for water or fruit juices, is also perfect for iced tea (or hot) that can be put in infusion directly into the jug because of its heat resistance and thermal shock.
Practice, it is also suitable for use in the microwave. The sheath is available in a variety of colors.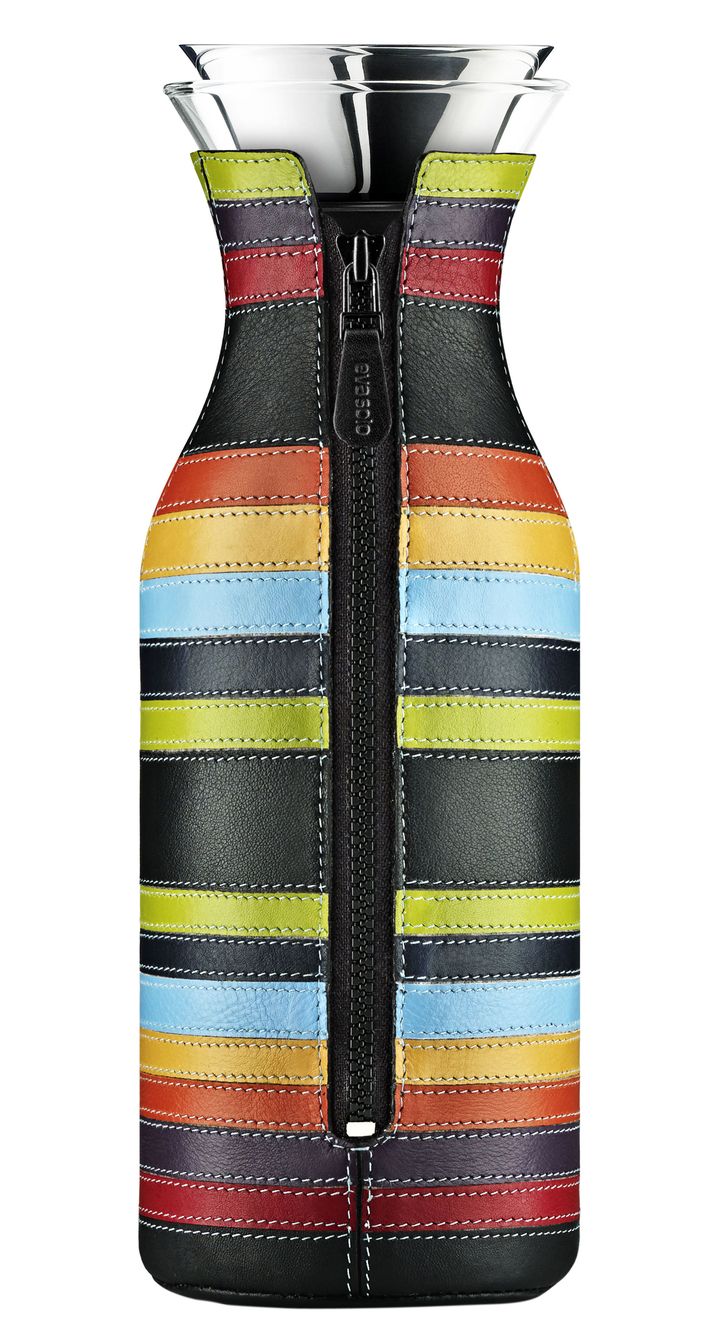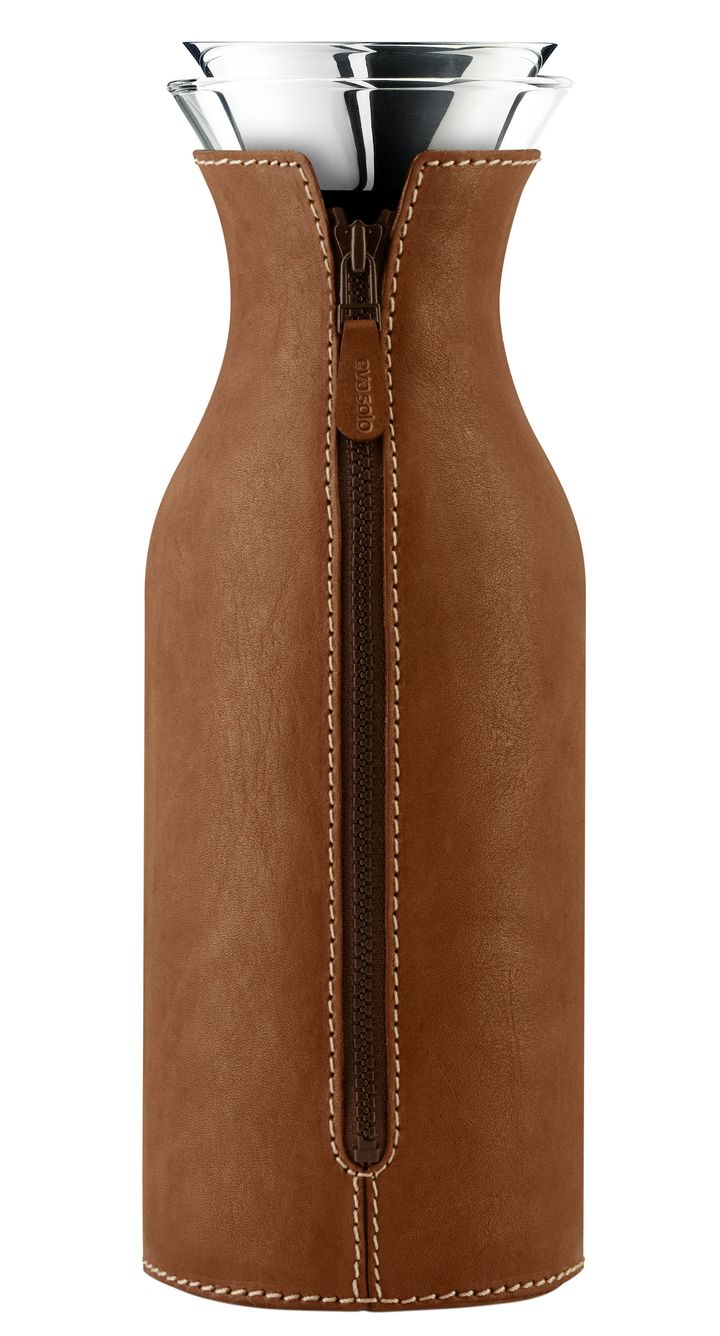 Glass / cup Sukat Makkaralla Marimekko
The colorful designs, bold graphics and the Finnish brand Marimekko, arriving at our house! Created in 1951, the company Marimekko It is a state of mind, An art of living based on creativeness freedom of spirit of inventiveness. Elegant and original, this line includes cups, wine glasses and a Blown glass carafe. Il colore is inserted life inside the glass to keep for long its color, never fade.
Handmade, each glass is unique.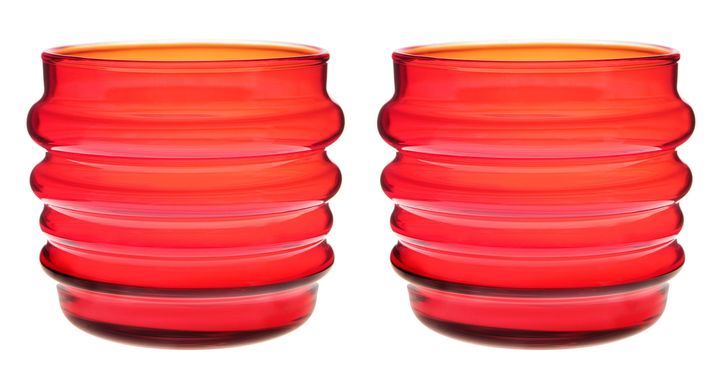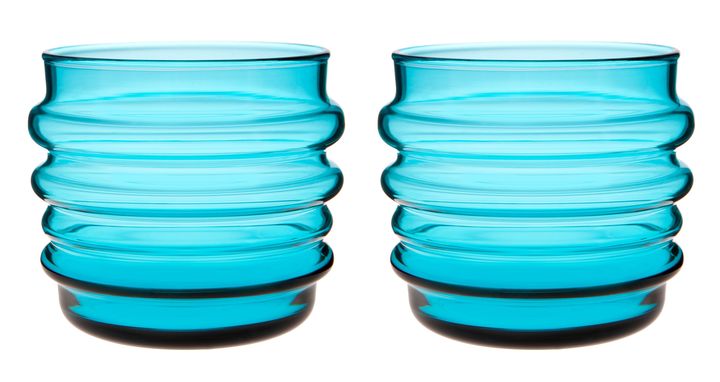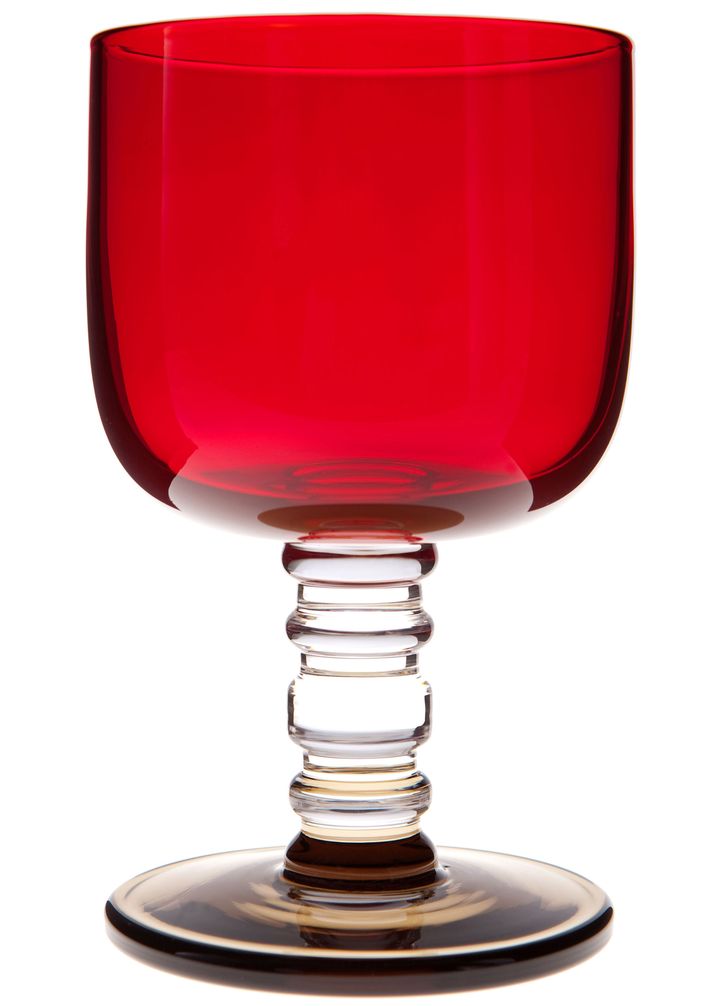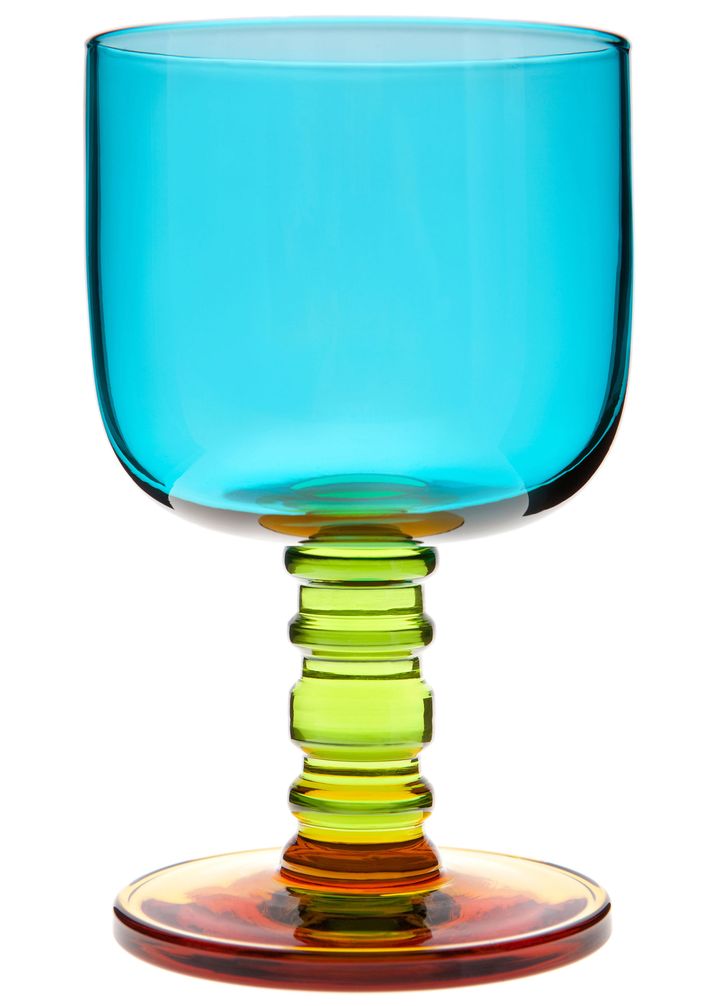 Exhibitor for food Mangier of Smarin
A tree to eat, A tiny forest in which to collect the food ... Mangier - Tree food is something totally unusual to present your food during your meals, drinks, Buffet or garden party. With toothpicks will pierce appetizers, radishes, strawberries, candy ... Guests collect the food directly on the shaft! Aperitif, dish or dessert: Nothing better to eat of the tree - Mangier - to impress your guests!
A reflection that is built around our relationship with the environment, the need to remind us and to experience the movement in nature. Mangier is made of natural beech, untreated.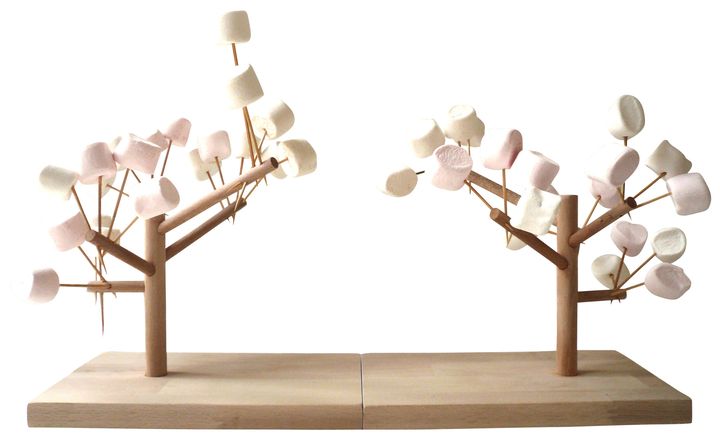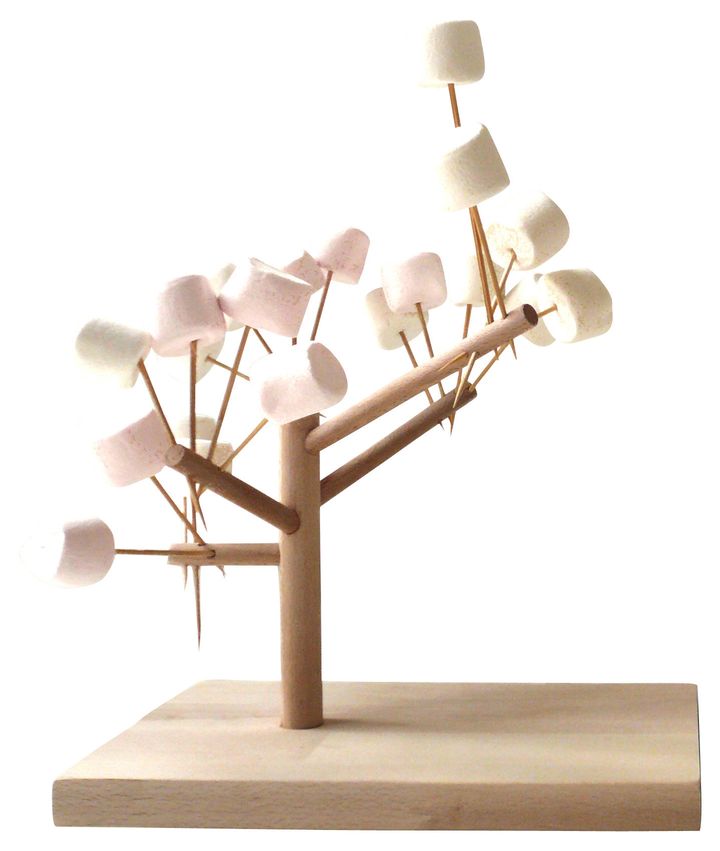 Glass Wave Leonardo
The Wave collection colors shines on the table thanks to its bright colors! This collection of glasses is ideal for adding a touch of whimsy to your decor. Feel free to mix the colors for a style "Color Block" latest fashion!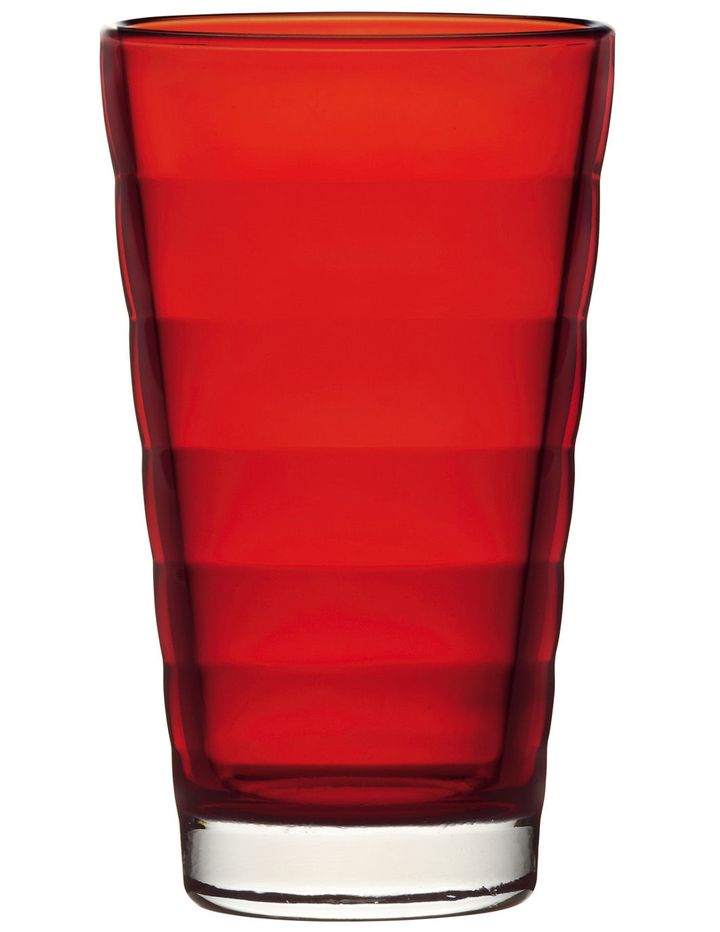 Porta cheese Cage L'Atelier du Vin
For all fans of cheese, L'Atelier du Vin has conceived a great item. La cage door-cheese is designed to facilitate and highlight the presentation of cheese, Fruit or pastries, and ensure their preservation. Its two-tiered structure allows carry cheeses of all types for a gain significant space! The tray is constituted by a cheese rugged steel painted and two removable shelves in solid wood.
Each shelf is equipped with a flat side and one concave and knurled, very useful for keeping the melted cheese, for example. Very practical, the tissue case bell-shaped allows protect cheeses from insects and dust. Inserted within the tray, a rope can carry and suspend the cage.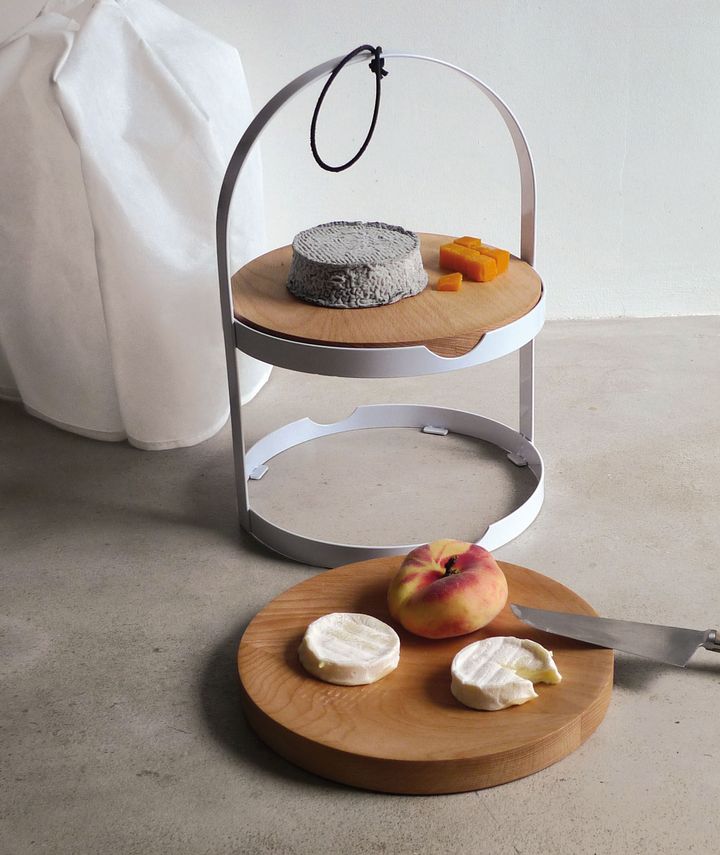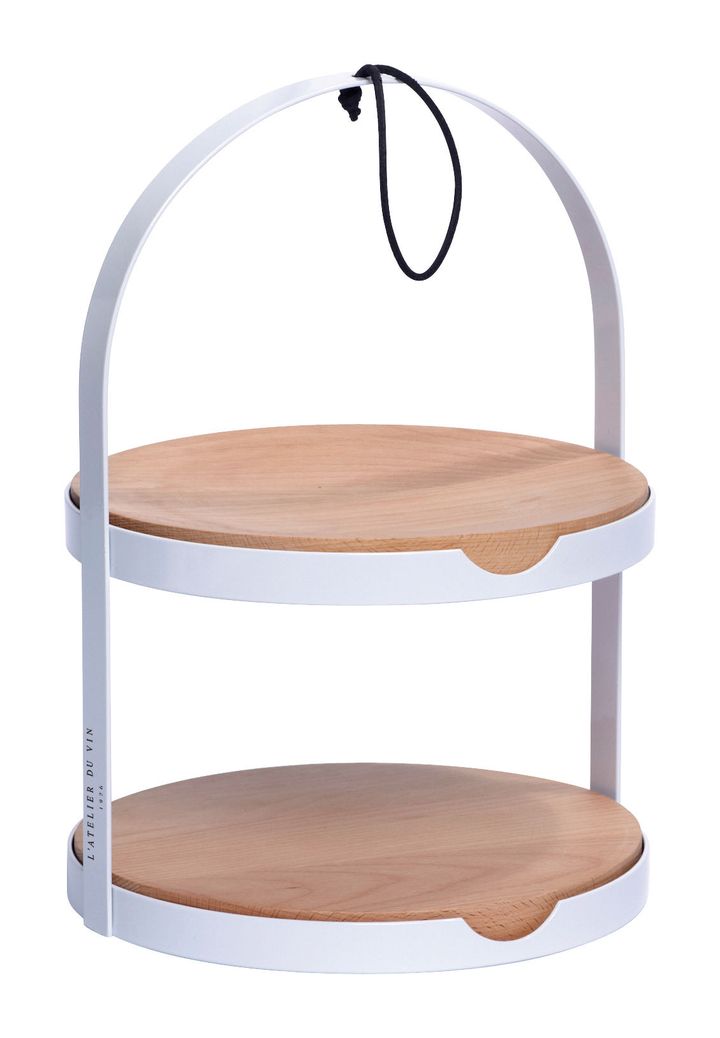 Tray Master of Cahi L'Atelier du Vin
Accessory indispensable for tastingsThis round tray-shaped barrel bottom evokes the traditional, and so famous tray bistro! Practical and generousThe vassioio by Cellar Master combines raw oak to a strapping synthetic material that provides optimal grip. Ideal for presenting the aperitif, Serve or clear the table; this tray is also easy to cleanSimply wiping it with a damp sponge.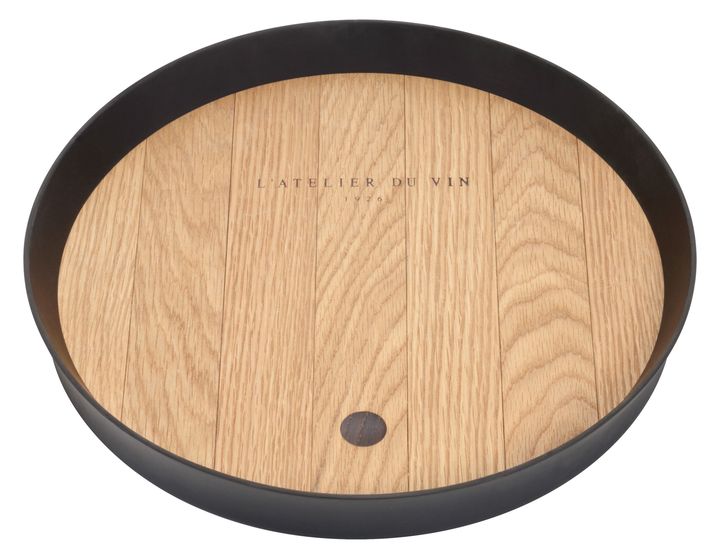 Tray Clouds Root Male / Female Alessi
With "(Un) Forbidden City", Alessi directs his look toward ChinaAsking to eight Chinese architects of disengare each tray. The "tray" is a template for the production of Alessi.
This equipment apparently simple offers an excellent opportunity to compare the different ideas about the role of architecture as cultural traditions of East and West.
"Clouds Root" is inspired by the ancient culture and symbolizes the relationship between man and woman. The tray design wants interpret the emotions. The irregular shape is offset by straight sections of the edges and the realization in Solid steel, With an edge profile, rigid and stable. "Clouds Root" is a system of two trays, one is big, the other small, one is male and the other female. The material chosen for this embodiment is the 'stainless steel 18 / 10 polished, Which represents the relationship between illusion and reality.
This version "female" Clouds of Root will be a success in the kitchen and will be ideally accompanied by version "male", sold separately.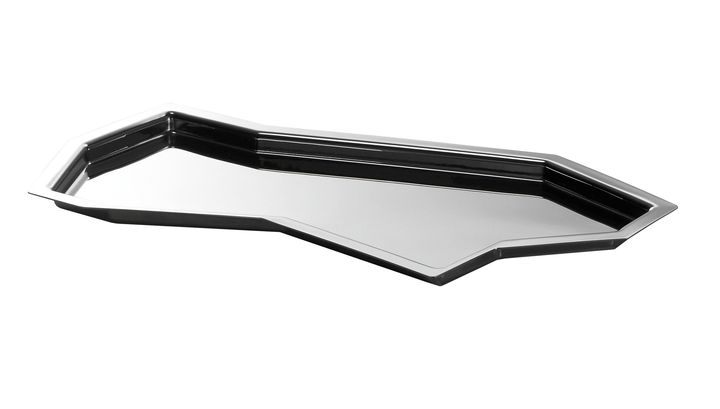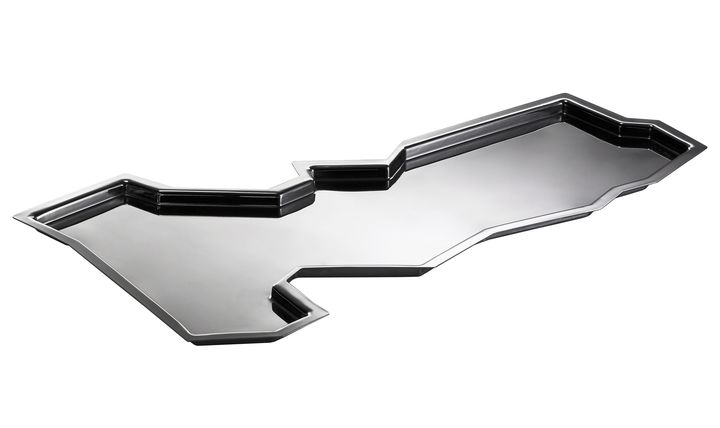 Electric Corkscrew Barman L'Atelier du Vin, cavatappi rechargeable electric with digital display, Electric Barman can uncork all bottles effortlessly.
Comodo, Simply a push to remove the cap from the bottle. The display shows number still available to uncork bottlesBefore having to recharge. Suitable for all sizes of bottlenecks, the corkscrew Electric Barman can open up to 30 bottles on a single charge.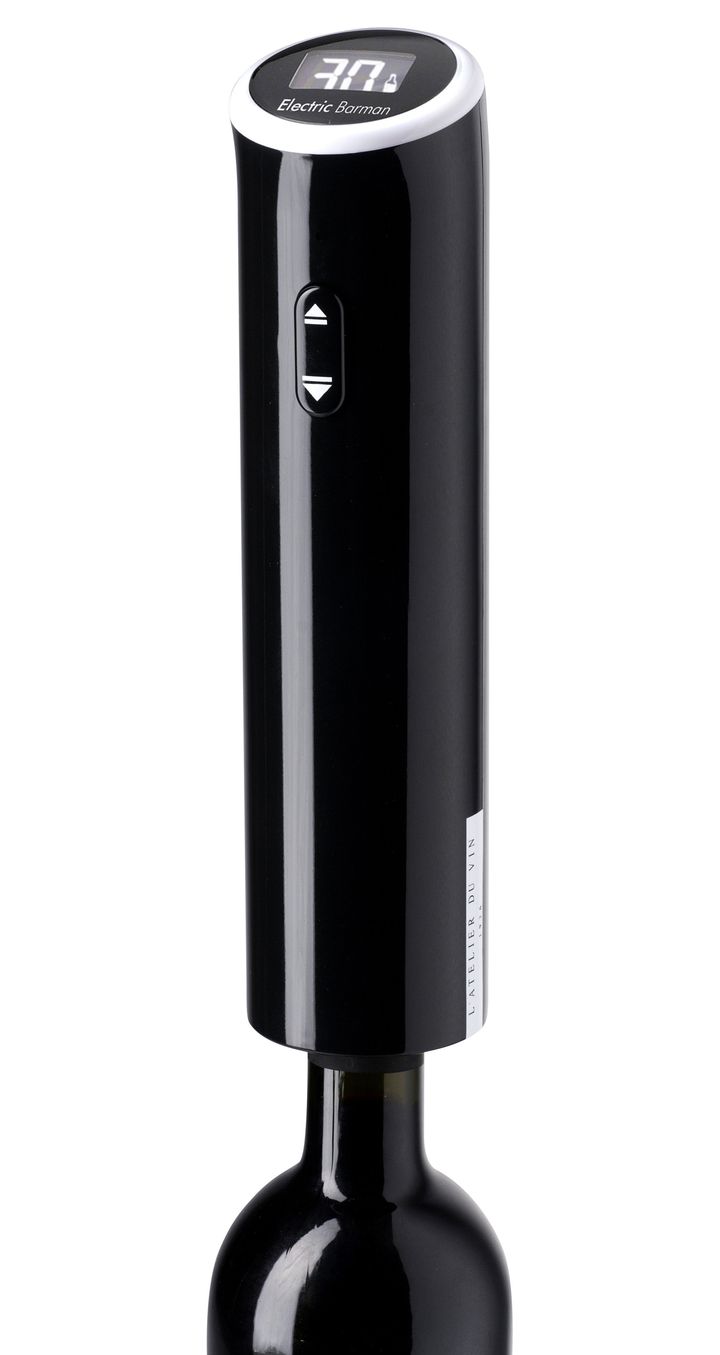 Trays Les Planchas - Y'a pas le feu au lac, uNo object contemporary, useful and original!
Y'a pas le feu au lac is a young French company that bases its production on love and passion for wood. Design, quality and nature are inseparable. This cutting board tray is beautiful but also practical. Two sides are slightly curved to allow you to easily serve pieces of cheese or refreshments. A third side is flat, for a easy cutting of food. The collection Les Planchas offers four different models and two colors: combine them and form a beautiful full kitchen!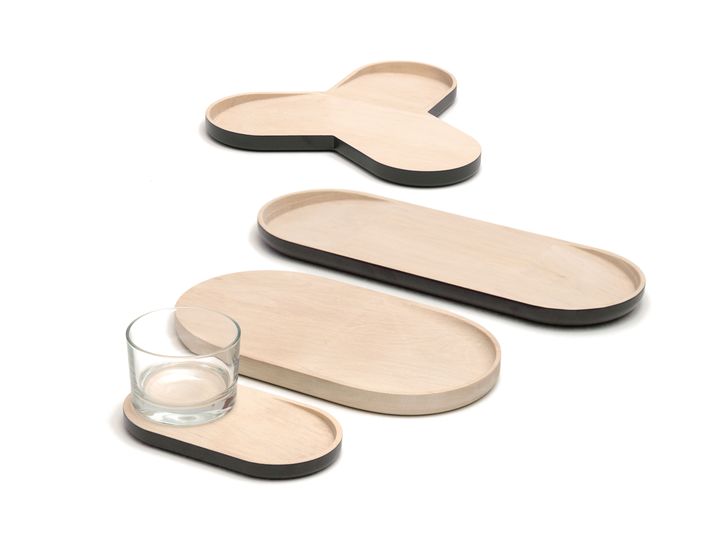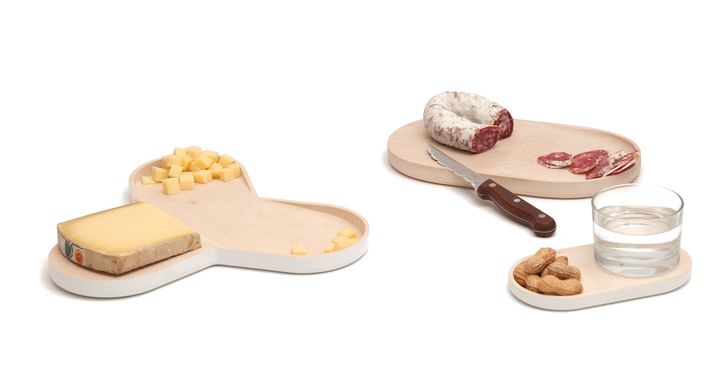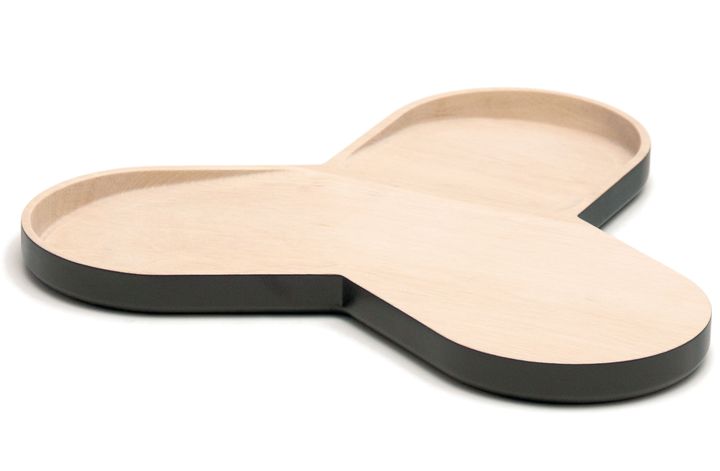 PI: P Koziol
Chic black and white or multicolored inviting, we love this original set party shaped tree and with its birds shaped design skewers, for pretzels that glide deliciously along the branches. The must-have item for your aperitifs chic!
Lotto by 8 skewers and Support.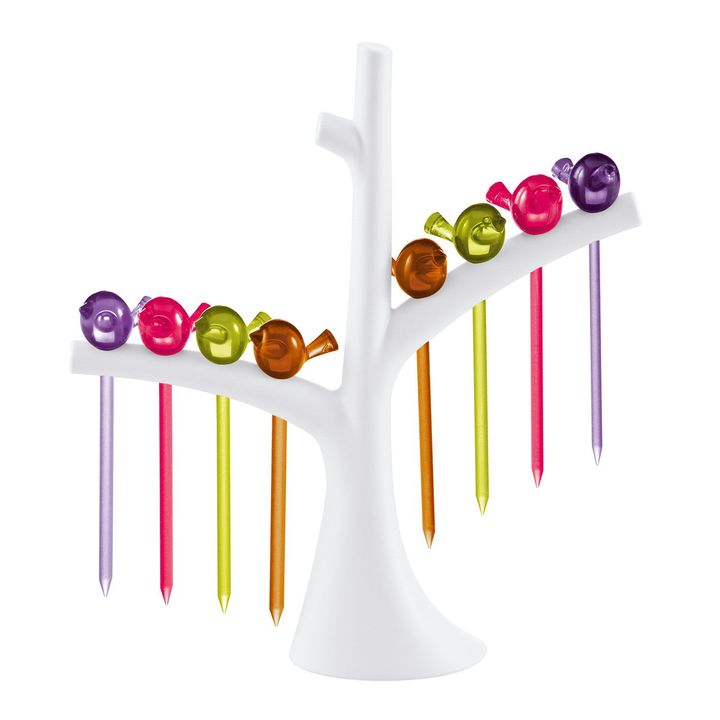 Pliers for champagne - L'Atelier du Vin
Essential accessory for all fans of bubblesThe tongs Champagne is the most secure way to easily open all the bottles of champagne and sparkling wines. Practice, simply remove the cage (metal cap placed over the cap), then position the clamp on the cap by pressing well.
Then, turn the collet stop keeping to the bottle, and the cap for spell is away from the neck of the bottle, while remaining attached to the caliper. The cap, held by the clamp, Can not Jump: There is less risk of injuring the guests! Practical and intelligentThe tongs Champagne is made of chrome steel: a beautiful object, gift or treat yourself.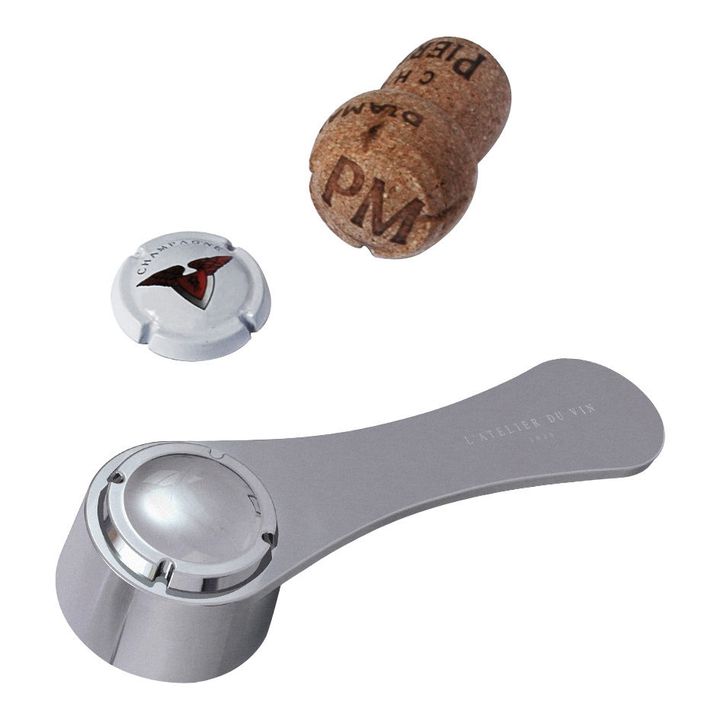 Ice tray - Eva Solo, theto the ice tray more ingenious and more than design that exists!
Eva Solo offers us a 3 1 in full to prepare, storing and serving ice cubes: All comprises a tray isothermal accompanied by a silicone lid divided into compartments and a gripper for ice. Il silicone lid is used for preparing ice cubes.
Simply fill it with water and put it in the freezer. Once formed ice cubes, liberateli in the pan with a simple twist of the lid. To serve, use the gripper for ice that slips slyly in the center of the lid. To store, cover the pan isothermal (stainless steel double wall) with its lid in silicone.
Smart and extremely elegant, this ice cube tray was elected in 2001 the "International Design Yearbook" and received the Grand Prix de l'Art de Vivre 2003 at the show Maison & Objet.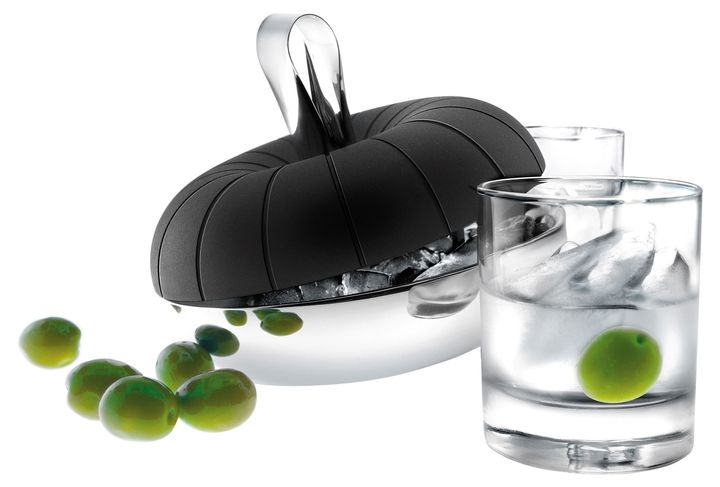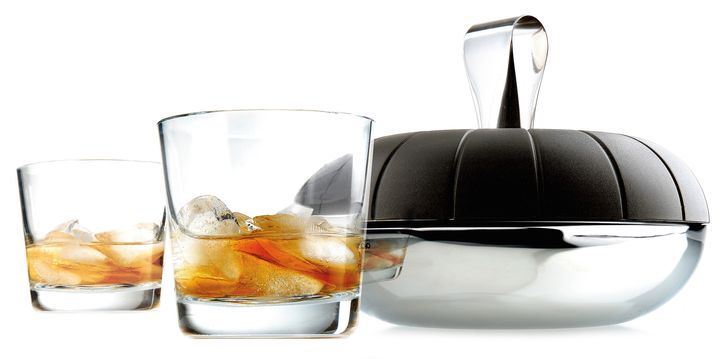 Set aperitif Kaiten - Pa Design
Ultra playful, this set aperitif porcelain is in the form of a circuit for toy cars for children! You have available: two small cars that you can use as cups and six tracks will use as plates. The six dishes feature two different forms: Two dishes straight and four curved plates that will draw on your desktop curves of the circuit! Combine the shapes according to your inspiration to create a presentation original sushi...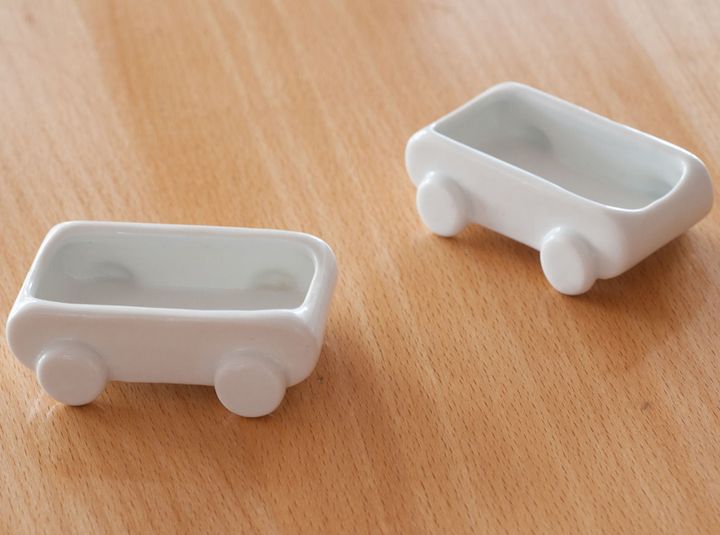 Fresh coolant bucket Eno
With the collection Fresh, the designer dthe Normal Studio and publisher Eno highlight the terracotta! Known for its ability to preserve freshnessThe clay here is worked in a simple and essential. Fresh is a thoroughly modern version of the ancestral carafe for wine!
The result of artisan skill, this jug for wine is hand turned by potters of Aubagne. With his flared neck and slender shape, Fresh is ideal for keeping bottles in cool, during the endless family meals! The cork guarantees thermal insulation. A practical detail and decorative!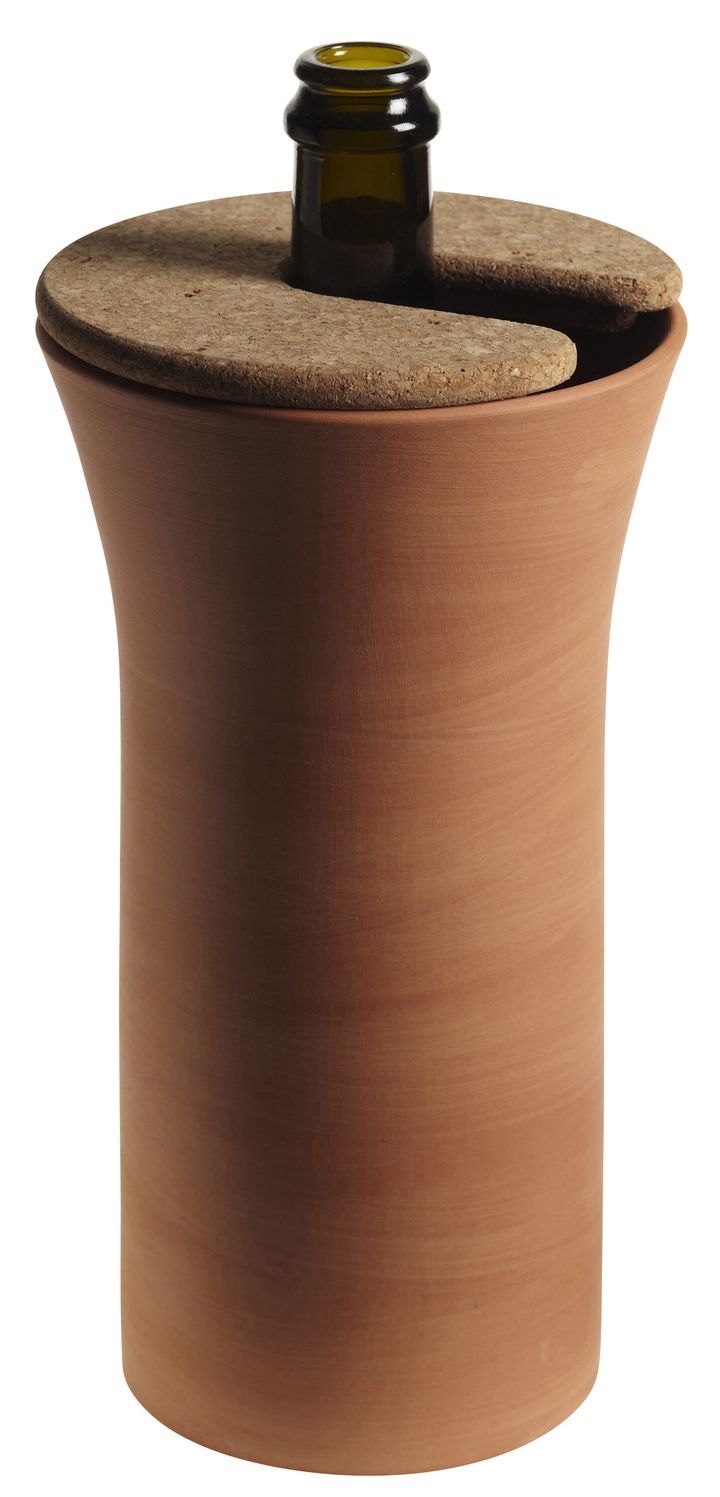 For more information please visit: www.madeindesign.it