Chantal Andriot
Quality and innovation have always distinguished the "Tolix" brand, and they still do so thanks to the work of designer, designer and director Chantal Andriot, who from 2004 took over the company founded by Xavier Pauchard, succeeding in giving it new lifeblood.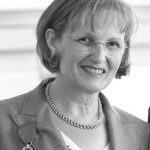 Its unmistakable minimalist style with simple and defined lines has succeeded in combining the urban and industrial aesthetics of the brand, with the most modern furnishing trends, thus succeeding in creating new products, without neglecting the re-edition of the old models. in galvanized sheet.
Its collections maintain the production of utilitarian furnishing elements, such as chairs, tables and stools, perfectly combining design and comfort, ideal for interior design of kitchens, bars and restaurants. The materials mostly used are steel and wood, enriched by a wide range of bright colors.
His style can be defined as original, bold and practical. Timeless objects, classic and avant-garde, simple and original, embodiment of the modern style of the 30 years.
And it is thanks to the intuition of Chantal Andriot that the old Tolix A chair, which quickly became a real icon, marking a significant milestone in French design, was flanked by the new Tolix AA, perforated stainless steel variation which has brought a younger style to the brand.
For his merits Chantal Andriot has recently received the rank of Cavalier of the Legion of Honor.
---