Arik Levy
Arik Levy, born in Tel Aviv in 1963, graduated in 1991 in industrial design from the Art Center College of Design in La Tour de Peilz, Switzerland.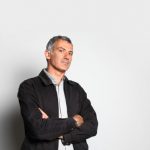 After moving to Japan for a period, where he refined his stylistic style in object design and participated in exhibitions, Arik Levy settled permanently in Paris, where he opened his studio and taught at the École Nationale Supérieur de Création Industrielle.
Not just design ...
Arik Levy has developed remarkable skills in the fields of art and video art, industrial design, photography and design.
He has created for Vibia a very refined line of lamps for interiors, suspended or with the help of wall lights. For other big names such as Emu or Desalto he has created chairs, sofas, mirrors, coat hangers or other interior furnishings and accessories with increasingly creative and elegant solutions.
Sculpture and modern dance
Arik Levy's art easily finds its place in the most important museums of modern and contemporary art. One of his most famous sculptures, in fact, the RockGrowth Atomium 808, can be admired in the prestigious Atomium in Brussels.
The contribution to art also extends into other disciplines; the companies of the Finnish National Ballet or the Netherlands Dance Theater - among others - benefited from precious sets for their respective modern dance shows.
---