Alessandro Stabile
Alessandro Stabile was born in 1985 in Milan. He undertook his studies at the Milan Polytechnic. In the 2013 he received a prestigious award; in fact, it was selected by the Institute of Italian Culture in New York as one of the ten best young Italian designers.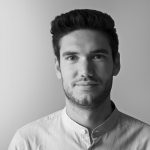 As he himself stated in a recent interview, Alessandro Stabile tries to put three concepts into his every project: idea, elegance and truth. His curriculum is really rich; in the 2007 he won the competition organized by Ferrero, "the design for nutella", and in the same year he won the "new bixy" competition by designing a pedal-assisted bicycle. In 2008 he began a career with Giulio Iacchetti where he plays the role of product designer and project leader. In the 2011 it proves the experience of opening an own firm by signing working agreements with numerous companies such as Ferrero, Internoitaliano, Serrature Meroni, SPD, Appartamento Lago, Unitedpets. Later he became art director of Artifex.
Products created
There are numerous products designed, designed and created by the designer Alessandro Stabile. Here are some of them. For the company "il Coccio" he created Lucilla, a table lamp. For the company "internoitaliano" he designed several products, such as a servomuto (Mori), a Tavoliono (Orio), a writing desk (Avio) and finally the scissors. What is visible in the various works of the designer is his design philosophy intent on reconciling design, aesthetics in everyday products. Also, try to bring elegance to those products that are usually far from the product categories that are more similar and close to the world of design.
---