Aldo Ciabatti
Aldo Ciabatti, from Arezzo, 1939 class, that is the multifaceted vision and existence of one of the most interesting contemporary designers. His biography is in fact the mirror of what today allows Made in Italy to remain the main factor of competitiveness: dynamism and a vision consistent with objectives and goals where profit is not the only decisive component.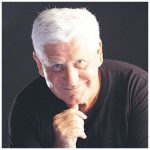 Graduated in 1956 at the Margaritone Institute of Arezzo, he valued his technical preparation with marketing studies that accentuate the ability to grasp questions and market trends, but at the same time to become an original interpreter, always offering simple solutions oriented to functionality and comfort.
Businessman designer
His soul as creator and designer is associated with a successful business activity that certifies one of the elements that most characterize its presence on the market: the projects he works on are never attempts, but concrete solutions for the daily life that does not compromise on quality of design.
There are many companies that can be linked to the name of Ciabatti: Dress, Stilgamma and Emu are just a few. All active and specialized realities in the interior and exterior furnishing sector.
Stilgamma in particular, is the first company that gives life together with his brother. It produces armchairs and allows Ciabatti to adopt and adopt its own production techniques that will allow for lighter and less cumbersome armchairs.
Emu, the challenge of revival
Emu is instead the challenge of revival.
Detected together with a member, thanks to the incorporation of creativity and entrepreneurial know-how, today it is one of the most successful brands in the outdoor furniture sector.
Today Aldo Ciabatti is all this but he is also a painter. His original artistic vocation, given that he was professionally born as a goldsmith chiseller, re-emerges in his current pictorial passion which has become a predominant component of his activity, so much so that he made, in the 2009, a catalog of 650 works between paintings and drawings.
The present is therefore characterized, as always, by the continuous search for new goals and by the ambition of knowledge that constitutes the most powerful spring of all great visionaries.
All of this is visible in the creations by Ciabatti, which makes it inevitable that even a furnishing accessory is not limited to being such, but ends up being a component, albeit essential, of an artistic journey.
---