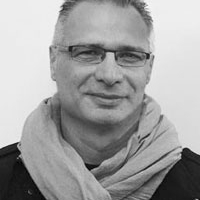 Born in Alcamo (TP) in 1962 the family moved a year later to Lumezzane (BS) industrial center Lombard where he completed his education, graduating as industrial expert to address mechanical in 1981.
12 for years held the position of Senior Project tech designer die-casting molds and plastic working with really high-tech equipment and making molds (Kawasaki, Ducati Bonfiglioli Sylber, Metalwork, Gaggia Mercedes, Fini, Prisma, Tronconi, Artemis) . Parallel begins its collaboration with designers as prestigious reality of the territory. He has worked as a Senior Designer at Marci & Co (Division of design 'Elettroplastica SpA) with Mepra SpA, Pandora Design as designer items for home design in stainless steel and plastic high tech, and with UnitedPets. Artemide SpA collaborates with the 2008 and achieved "Pirc" suspension / wall / ceiling (new 2012)
(Cover New Product 2008), winner Good_design 2008, 2009 Red Dot Award
(IFF Design Award 2010) "Alcatraz" stand New Product 2011
Here is the summary of his creative thinking:
"A light fitting has a soul, suggests a story, often is a poem without verses written. The light scent, is a bright sound that captivates, is wonderfully vibrant, dynamic and at the same time intimate and gentle, respect its nature embracing languages ​​consist of a syntax of light and dark, try to offer more 'of a key, where it can in the projects that I face is my way to get closer to its magical nature. "