The perfect mobile home: 20sqm of space to accommodate 5 functional rooms of 20sqm – ADAPTIVE TINY HOUSE – Formatarchitecten it has been modified: 2023-03-07 di
If a room is functionally defined by 4m2, a small mobile home of 20m2 can accommodate at least 5 rooms.
It is possible to create a small house that can accommodate up to 5 functional rooms, each with an area of ​​20m2, even if the total space available is only 20m2. This is possible by following the principle of a tourist bus, where all stowage space is separated from personal space.
The mobile home features a single area that guests can transform into a bedroom accommodating up to 5 adults, a bathroom, a kitchen, a swimming pool, an orangery, a lounge, an office space, a dining space , a relaxation corner, etc., each with an area of ​​20m2 (8m x 2m50). The floor offers all the storage space and there is only built-in furniture. The house also has a partially/fully covered terrace.
From any vantage point inside, one can look out in 4 directions through 200cm high windows. Two people can engage in a different activity or the same activity at any time.
Fire, water, wood (for the floor) and metal (for the mobile floor structures) combine in perfect harmony with a tree and an indoor garden.
The double floor forms a strong structure and lowers the center of gravity. The house meets road regulations (4m high, 2m55 wide, maximum 3.500kg) and housing regulations (minimum 18m2 living space with 220cm ceilings). In just 10 minutes, you can hit the road.
In summary, this tiny house proves that with clever planning it is possible to make the most of every square inch of available space. With the right organization of spaces, functional and comfortable rooms can be created in extremely limited spaces. This can be an ideal solution for those looking for a more sustainable and affordable alternative to traditional homes.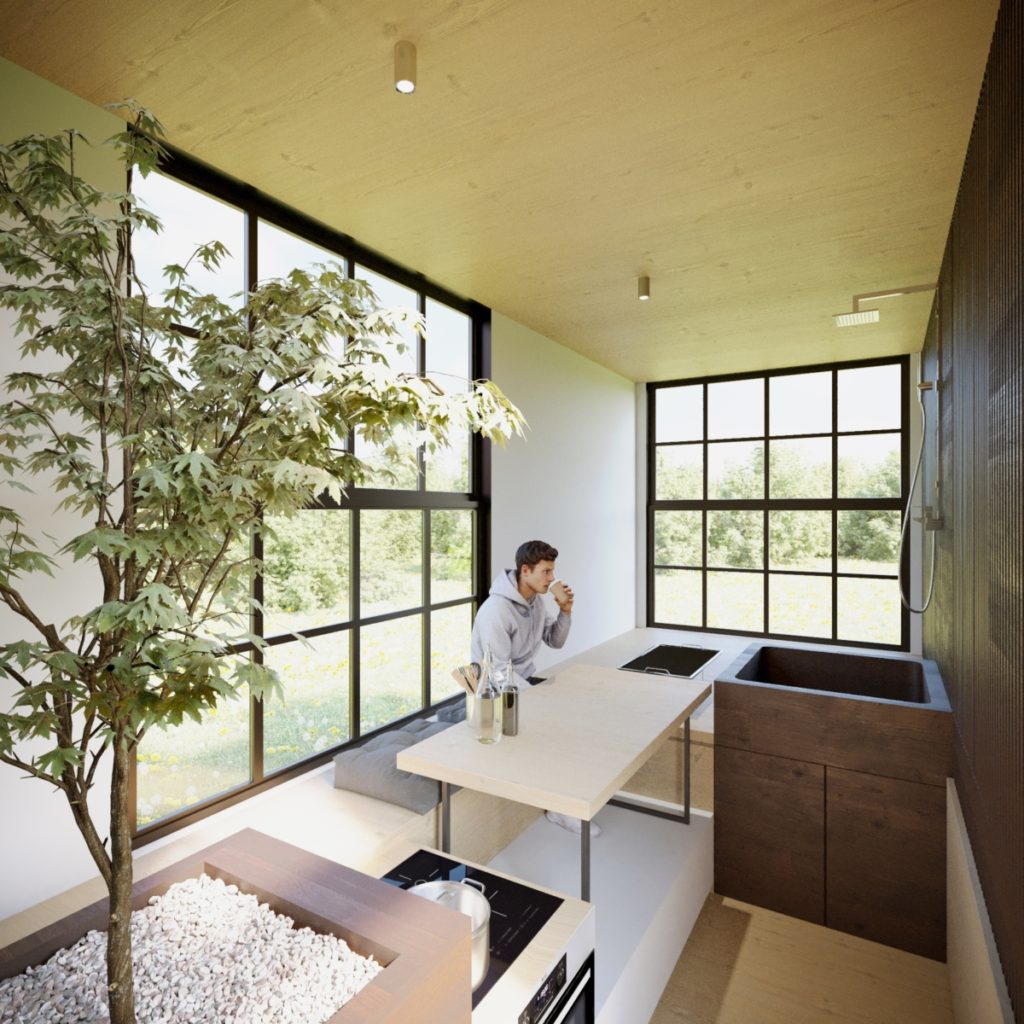 project info
Firm: Format architects
Lead Designers: Edwin Lesthaeghe
Other Designer(s): Olaf Hermans, Jana Jandova
Architect: Edwin Lesthaeghe & Jana Jandova
Interior Designers: Edwin Lesthaeghe & Jana Jandova