Experience Extension, the title of the second edition of MakeMore design competition organized by Veneta Cucine.
There are five finalists that Monday September 15 compete online to win the title of winner of the first edition of MakeMore, the contest promoted by Veneta Cucine, in collaboration with MakeTank (www.maketank.it).
After the selection of the jury, the choice of the winning project passes to the users who, by connecting to the website www.make-more.it, will be able to book their favorite object, helping to make them reach the required budget by 15 November 2014. A reservation that will allow you to guarantee a preview copy of the product.
SDM Products Selection, a selection of design products able to improve the liveability of indoor and outdoor spaces, while at the same time expressing a mood.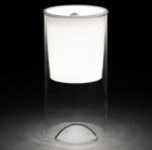 Aoy lamp, Achille Castiglioni for Flos
The first phase of the MAKeMore competition, Promoted by Veneta Cucine in partnership with MakeTank, It ended the 30 June.
The jury of Daniela Archiutti (Art Director Veneta Cucine), Andrea Branzi (architect and designer), Dante Donegani and Giovanni Lauda (architects), Laura De Benedetto (co-founder of MakeTank) and Eleonora Ricca (designer and impenditrice-Vectorealism) has selected 5 the finalists of the contest, including the more than 80 received.