Wegner The Wishbone Chair for everyone, preview the furniture fair 2015 it has been modified: 2022-06-03 di
Wegner's passion for color expressed through his best-selling project.
Hans J. Wegner, the "chair maker of chair makers," has never been afraid to experiment and innovate. While public attention is often focused on materials, form and function, there is another important aspect of Wegner's story to tell: his passion for color.
The famous Wishbone Chair by Wegner, or CH24 - a furniture-icon in the history of modern design - today tells this story through 25 new color palette inspired by the original Wegner: from soft and neutral shades to bright colors and bold, new releases lend to every interior and satisfy every taste.
On the one hand, there are 13 colors from Carl Hansen & Son's "official" palette: reddish-brown and reddish-orange, dark green, slight variations of blue and purple and a neutral range ranging from white to black. On the other hand, a dozen unique colors for the Wishbone Chair launched in 2010, when the famous furniture turned 60. These are divided into three color classes - Ocean, Energy and Citrus - and include light green, sea blue, soft violet and another tone of white.
Wegner often used color during the design phase by painting the prototypes white to get a better sense of shape and used color as a tool to find the balance between form and function. He was also known for combining traditional forms with modern experimentation and the Wishbone Chair - inspired by the chairs of Chinese emperors - is the prime example. The perfect combination of the classic silhouette of the Wishbone Chair and a modern color palette underlines the visionary nature of Wegner's work and the unchanged value of his designs.
Knud Erik Hansen, CEO of Carl Hansen & Son, states, "Wegner was a lovely perfectionist. He believed that designing the perfect chair was an endless process and was not afraid to make bold and innovative decisions in his pursuit of the ideal expression. We think he would have liked to update his projects to satisfy and please the new generations. The range of 25 colors offers today's customers many possibilities and at the same time communicates the creativity of Wegner's iconic designs. "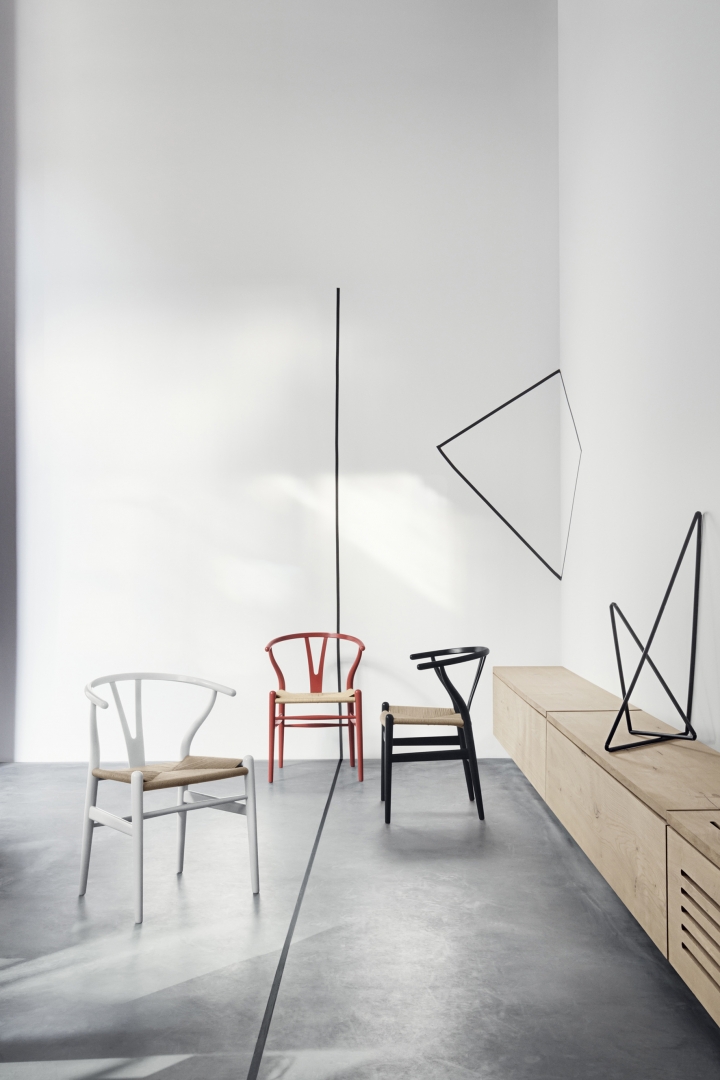 For those who prefer the natural wood finish, the modern classic is available in ash, beech, oak, smoked oak, walnut and cherry. The finishes in natural wood or lacquer can be combined with natural rope, black or white so as to fit perfectly into any interior.