New products and new partnerships for MORELATO at Salone del Mobile 2015 it has been modified: 2015-05-12 di
Morelato, an Italian company based in Verona, still preserves the spirit of tradition and artisan cabinetmaker.
At the base of the Morelato production, the pursuit of perfection and formal style that is reflected in the products from the refined and modern style, with an eye toward a projected design.
For the Salone del Mobile 2015 the Verona company has presented numerous innovations and new partnerships that enrich the repertoire, confirming at the same time synergies already established with world-renowned names such as Ugo La Pietra, Adolfo Natalini and others.
Among the changes, enter the new catalog of Morelato three products signed by Israeli Itamar Harari (library Kant and tables Gene and Frank), in addition to valet Idealist, by the Colombian designer Monica Rocio Bohorquez, who has competed in the project 2014 Competition "Significant Furniture", sponsored by the Foundation Aldo Morelato.
LIBRARY KANT Design: Itamar Harari
Kant is a project designed by Itamar Harari, the Israeli architect of international renown who began working for the first time with the company MORELATO. A double-sided bookcase per day made of walnut wood. The particular shape that leaves "open" a section of the side enables to combine multiple modules, thus allowing a measure of customization. Kant can be interpreted as a network of geometric lines to decorate the surfaces with minimal and elegant style. Thanks to the wood, living material, the library moved warmth and personality to the rooms. Dimensions: L P 90 30 180 cm H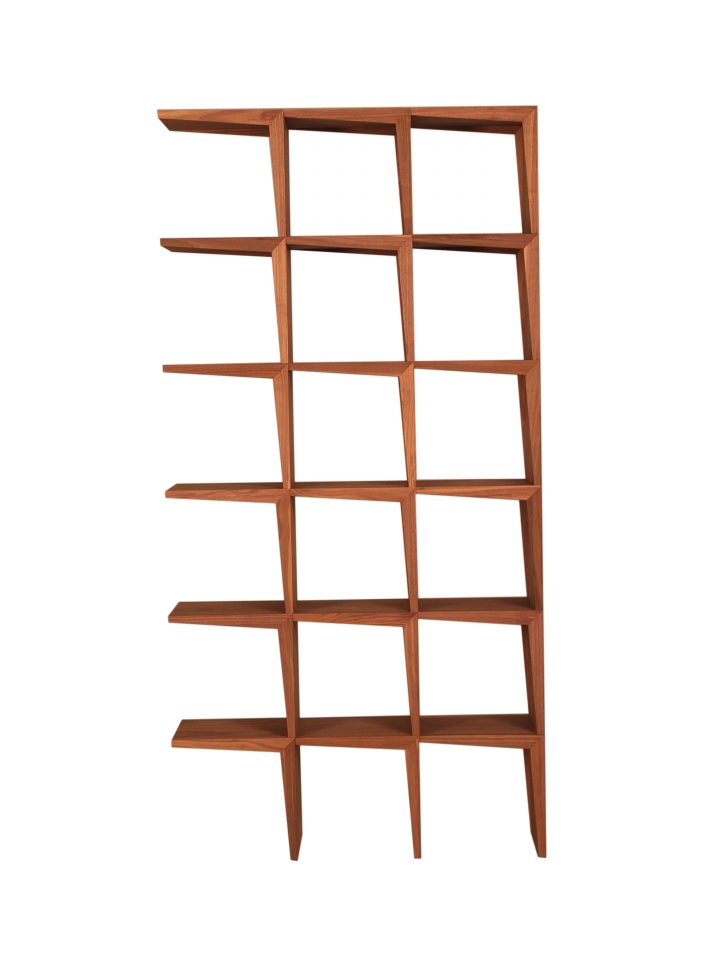 TABLE GENE Design: Itamar Harari
Gene is the new table signed by Itamar Harari for Morelato: a linear model and a basic shape. Perfectly positioned in pairs or alone in the center in the living room, or next to a sofa. Thanks to the measures contained Gene can be ideal as a bedside table in the bedroom of the house. Like all products of the company it is made of wood: maple for the structure and wenge inlays for the plan. Dimensions: L P 80 50 H 37cm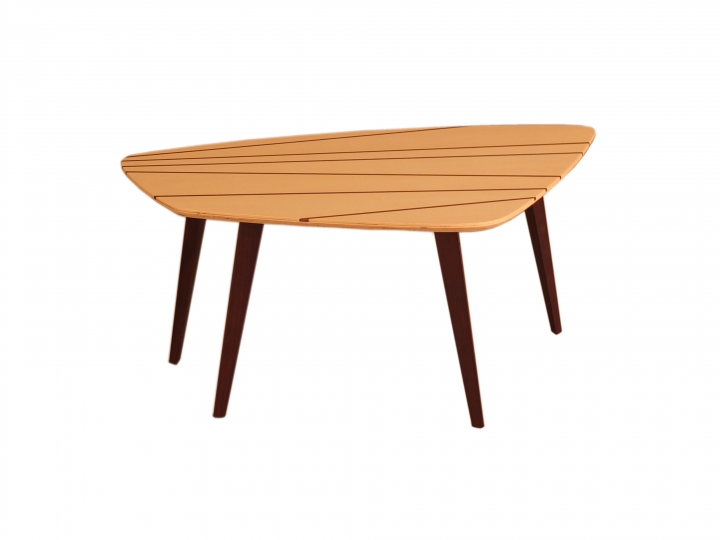 Valet idealist Design: Monica Rocio Bohorquez
The collaboration with the designer originates Columbian Monica Rocio Bohorquez binds to Foundation Aldo Morelato. In fact, the valet Idealist is a project that has participated 2014 edition of the Competition "Significant Furniture" which had as its theme "Places apparel". The company Morelato has decided to invest in this article, which contains a contrast between the lightness of the forms and the solidity of matter. Idealist is made entirely in solid walnut with equipment of LED lamp. Dimensions: L50 P42,5 H167 cm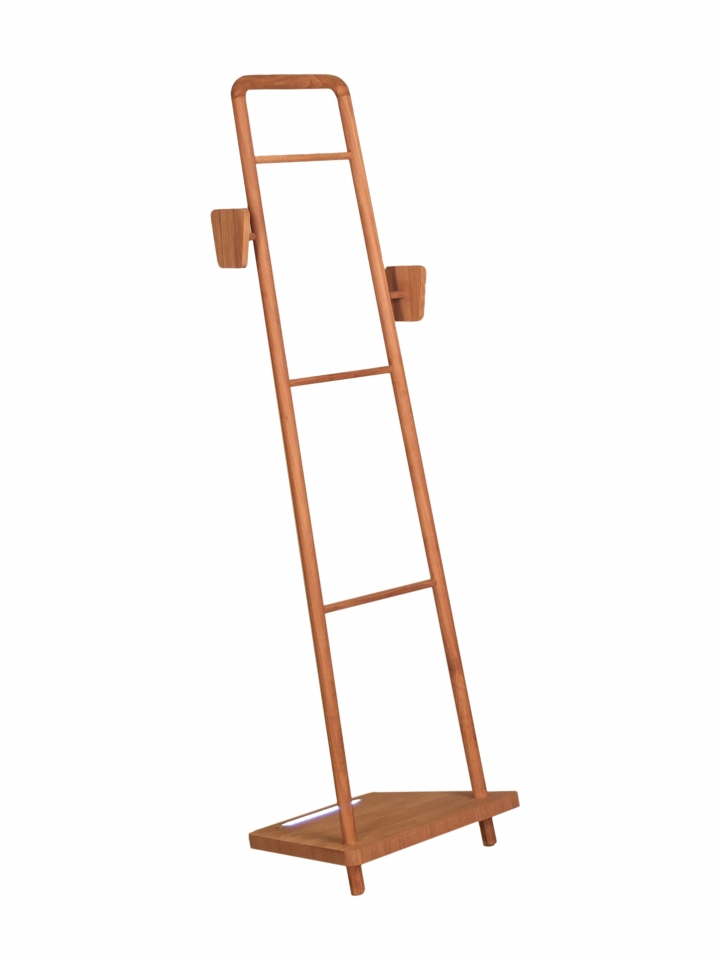 TABLE BOOMERANG Design: Centro Ricerche MAAM
This new table takes up the shape and features the eponymous coffee table already exists in the collection Morelato. Boomerang version dining is presented with glass top and with legs made of plywood cherry stained walnut shaped precisely to "boomerang", combined with a special dove tail joints. A piece of furniture that is capable of transferring a distinctive style environment with taste and elegance. Dimensions: diameter 110 75 cm H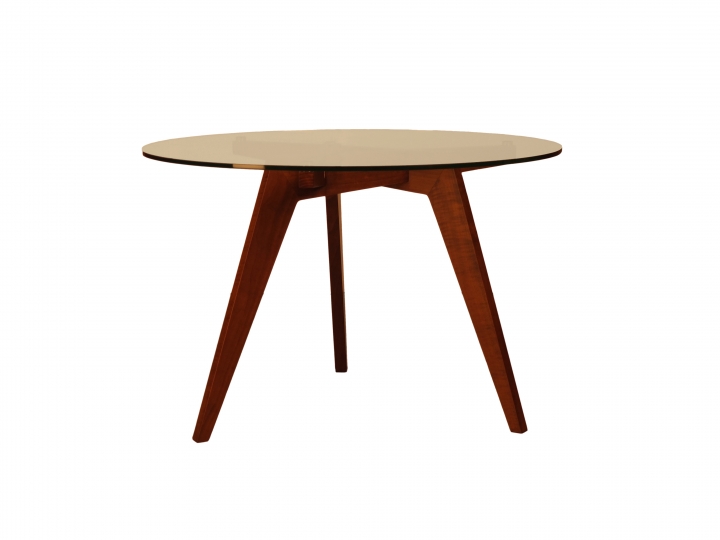 TABLE CARAMBOLA Design: Maurizio Duranti
The architect Maurizio Duranti for Morelato has designed a new version of the table Carambola slightly lower and with a broader than the model already in the collection (diameter and height 53 50). A common feature of both articles is the support structure that resembles the shape of the pool cues. Carambola is an original piece of furniture adaptable to different environments and contemporary. The top is available in black crystal, the legs are made of cherry wood, wenge and maple. Dimensions: diameter 80 35 cm H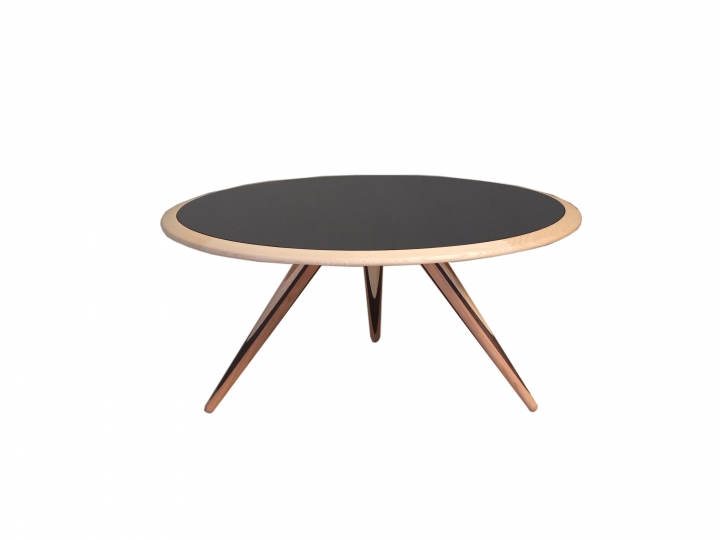 BELIEF ZERO Design: Centro Ricerche MAAM
Morelato has a new belief entirely made of wood as in the best tradition cabinetmaker. The structure and the feet are shaped cherry, while the hinged door with adjustable shelf inside and the fronts of the three drawers are made both in walnut with particular decoration strips. The belief is the Zero Morelato style, combining the elegance of wood with the practicality of a container, ideal for a living both contemporary and more traditional. Dimensions: L P 137 53 92 H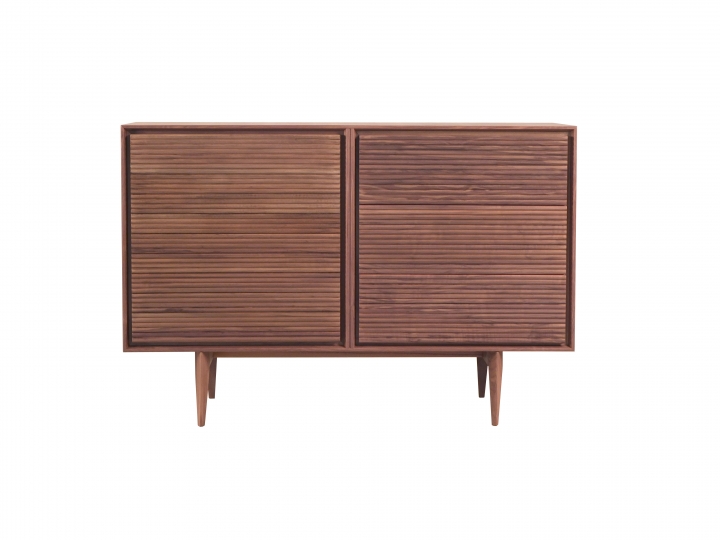 BIEDERMEIER COMPOSITION Design: MAAM Research Center
One of the strengths of the Morelato company is the proposal of modular compositions, the personalization of the product based on the customer's indications, the need for space and style. The novelty of the new Biedermeier bookcase is the internal LED lighting. The showcase is made of canaletto walnut wood: four overlapping and juxtaposed modules with sliding tempered glass doors and adjustable internal shelves. There are concealed pullers between the modules. The sides are made of glass, the frame and the plinths are cut straight. Dimensions: L 312.5 P 38.5 H250cm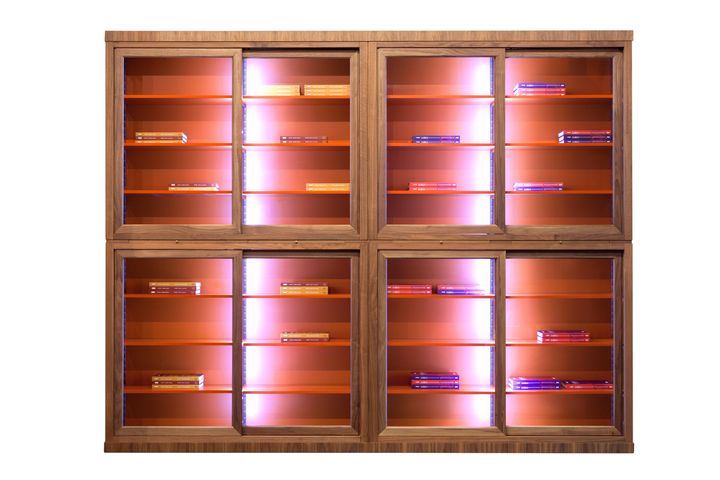 COMPOSITION FORM ZERO Design: Centro Ricerche MAAM
Morelato proposes new solutions such as the composition module Zero. The structure is cherry wood mocha as opposed to lacquered yellow interior. The cabinet shows a base element formed by three drawers, an element in 3 compartments, one day and two with hinged door Model Code, an element deeper with a glass door and an element with two compartments positioned vertical. All doors are made of wood, natural finish with the special process Code, composed of several species (strips of walnut, maple and tulipwood). Dimensions: L P 343 53 H 214cm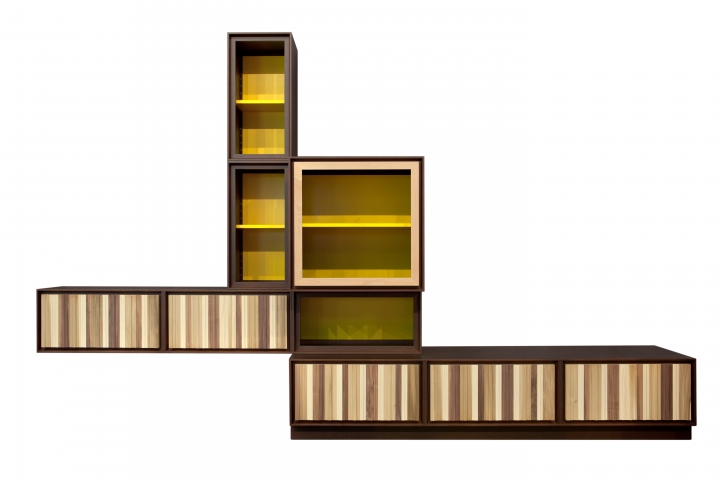 STOOL BIEDERMEIER Design: Centro Ricerche MAAM
Morelato expands the range of seats by introducing a new bar stool in the collection. The novelty in Biedermeier style is made of shaped cherry wood with upholstered seat and tubular brass footrest profile. For the upholstery it is possible to choose from a wide range of fabrics and leathers. Dimensions: diam. 43 H 73
DESK COVER Design: Ugo La Pietra
This piece is designed for installation which won the Premio Lissone the 1973 and the Compasso d'Oro in the same year. Now, re-edited by the Veneto, the desk returns to be talked about in the great staff "disequilibrante Project" dedicated to the architect Ugo La Pietra, "eclectic designer, a critical observer of reality, in mostraalla Triennial Milano.Il model" concealment "inserted in the catalog Morelato is made of cherry wood with a top flap, two drawers and internal compartments. Dimensions: L115 P86 H75cm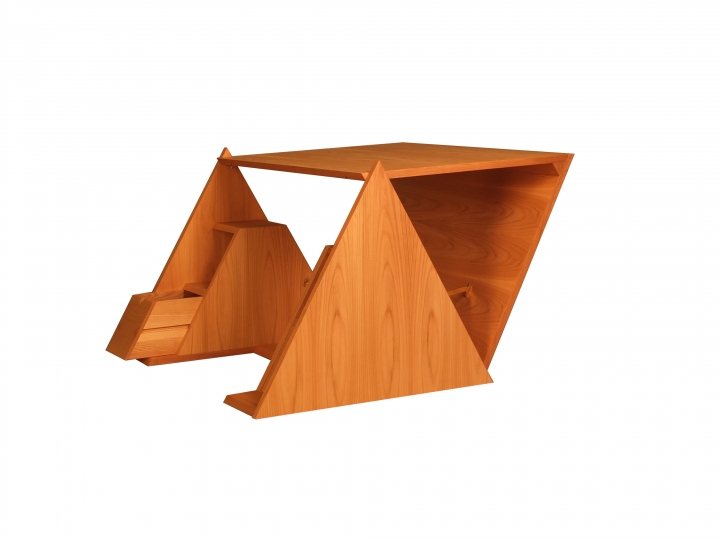 CHAIR Metamorphosis Design: Peter Barcaccia Metamorphosis
It is the novelty of this autumn proposed by Morelato. From the winning project of the 60th edition of the Il Mobile Significante competition, Metamorfosi has been "transformed" into reality: a chair - clothes rest made of ash wood. Each element that makes up the seat makes it multifunctional: the backrest, for example, becomes a trouser holder, while the conjunction of the legs, which tilts slightly, is ideal as a shoe holder. Dimensions: L50 P101 HXNUMX cm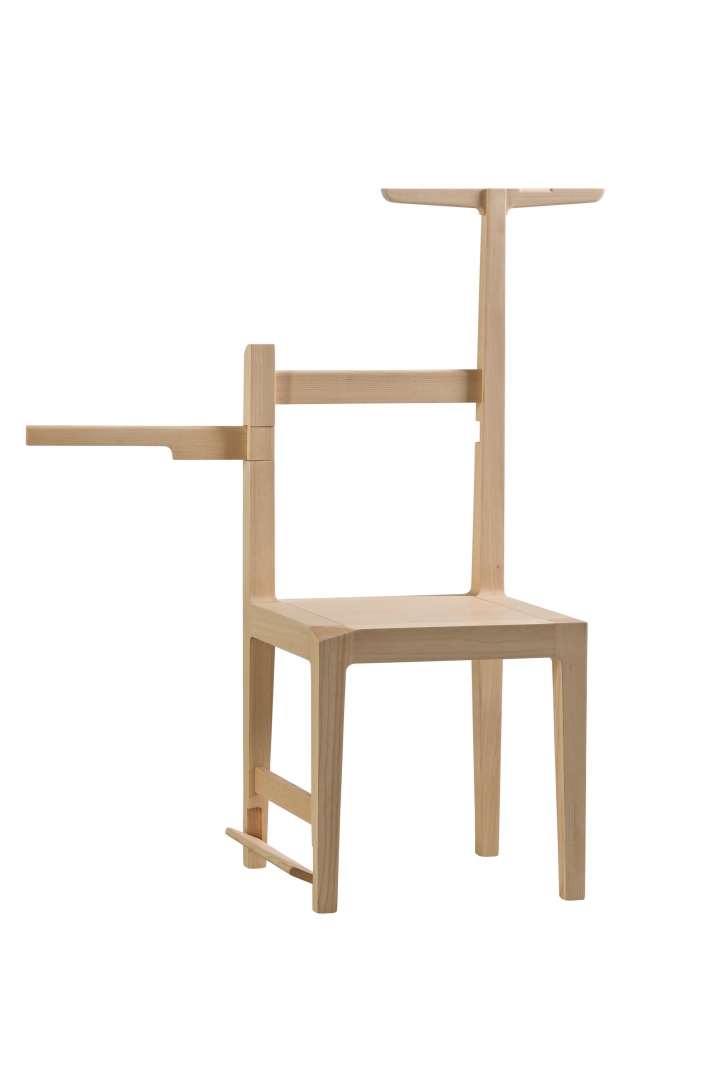 TABLE FRAGMENT SIZE Design: Adolfo Natalini
Fragment measure is a donation by Adolfo Natalini to the MAAM - Museum of Applied Arts in Furniture - of the Aldo Morelato Foundation and produced by the Morelato company. The coffee table is a reinterpretation of a piece that the architect himself had designed in the 70s. The piece of furniture is entirely made of ash wood with wengé inlays that recreate small "pictures". The effect that is created is a network of perfect geometries that cover and decorate part of the top. Dimensions: L92,7 P92,7 H36,3 cm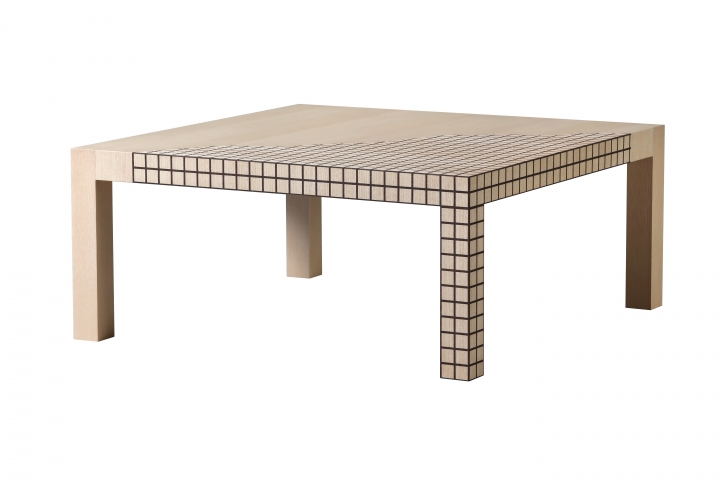 CHAIR SAVINA Design: Centro Ricerche MAAM
This model is a remake of the chair Savina with the novelty of the padded backrest for greater comfort. The coating longer be chosen in the range fabrics and leathers in the collection. The triangular legs lighten the structure which is made of cherry wood and available in walnut and other finishes to catalog. Dimensions: L47 P55 H85 cm