Kartell goes Sottsass, a tribute to Ettore Sottsass and his Memphis Adventure it has been modified: 2016-06-06 di
In a display of the flagship store that celebrates Memphis signed by Ferruccio Laviani Fuorisalone 2015 Kartell pays tribute to Ettore Sottsass
with a collection of original projects (vases, stools and a lamp) signed by the great Master of Design expressly for the company. The display is completed by some lines of soft seats from the Kartell collection covered with fabrics from the Memphis collection.
The initiative starts from a series of projects signed by Ettore Sottsass expressly for Kartell in 2004 and never put into production 6 vases, 2 stools and a lamp whose shapes and colors clearly declare their belonging to the designer Sottsass, completes the collection a lamp suspension lamp named Daisy, original for the application of a series of plastic tiles, in the shape of a rectangle, with the typical colors of Sottsass, to a central disc in black thermoplastic technopolymer, while fabrics from the Memphis collection will give a unexpected post-futurist pop image to some upholstered items in the Kartell catalog, such as Mademoiselle by Philippe Starck, Foliage by Patricia Urquiola, Trix by Piero Lissoni.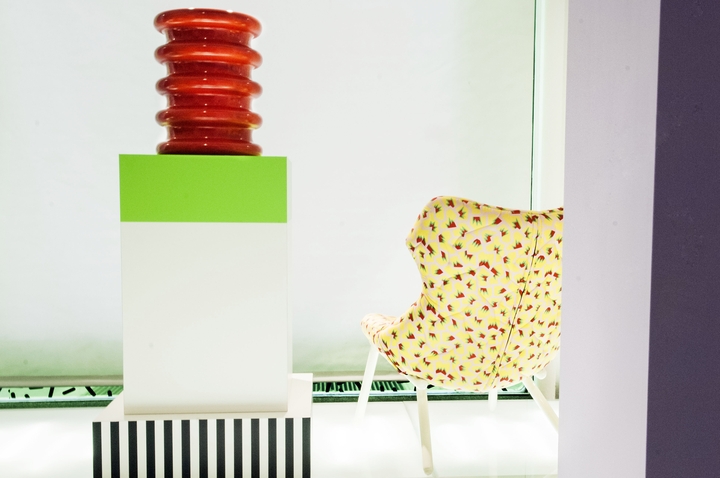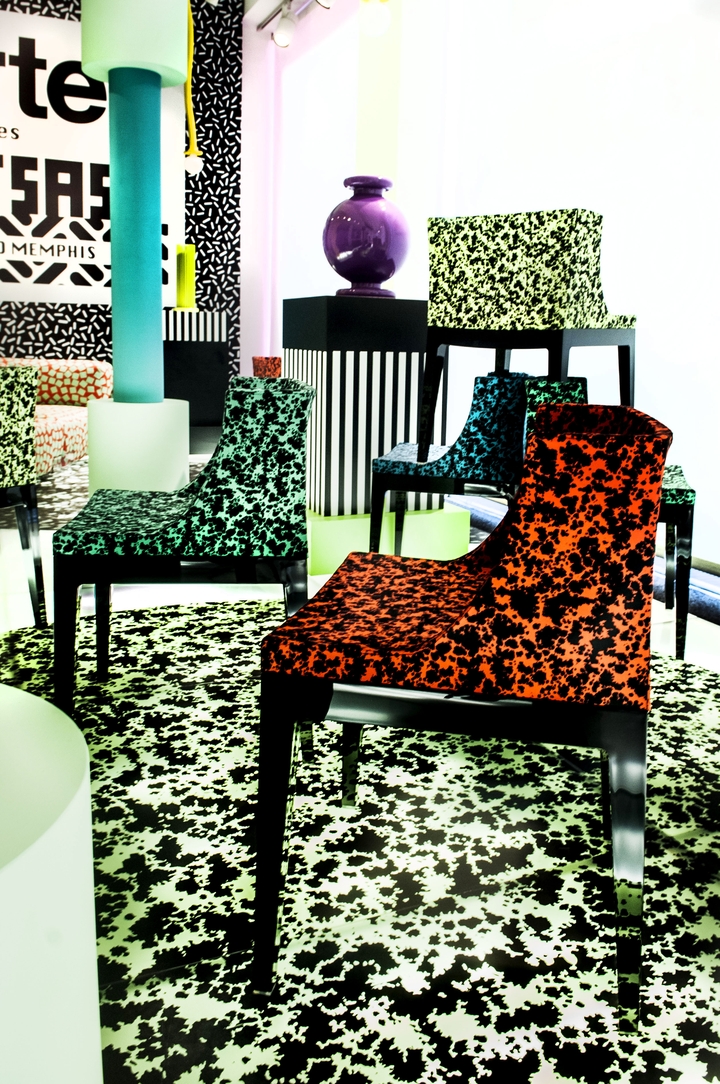 Claudio Luti, President of Kartell, comments: "We are particularly proud this year to present some new objects that Ettore Sottsass had designed for Kartell in 2004 but which we have never put into production. We took them up again today with the desire to celebrate a piece of design history with an event and some special products. I believe that Sottsass with Memphis really offered in my entrepreneurial path, even unconsciously, the fruition of a free creative expression of designers without codes and without formalisms. Furthermore, today technology allows us to create Sottsass designs with a quality and sophistication that we could not have achieved ten years ago. This celebration and this new production commitment demonstrate once again how Kartell goes beyond transitory trends and styles. With its design and its versatility it is able to place itself transversely to eras and cultures, to give shape to the ideas of the designers, transforming them into lasting objects. I am convinced that the master would be enthusiastic about how we have given life to his objects, unique in their sign, unmistakable, some of which will be projected towards an entirely industrial and international future. In this sense, the tribute to their creator will be even more lasting, realizing that return to industry that Ettore Sottsass himself hoped for ".
Alberto Bianchi Albrici, CEO Memphis adds: "I find this collaboration with Kartell very interesting and also curious. Two distant worlds that dialogue and meet. Kartell will allow us to enter, make ourselves known and appreciated in millions of homes where otherwise we could never have been. And this is good for everyone ".
Ferruccio Laviani, architect and designer, he concludes: "Being able to prototype Sottsass objects and create a Memphis event, customizing some of the products in the Kartell catalog, represented for me the possibility of being able to pay a small tribute to Ettore Sottsass and Barbara Radice for giving me the opportunity at the time to participate in the Memphis project. Of that incredible experience in which I was lucky enough to be involved and which indelibly marked my way of doing, seeing things, and in what I am today also professionally, there is certainly a piece of them and of all the people who participated in it ".