Fat stones at Fuori Salone with 2015 Setsu and Shinobu Ito it has been modified: 2022-06-03 di
Once again together Grassi Pietre and Studio ITO Design (Setsu & Shinobu Ito) present themselves at Fuorisalone 2015 with a splendid project consisting of a fountain (Izumi) and a seat (Konoha).
Both complements suitable for both outdoor and indoor (ideal for the contract sector but also for the residential sector), are made of white Pietranova in a glossy finish. The location chosen for the installation is Opificio 31 (Officina 2) in via Tortona 31 (opening hours: 10 am - 9 pm).
Pietranova (exclusive of Grassi Pietre) is a cement agglomerate composed of Vicenza stone grit, white Portland cement and water. It represents the perfect union between the beauty of a natural material, such as Vicenza stone, and the physical-mechanical properties that only the technological avant-garde can offer. Available in three color variants - white, yellow, gray - and in numerous textures - polished, sanded, brushed, bush-hammered, scratched - it is a 100% made in Italy and CE certified product.
FONTANA ZUMI
Izumi in Japanese means natural source. It is from this source, at the center of the fountain, that the water gushes and flows towards the outer edge on a flat surface, until it falls just before reaching the edge of the plain in Pietranova.
Its shape and the water collection system mean that Izumi can safely be used both in open environments (such as gardens, courtyards) but also indoors, both public and private. Observing the shape of the fountain from above, the image you have is that of a square, static, minimal shape.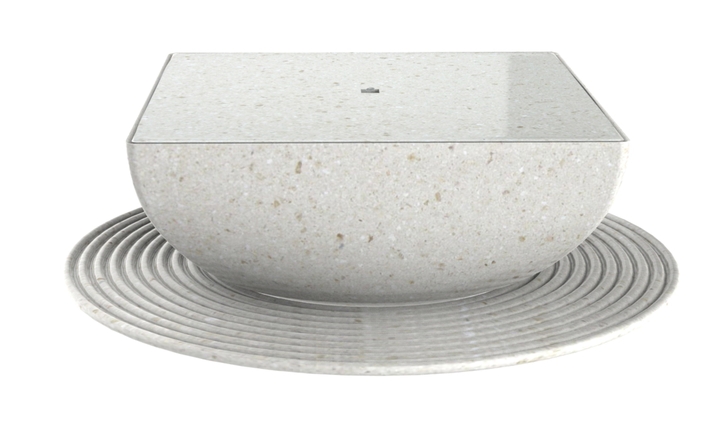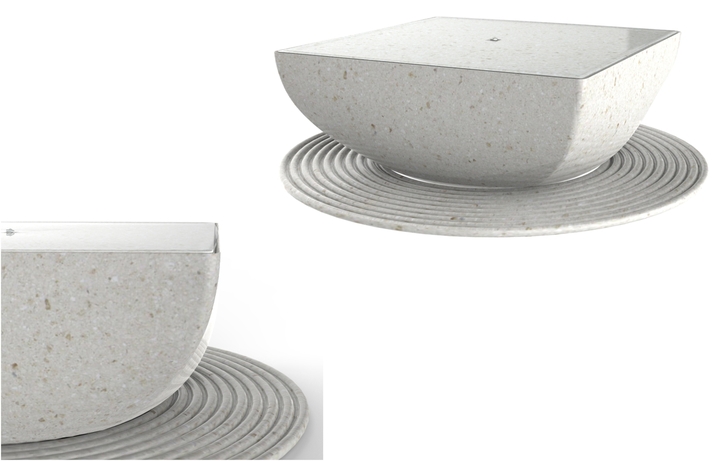 Instead, going down towards the base, the physiognomy becomes curved, unstable, as if it were the lower part of a drop of water cut horizontally. The wavy corolla that surrounds the base shows many circular ripples, like those caused by a drop falling into the water.
The same shape refers to a second symbol, the Zen garden, also marked by lines at regular intervals traced in the sand. In this case the reference is to another natural element: the earth.
SITTING KONOHA
Konoha, the meaning of which is the leaf, is a seat and sinuous curved shape, which contrasts with the heavy material from which it is formed, Vicenza stone.
Its lines make it look like a leaf that seems to roll away, carried by the wind. The wind, like the water in the fountain and the earth in the Zen garden, refers to another natural element: the air, thanks to which the seats 'come to life', as if they were dancing in the environment.
The shape of Konoha makes it possible to place it on all sides, thus creating different planes of sitting. Thanks to the fine products of Grassi Pietre, a material which in itself is cold and hard, looks warm and hospitable.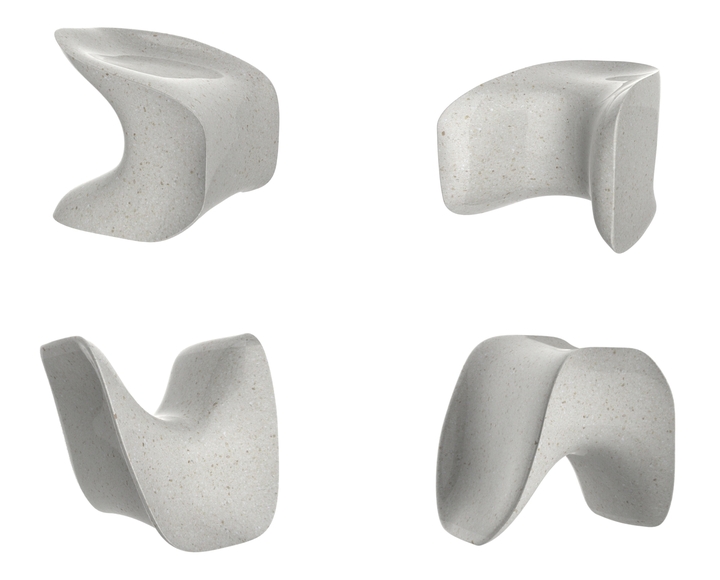 More information Thu