Karim rashid
Karim Rashid is one of the most prolific designers of his generation. Besides 3000 projects in production, over 300 awards and collaborations in 35 countries attest to its importance in the world of design.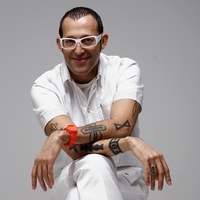 Its diversity gives the opportunity to create a fertile contamination between ideas, materials, behaviors and aesthetics in different types, crossing borders and expanding the horizons of consumption.
Karim has obtained a degree in Industrial Design in 1982 at Carleton University in Ottawa, Canada and continued his design studies in Naples with Ettore Sottsass and others, then moved to Milan for one year at the Rodolfo Bonetto Studio. On return to Canada he worked for seven years with KAN Industrial Designers. In this period, from the 1985 1991, he was co-founder and co-worker of the Babel Fashion Collection and North. In 1992 he has opened his own design studio in New York and in 2010 has extended its presence with the opening of another office in Amsterdam.
His award-winning projects involve democratic objects such as trash Garbo and Oh Chair for Umbra, interiors such as the Morimoto restaurant in Philadelphia and Semiramis hotel in Athens and exhibitions for Deutsche Bank and Audi. Karim has collaborated with clients to create democratic design for Method and Dirt Devil, furniture for Artemide and Magis, brand identity for Citibank and Hyundai, high tech products for LaCie and Samsung, and luxury goods for Veuve Clicquot and Swarovski, the to name a few.
Karim's works are featured in 20 permanent collections and exhibited in art galleries around the world. Karim has repeatedly won the Red Dot Award, the Chicago Athenaeum Good Design Award, the ID Magazine Annual Design Review Award and the IDSA Industrial Design Excellence Award. He has received honorary degrees from the Ontario College of Art & Design and the Corcoran College of Art & Design. In 2008, the largest retrospective of Karim to date was presented at the Instituto Tomie Ohtake in Sao Paulo, Brazil. More recently Karim curated the Totally Rad exhibition: Karim Rashid makes radiators for the New York Museum of Art and Design. Karim is often invited to speak at universities and at conferences around the world, which spread the importance of design in everyday life.
They talked to him several publications, including Time, Financial Times, NY Times, Esquire, GQ and many others. The most recent volume of Karim, Sketch (Frame Publishing, 2011), contains 300 hand drawings and digital chosen from those made in recent years 25. Other books published are KarimSpace with 36 projects of interior architecture Karim (Rizzoli, 2009); Design Your Self, led by Karim to live (Harper Collins, 2006); Digipop, a digital exploration of computer graphics (Taschen, 2005); Compact Design Portfolio (Chronicle Books, 2004) and two monographs titled Evolution (Universe, 2004) and I want to change the world (Rizzoli, 2001).
In his spare time, pluralism Karim flirts with art, fashion and music and is determined to creatively touch every aspect of our physical and virtual landscape.
---
1-24 display of 32 results